Overwatch porn has taken over the hentai world since being published in 2016. Even though it seemed impossible, all the sexy anime girls had to bow down to the hottest Overwatch characters. And with the release of Overwatch 2, it doesn't look like anything's going to change. You don't have to play the game. You don't even need to see gameplay. Because porn sites are the place where everything important is happening. We are about to introduce to you the sexiest Overwatch 2 characters and give you a hint about where you can watch the best Overwatch 2 porn. You can see D.Va, Mercy, Widowmaker, or always horny Tracer in the best porn videos where limits really don't exist. And who is your favorite Overwatch 2 character?
Overwatch 2 Porn Getting Extremely Popular
Just days after the publishing of Overwatch 2, Pornhub was flooded with searches demanding the hottest Overwatch 2 characters. Popular pornstars could take a day off because they couldn't compete with hot animated ladies from the popular video game. Even though the game had some issues after its release, the community didn't wait a second to create new spectacular hentai scenes with the sexy heroes. They have always been ranked among the hottest hentai girls. And with the release of Overwatch 2, it's unlikely the situation will change in the near future.
Hottest Overwatch 2 Characters
We meet already well-known and popular female heroes as well as three new Overwatch 2 characters in the new video game. Kiriko, Junker Queen and Sojourn are the three ladies who will compete with the old hotties, such as D.Va or Tracer, to be the number one hottest Overwatch 2 character. Of course, there are not many porn videos with the new heroes yet, but their time will come. Before that, let's look at the top 15 sexiest Overwatch 2 characters together with a short introduction and pictures!
List of the hottest Overwatch 2 characters (click name to see more details)
#15 Zarya

Zarya age, wiki, bio
Real Name: Aleksandra Zaryanova
Age: 28
Nationality: Russian
Role: Tank
Motto: "We will crush them!"
Her role is a tank, her weapon is huge, and if you love strong women, she is probably the number one choice. Officially, Zarya is 28 years old and comes from Russia. You can recognize her by her big muscles and short pink hair. Due to her muscular body, she is often portrayed as FUTA in hardcore actions with other hottest female Overwatch 2 characters. And if we said her weapon is huge, just look at her enormous dick. Futa Zarya is definitely one of the most feared heroes. And we don't talk only about the fighting but also about the cute petite girls who share their sexual fantasies with her.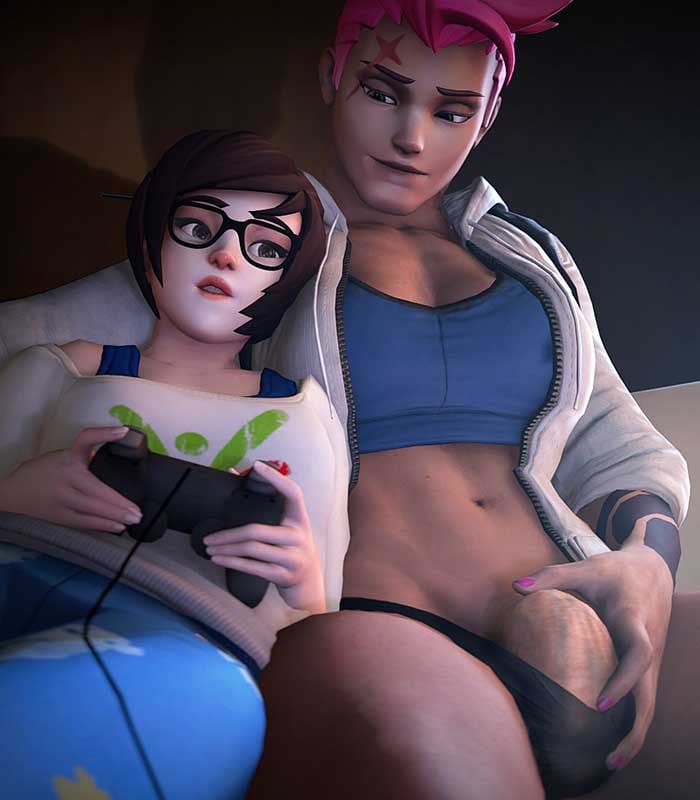 ---
#14 Sojourn (New Overwatch 2 character)

Sojourn age, wiki, bio
Real Name: Vivian Chase
Age: N/A
Nationality: Canadian
Role: Damage
Motto: "We're in this together. All of us."
Sojourn is an ebony beauty who's valued for her leadership abilities. Her role is Damage, and in the game, she is usually used for mid-range fights. She is Canadian, and her real name is Vivian Chase. But you won't need it when looking for porn with this black hero. Sojourn is a new Overwatch 2 character, so she has a lot of catching up to do in the hentai world. She is often portrayed with massive tits and a thick ass. Just like we are used to from the hottest ebony pornstars. And yes, Sojourn is ready for any BBC or hardcore interracial action!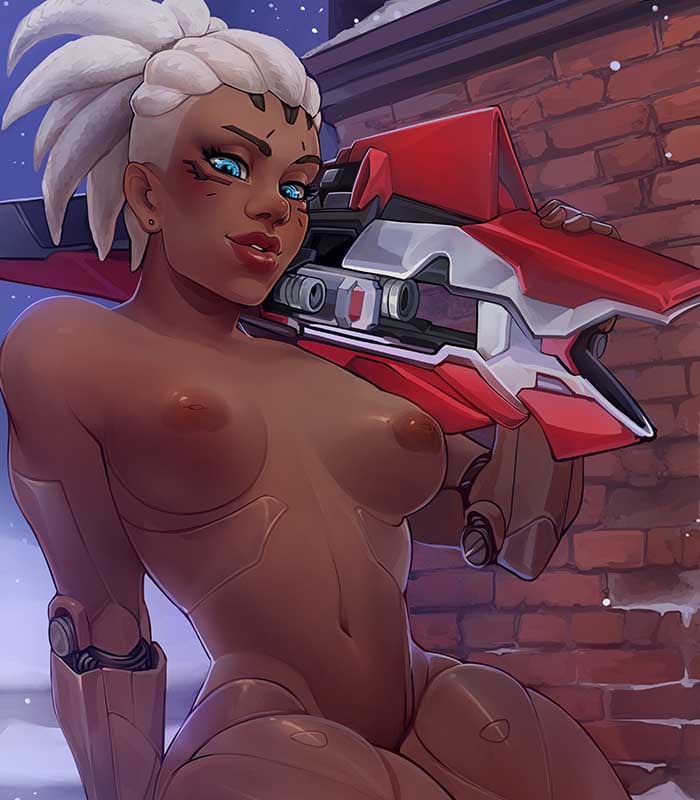 ---
#13 Junker Queen (New Overwatch 2 character)

Junker Queen age, wiki, bio
Real Name: Odessa "Dez" Stone
Age: 35-40
Nationality: Australian
Role: Tank
Motto: "My throne is where I say it is."
Another new Overwatch 2 character is called Junker Queen! She's got a hot muscular body, and she already is the perfect FUTA character for other sexy heroes in the best OW 2 porn videos. As you could suppose, she is a Tank hero whose main goal is to take part in close combat fights. She is easily recognizable by her blue mohawk hair and huge tits that she tries to cover in a crop top. It's not an exception that she shoves some dick under the crop top and between her tits to provide an amazing titjob for her horny male associates. Junker Queen is the new busty queen in the game!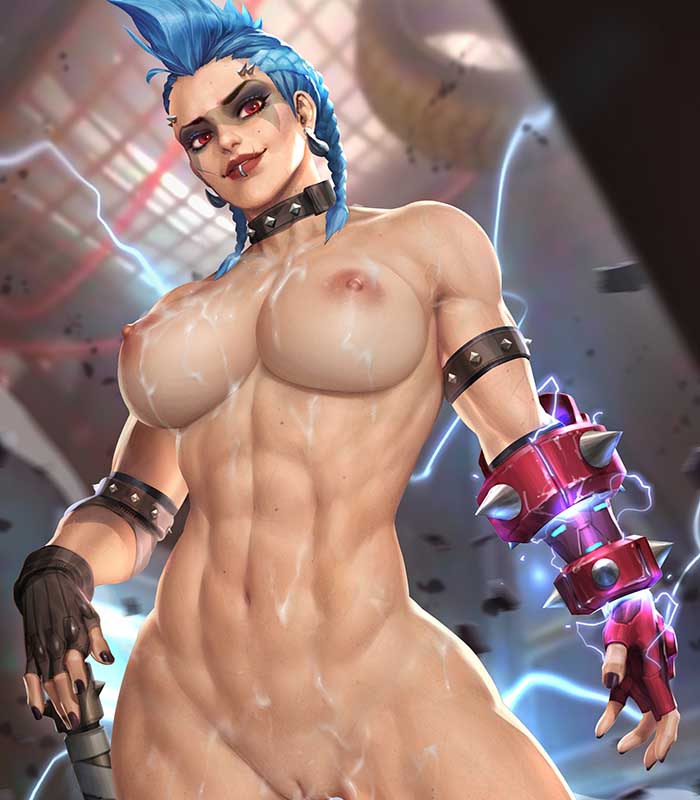 ---
#12 Ana

Ana age, wiki, bio
Real Name: Ana Amari
Age: 60
Nationality: Egyptian
Role: Support
Motto: "I will not leave a broken world behind."
Even though her costume covers almost a full body, her cute face can be visible from miles! And even better when she strips naked to show us her perfect firm tits and amazing curves. This is Ana Amari, the Arabic girl who deserves way more attention than she already gets. She is officially 60 years old. That's why you can also see her as a MILF hentai character. But usually, she is shown as her younger self, who never refuses any opportunity to fuck any big cock or eat any pussy of her horny colleague. You can recognize Overwatch Ana by a blue hat that she almost never takes off.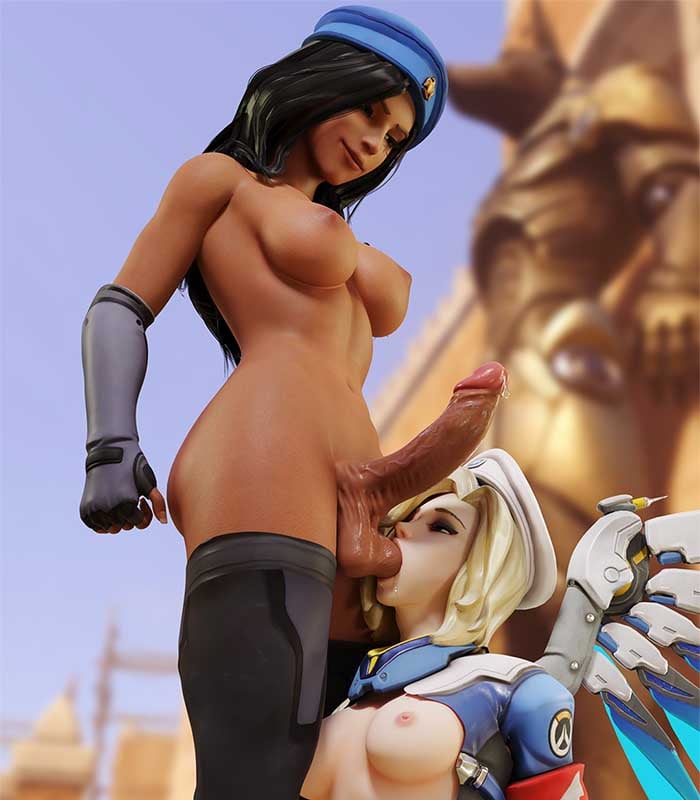 ---
#11 Mei

Mei age, wiki, bio
Real Name: Mei-Ling Zhou
Age: 31
Nationality: Chinese
Role: Damage
Motto: "Come on, Snowball! They need our help!"
Mei-Ling Zhou is a Chinese Overwatch 2 character whose main purpose is to cause damage. But usually, it's her tight Asian pussy who ends up totally destroyed after a visit from a big black cock. She is thick, has enormous tits, and wears glasses, which makes her even more beautiful. Mei looks like a perfect Asian nerd girl who is too shy to enjoy hardcore sex scenes. But when the action gets real, she simply becomes unstoppable. Her pretty face is often covered with a fresh load of semen after massive bukkake orgies. But that makes her maybe even hotter!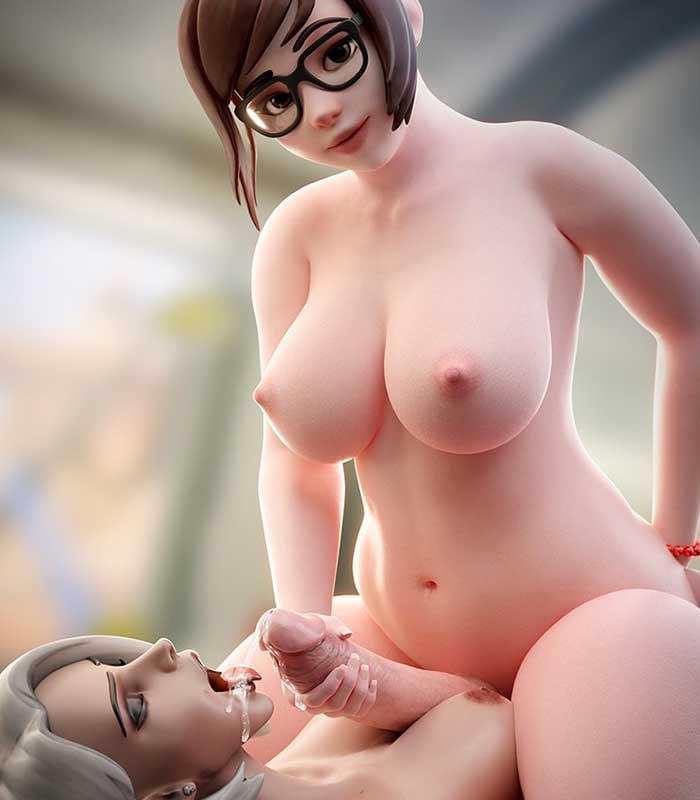 ---
#10 Symmetra

Symmetra age, wiki, bio
Real Name: Satya Vaswani
Age: 28
Nationality: Indian
Role: Damage
Motto: "From imperfection, we build a new world."
As the blue diamond on her forehead suggests, Symmetra is an Indian girl and another Damage hero in the Overwatch video game. She can use a shield to protect her associates, but she really never uses it to protect her tight ass from being pounded by massive cocks. Her eyes and ears are covered with some kind of headgear, but you can still see her beautiful dark eyes when she's giving a blowjob in POV to some lucky guy. She looks like she doesn't smile a lot, but when she appears in the company of a group of big cocks, you can see the true happiness on her face!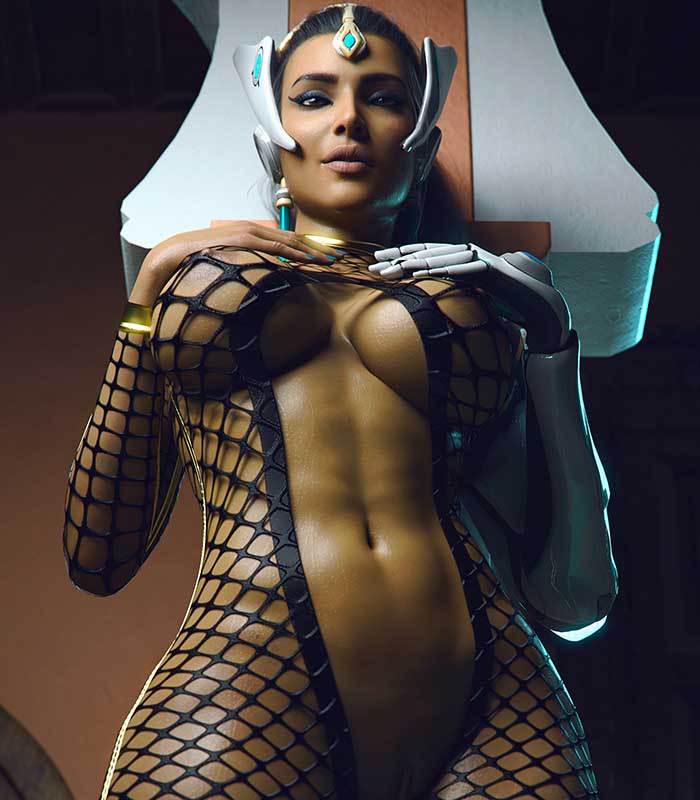 ---
#9 Pharah

Pharah age, wiki, bio
Real Name: Fareeha Amari
Age: 32
Nationality: Egyptian
Role: Damage
Motto: "Strike from above."
When you see this OW hero fully armed, you would hardly say what a cute and beautiful girl is hiding under the armor. But when Pharah takes everything off, your heart starts to beat faster, your dick gets harder, and her pussy is about to get drilled by the biggest dicks! Because no one can resist her amazing Arabic body and perfect tits. Just like her name, Fareeha Amari, suggests, she is related to Ana Amari. Yep, Pharah is Ana's daughter! But that doesn't change the fact you can watch both these hot ladies in hentai taboo porn videos together. Threesome with mom and daughter?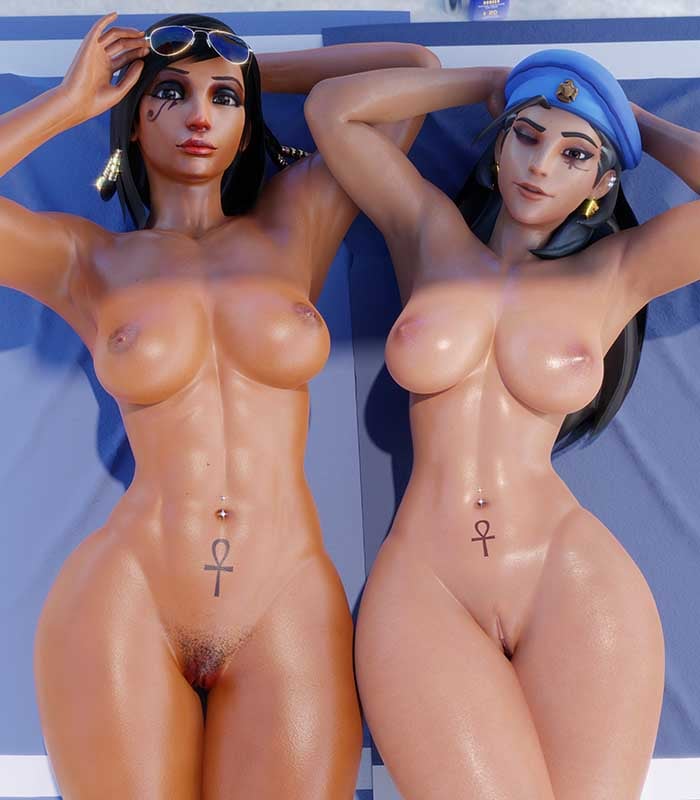 ---
#8 Ashe

Ashe age, wiki, bio
Real Name: Elizabeth Caledonia "Calamity" Ashe
Age: 39
Nationality: American
Role: Damage
Motto: "I'm the last person you'll ever cross."
Have you ever seen a hotter gang leader? Ashe is the sexiest thief in Overwatch, and we can't get enough of her sharp look and incredible body! Her full name is Elizabeth Caledonia "Calamity" Ashe, but you don't need to remember that. All you need is to look for Overwatch Ashe porn, and the results will blow your mind! You can recognize her by a cowboy hat that she refuses to take off even when some massive cock is destroying her thrilling, tight ass! She has sexy gray hair, ideal-sized tits, and always finds a way how to use her massive FUTA dick!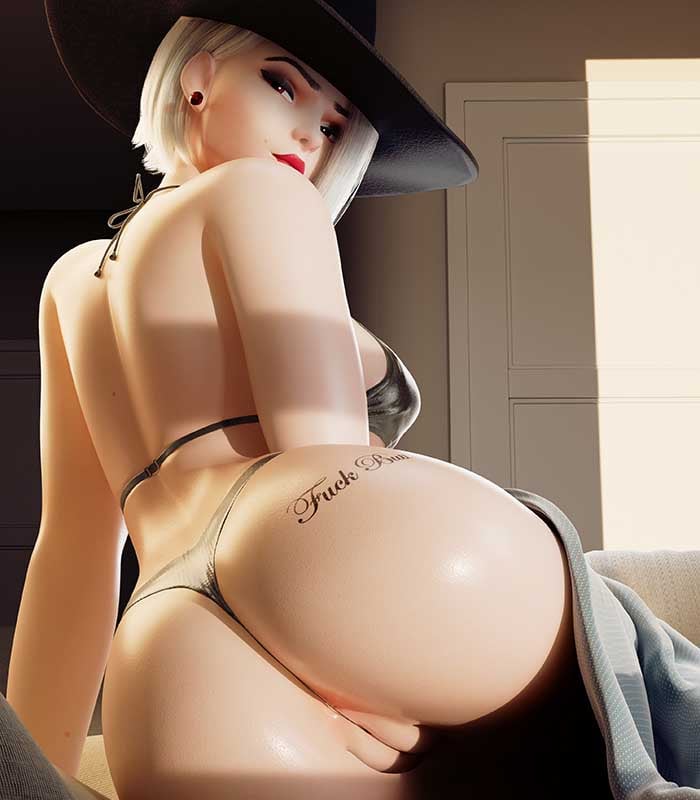 ---
#7 Brigitte
Brigitte age, wiki, bio
Real Name: Brigitte Lindholm
Age: 23
Nationality: Swedish
Role: Support
Motto: "Breaking me down just builds me up."
Brigitte, as the support hero in Overwatch, usually helps her teammates with repair packs. But in Overwatch 2 porn, she more often uses her big ass to heal the biggest cocks she meets! This busty redhead has the body of a Goddess, and when you see her thick butt in action, you know you are screwed. Because that's the moment, you know you have to get more. More of the Overwatch Brigitte porn. But you are lucky because she belongs among the most popular OW characters and most popular hentai characters in general! And did you know she comes from Sweden? Now you know!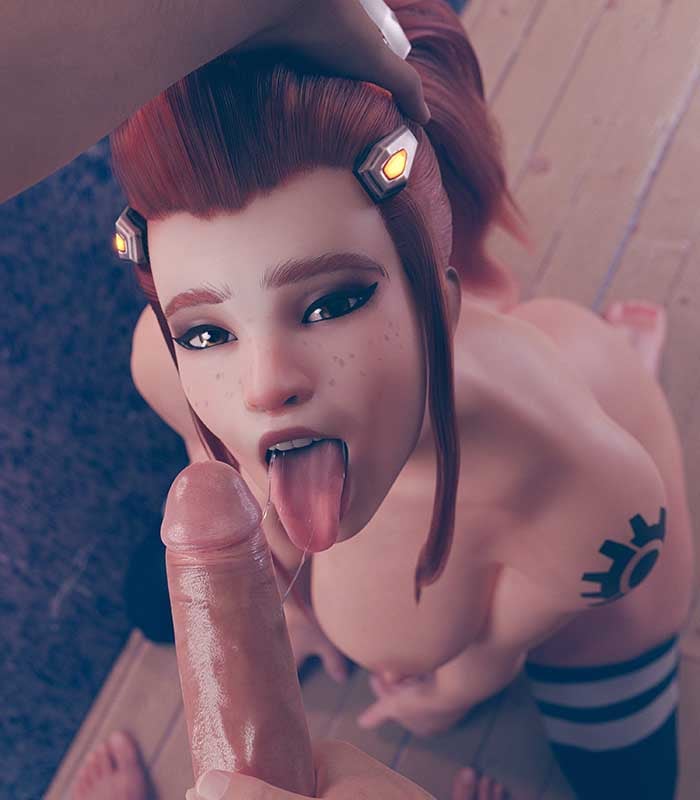 ---
#6 Sombra

Sombra age, wiki, bio
Real Name: Olivia Colomar
Age: 30
Nationality: Mexican
Role: Damage
Motto: "In my world, there are no secrets."
When Sombra gets in the action, everything gets purple. Someone says that her camouflage makes her a hard target to pin down. That someone probably hasn't watched a second of the best Overwatch Sombra porn videos. Because she appears to be pinned down by the biggest cocks all the time! She is of Mexican descent, but you can't see any sombrero on her head. All you can see on her head is often a fresh load of semen. Her alluring face and purple eyes say, "come and get me". And then, it's only up to you how you use her exceptionally sexy body!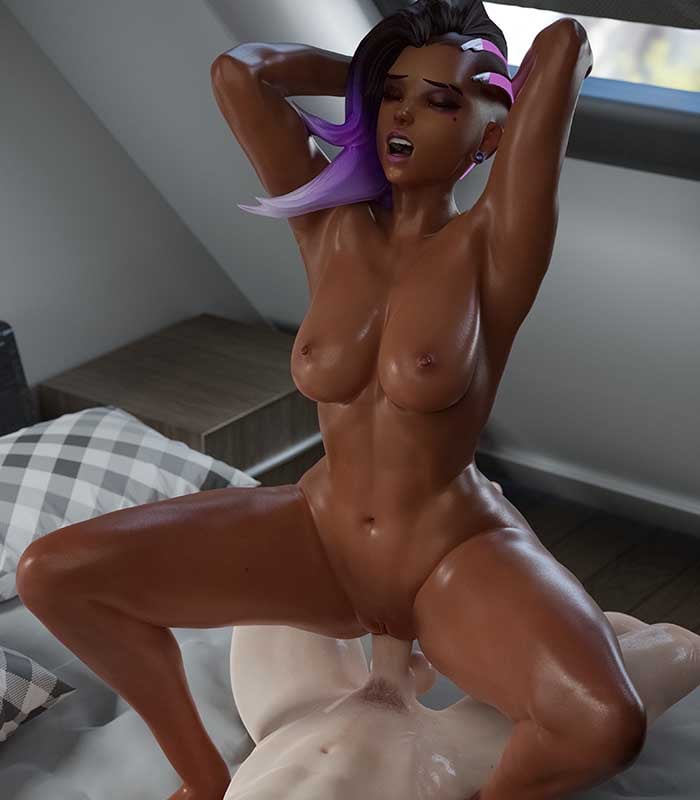 ---
#5 Kiriko (New Overwatch 2 character)

Kiriko age, wiki, bio
Real Name: Kiriko Kamori
Age: 20
Nationality: Japanese
Role: Support
Motto: "I'll find my own path."
If there is someone who can become the hottest Overwatch 2 character, this is her! It's Kiriko, the Japanese teen who has all the makings to enchant the big OW community. It almost looks like she was made to satisfy all our needs. In the game, she is a support hero. And in the Overwatch 2 porn, she is a cute busty Asian hero who comes to save every sperm from being wasted! Her full name is Kiriko Kamori, she is 20 years old, and she already has enough experience to satisfy any big black cock. Can she get any cuter?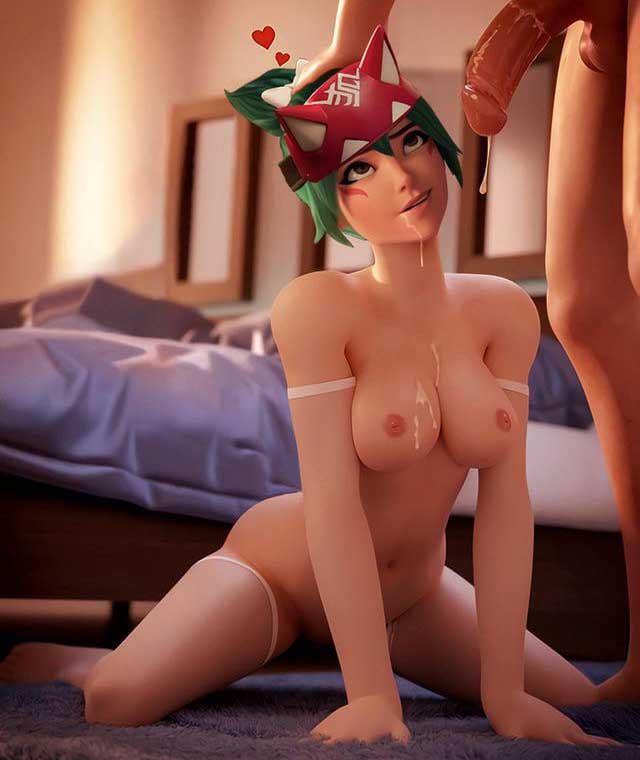 ---
#4 Widowmaker

Widowmaker age, wiki, bio
Real Name: Amélie Lacroix
Age: 33
Nationality: French
Role: Damage
Motto: "I aim to devistate."
Widowmaker is a former ballet dancer who knows every position for fucking the biggest dicks. She's probably the most flexible hero who's ready to fill both her holes in spectacular hardcore porn scenes. Her entire body is blue (or purple, if you want), and she usually doesn't hesitate a second to destroy her target. That's if we talk about the game because she is the Damage hero. But if we talk about Overwatch Widowmaker porn videos, she is usually the one who gets destroyed by massive dicks!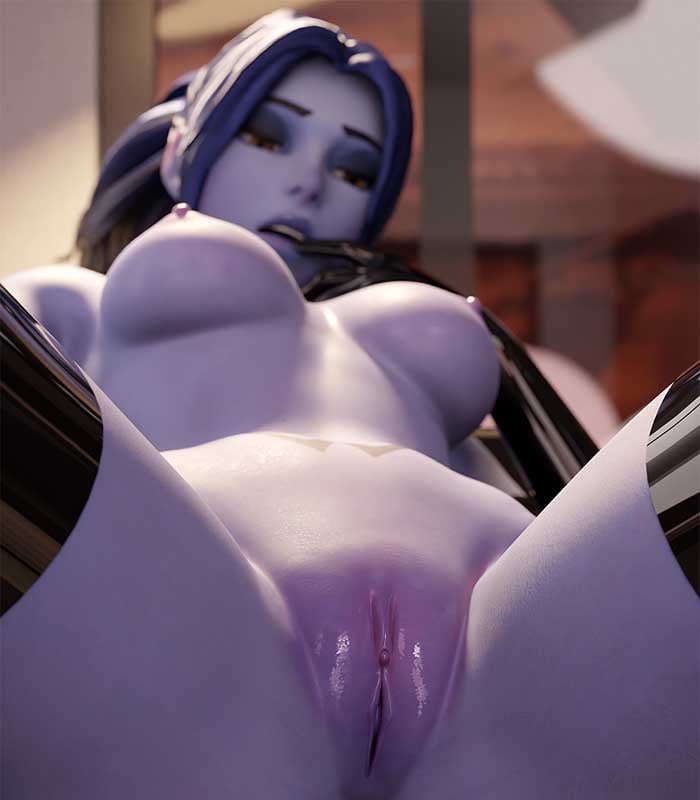 ---
#3 Mercy

Mercy age, wiki, bio
Real Name: Angela Ziegler
Age: 37
Nationality: Swiss
Role: Support
Motto: "Don't worry, I'll be right behind you."
Mercy looks like an angel who is always there when you need her the most. She's got a support role in the game, and in the best Overwatch Mercy porn videos, she supports the big black cocks in filling her juicy cunt. If you are looking for the hottest blonde lady in the game, you are at the right address. And if you are looking for a horny busty lifeguard, Mercy will never let you down! Her official name is Angela Ziegler, and she comes from Switzerland, where she has learned all her medical skills. And now, you can watch her using all her skills to take care of her lesbian associates and the big-cocked dudes!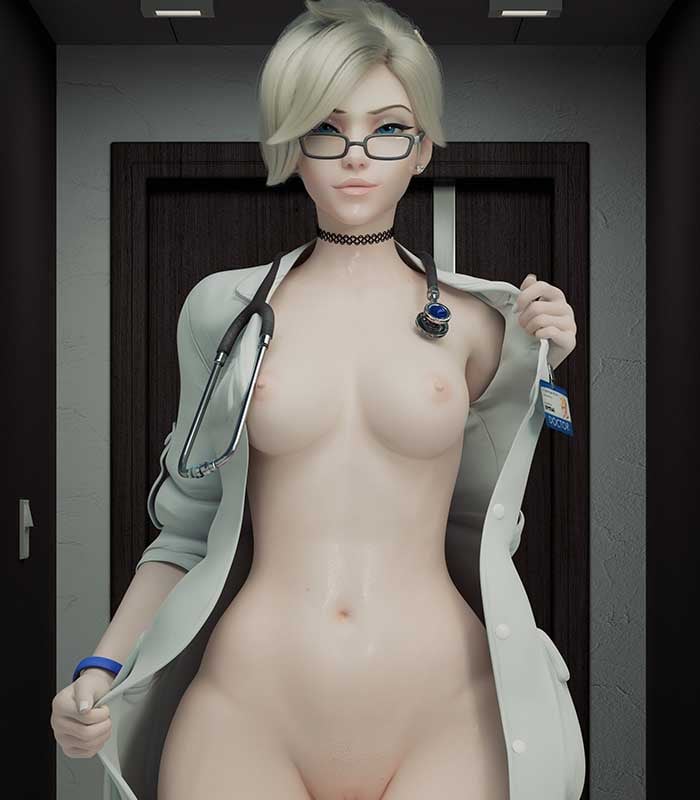 ---
#2 Tracer

Tracer age, wiki, bio
Real Name: Lena Oxton
Age: 26
Nationality: British
Role: Damage
Motto: "Cheers, love! It's time to save the world!"
Tracer looks like an ordinary carefree girl who explores the world just like her sexuality. Once she fucks her lesbian colleague, then she puts a massive dick inside both her holes, and then she sucks a FUTA cock of another hottest Overwatch 2 character! She has short brunette hair, a lovely face, and a cock-hungry mouth. Her tits fit perfectly in hands, and her ass is almost too perfect to be real. Tracer is officially in a relationship with Emily, her redhead girlfriend, and you really shouldn't miss their top Overwatch lesbian porn videos!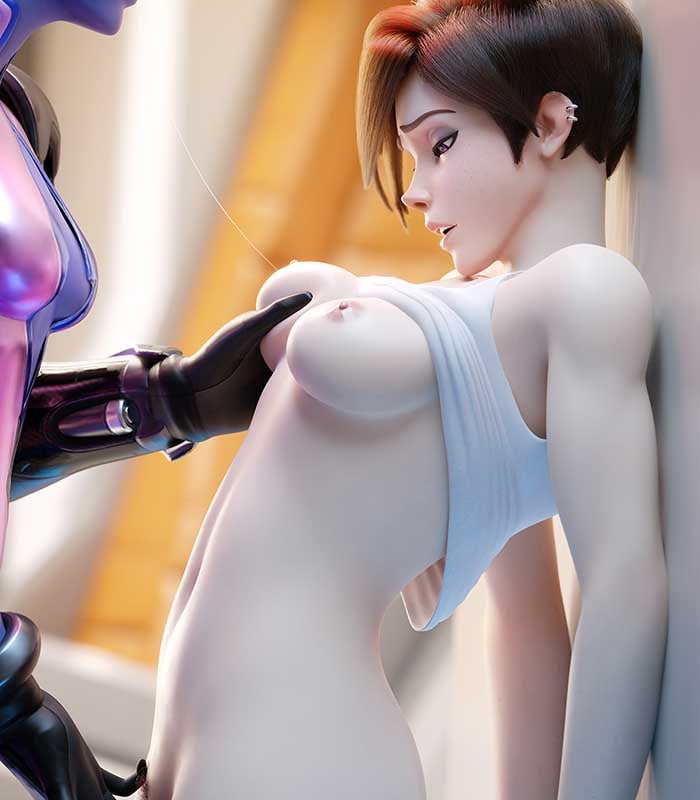 ---
#1 D.Va
D.Va age, wiki, bio
Real Name: Hana Song
Age: 19
Nationality: Korean
Role: Tank
Motto: "Time to save the world? Game on!"
Here she is. The cutest, the prettiest, the hottest Overwatch 2 character! D.Va. Perfection is the only word that could describe her. She is a Korean teen whose job is to destroy everything that comes her way. And when she's done with it, she likes to relax with a huge cock stuck deep inside her tight Asian pussy. There are not only thousands of top D.Va porn videos. But also, the hottest cosplay pornstars love to transform into this beautiful young lady. She looks like she was predestined to turn all our dreams into reality in DVa porn! And she does that with breathtaking ease!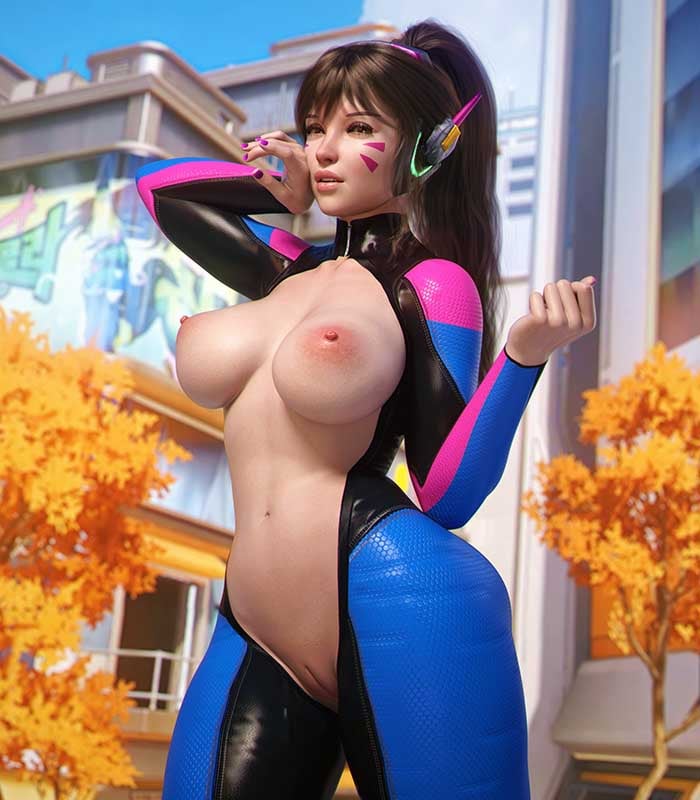 ---
Where to Watch Best Overwatch 2 Porn Videos
Hentai porn belongs among the most popular porn genres in general, which gives us numerous possibilities when looking for Overwatch 2 porn videos. Xanimu is a hentai porn site with a tremendous supply of not only Overwatch porn where you find everything you ask for, and moreover, every action is completely free. Of course, there are also other hentai porn sites that deliver together every animated video or cartoon picture you can find on the Internet. The hottest Overwatch 2 characters are already waiting!
WHAT NOW?
We have more! Check our other lists of the hottest pornstars: