The world is under the attack of a new type of coronavirus that affects all industries, including our favorite porn industry. Quarantine and other precautions affect the functioning of the porn industry and, of course, individual pornstars. While for someone, the precautions have a negative impact, others are experiencing the golden times. That also applies to us, who enjoy porn the most, because several porn sites, including pornhub or xhamster, offer premium accounts for free, which means access to many of the most high-quality porn videos on the internet. Some porn studios fully support quarantine and do not shoot, others seized the opportunity to flood the internet with coronavirus-related porn videos. Let's look at the impacts of the coronavirus crisis on the porn industry.
The coronavirus infection is terrible, we know it, but the porn industry can't stop, and we are astonished how quickly it reacted. There are new themes of porn, many pornstars change their daily routine, some of the porn studios stopped recording, but the number of people watching porn raised unbelievably. It's like the golden times for the porn industry, and we are here to bring you the hottest news and exciting facts that are connected with porn and coronavirus.
Coronavirus – new porn theme
It was only the beginning of the infection in China in Wu-Han, and first porn videos with coronavirus theme started appearing. But still, it was not an interesting topic for many porn studios, and only some amateurs were trying to show how life in quarantine could look like. At that time, they didn't know yet, they were not far from the truth. Because as the virus spread across the world, more and more people stayed in the quarantine at home with a lot of free time. And what could be better free time activity than watching quarantine porn or having sex, right? From the Wu-Han, a lot of time has passed, and the porn sites are full of coronavirus porn videos.
One of the first porn video ever made with coronavirus theme showed a male investigator going to China, where he discovered in an abandoned house an infected girl. She looked more like a zombie, but at that time, we really didn't know what the virus can cause. And, of course, the investigator ends up on the floor and is fucked in POV by hot Chinese infected girl. The medical suit is useless in these kinds of situations…
Right now, there are 1064 porn videos when you look it up on Pornhub. And the number is still rising. You can see videos that you have never had a chance to see because no one wanted to wear a facemask during kissing or licking pussy. Now it's a thing, and you can see many hot girls fucked in their facemask. Good protection is the key to not get infected, and everyone should take that seriously. But if it's too late for you, you wouldn't believe how many doctors are among the porn models who know exactly how to get rid of the virus.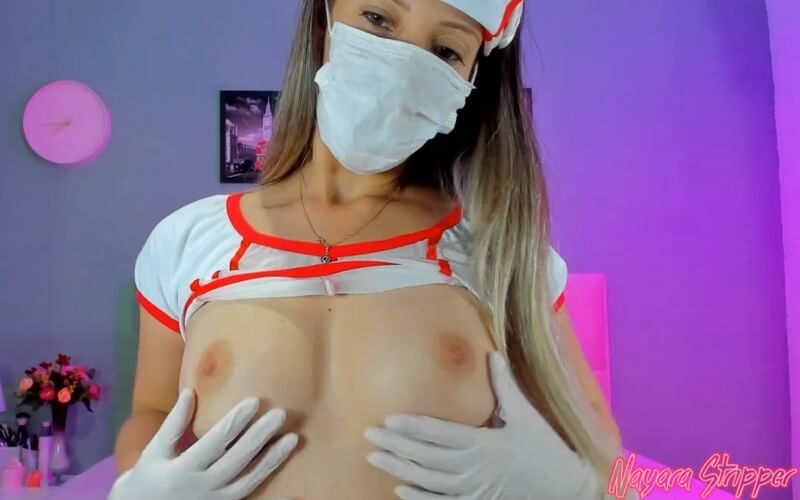 How to fight coronavirus
We gathered advice from porn videos, and we can tell you, there is really a good chance you can cure yourself thanks to regular sex. Some say the fresh cum is the only coronavirus cure for hot young girls. Creampie or swallowing the cum are the options here. Others claim that the regular anal sex should be enough, and the ones who are alone in the quarantine hope that the solo masturbation will also heal them. But if not, at least they had a great time, and now you can also have a great time watching all the girls trying to solo cure themselves or trying to get the virus fucked out of their bodies.
Note: This is not a medical advice. It's just a humorous comment of the current trend in porn.
One of the biggest studios Adult time has a little bit different attitude. They know they are lucky to have the hottest models shooting porn for them, so they stopped the production and ordered their pornstars to stay home in the quarantine. Now they made a video where you can see their sexiest girls telling how they use their free time. And yes, as you would imagine, they mention a lot of sex and masturbation, just like in their porn videos. Listen to their advice, stay home, stay safe, and you know, the porn is always here for you. Just like Adult Time production where you can see top quality porn movies with over 50,000 episodes and stars like Riley Reid or Kristen Scott. You can try it now, and the quarantine will be a piece of cake for you.
Free Premium
The coronavirus infection spreads fast across the world, and many people have to stay in quarantine. On the one hand, the inability to go to work can cause difficulties; on the other hand, many people now have a lot of free time and are looking for ways to make use of it. It didn't take long, and one of the biggest porn sites reacted with huge help. Pornhub.com is now offering premium accounts free of charge to enjoy the highest quality porn.

The main reason for giving a free premium is to make a life in the quarantine easier, so the people don't want to go outside. I think you already know Pornhub, because it's one of the biggest porn sites, and offers millions of amateur and professional porn videos. On Pornhub, you can find the most famous pornstars, and almost every porn production has its own channel here. You can watch almost three thousands of Brazzers videos, the biggest black cocks in the channel Blacked, or popular Public Agent or Fake Taxi channels.
All of that you can now watch completely free. Just like the hottest videos of the most popular pornstar on Pornhub Lana Rhoades, where she shows her incredibly beautiful ass. Maybe you thought you have seen everything on Pornhub, but there are surprisingly many premium videos that were hidden for you. Just like Mia Khalifa's porn video with only 24k views! Don't be shy and use this opportunity and explore a completely new world with only the best premium porn videos on Pornhub.
"With nearly one billion people in lockdown across the world because of the coronavirus pandemic, it's important that we lend a hand and provide them with an enjoyable way to pass the time."

Corey Price, Vice President of Pornhub
Pornhub is not the only one that is offering free premium accounts. XHamster.com started to provide free access to the premium videos, but only to those regions that are severely affected by the covid19. To get your premium account free on XHamster is not that easy as on Pornhub, because you have to send an additional email to verify your free premium account. XHamster was surprised with so many new registrations, they were not able to process all the requests yet. They will do the maximum to satisfy all the visitors, so we hope we all can enjoy their amazing supply of porn videos.
Traffic changes
Right now, the whole world is watching porn. That could be a motto of these days because porn is now more popular than ever was. We also have precise statistics, because Pornhub showed how much the traffic changed during the advancing quarantine.
The first country where Pornhub offered free premium was Italy on March 12th. On that day the traffic increased by 50 percent above normal levels! For many Italians, it was the happiest day of their life. But not long after Italy, the premium services were free also in France and Spain, and the results were similar. In Spain, there was even a 60 percent increase. The worldwide traffic increased by 13,7% on March 20th.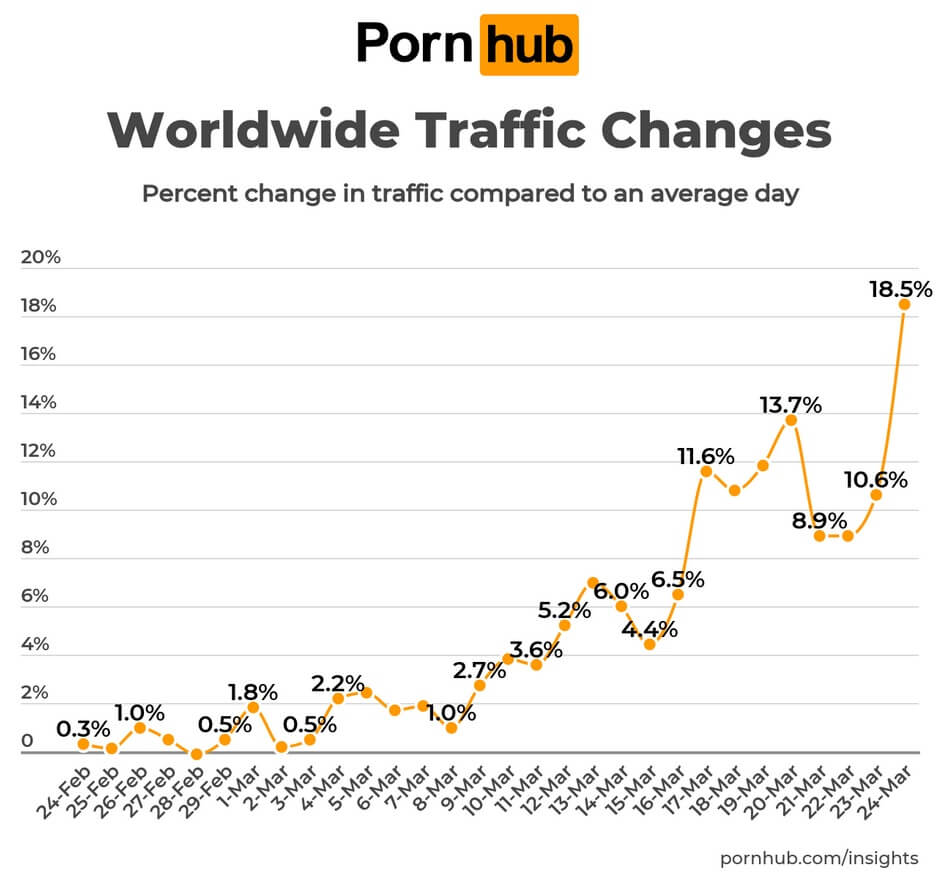 The biggest blast of visitors was connected with the announcement of worldwide free premium accounts for everyone for one month. It was on March 24th, and there was an increase of 18,5% above normal traffic levels.
Other statistics show us how much has increased porn watching by gender. The biggest increase of female visitors has been recorded in Italy by 36 percent. In the second place are the women from Mexico and the third place belongs to girls from France. But the male part of the chart is looking completely different. The increase by 40% was recorded in Poland, the second country with a 38% increase was Australia following by a 34% increase in the Netherlands. The last statistics we will show you is about searching porn videos with coronavirus themes. The first searching using "coronavirus" or "corona virus" appeared on January 25th, and from that time, the number massively rose. During 30 days, the Pornhub recorded over 9 million searches containing words "corona" or "covid". And do you know where the coronavirus is most popular? In one little European country called Slovakia. The second place holds Bulgaria followed by Ireland.
Pornstars on social media
Professional pornstars who follow the quarantine has now the chance to spend their free time improving their social media sites. Shooting porn videos doesn't have to be their only income in the modern age. There are many pornstars who already have millions of followers on their Instagram or Twitter accounts, so the fans always know what their favorite model is doing at the time. Now, if you are just as bored as them, you can get the hottest pictures from all the premium Snapchat girls. Riley Reid, Lana Rhoades, or Asa Akira are willing to send you their private nudes directly into your smartphone.
The chart of the most popular porn stars on Instagram is leading Sunny Leone with more than 30 million followers. She is not active in the porn industry nowadays, so her popularity is now due to shooting movies in Bollywood. But don't forget, she was named in Top 12 best pornstars in 2010. The second place belongs to Mia Khalifa with 18 million followers. Although she is not shooting porn videos anymore, she is still very popular, and her Instagram account is full of new hot pictures. Then there is a huge gap, and the next famous pornstars have only bellow 7 million followers. And there are Gianna Nicole, Lana Rhoades or Sophie Dee.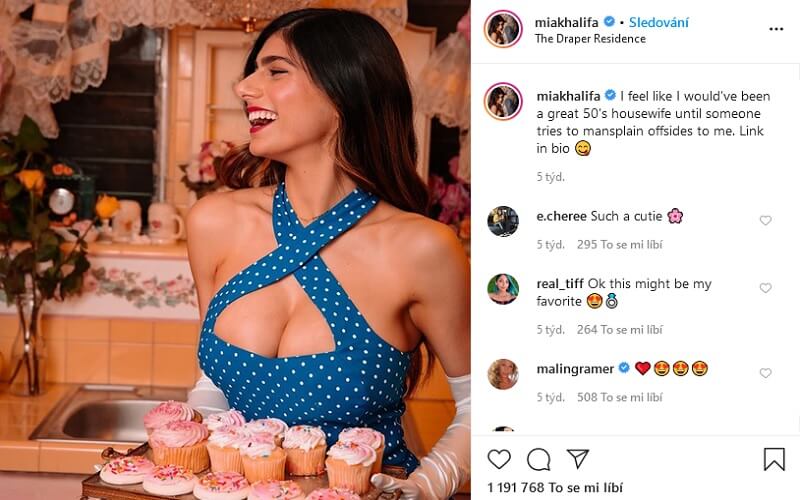 Many other pornstars accept the quarantine, but they are not willing to just relax. They need sex, and they need to show their naked bodies to their fans. And of course, they have other possibilities than shooting porn in the studios. It's exceptional time you can watch your favorite pornstar streaming live on Livecams. That's something you could never watch before. And they love it! For example, Marina Maya announces her Livecam performances on her Twitter. And she is not alone, so try to look at your favorite pornstar's social media account, and you might be surprised to see her in so far unseen performance because of the coronavirus crisis.
Quarantine with porn
You have many possibilities on how to use your free time during the quarantine. You don't have to go outside, because outside is the coronavirus. Stay home because home is safe, and at home, the porn is waiting for you. You can use the unique chance of free Pornhub premium account, and I believe you won't be bored anymore. Let the pornstars take care of you during the crisis, and you will be happier than never.