Let's go to Prague! Sounded like a great idea. Turned out to be the best idea of this summer! Prague is the home of many adult entertainment companies, and besides that, we all know the Czech girls are the most beautiful creatures on the planet. We decided to visit the capital city of the Czech Republic and spend a few days in this gorgeous place. We will share with you our experience from the Prague trip and give you a few tips on what places to visit here. But you don't have to worry. This really isn't a travel blog about Prague Castle, Charles Bridge, or Prague Astronomical Clock. Because there are way more attractive places for adult men to visit. If you know what we mean. We will reveal for you the best Prague strip clubs, tell you in which strip clubs in Prague you will get the most for your money, and also which Prague strip bars offer the hottest girls. Let's start our journey!
Is Prague worth visiting?
After all we learned from the Internet, we couldn't find a better place where to spend one of our summer weeks. Almost everywhere you hear that Prague is one of the most beautiful cities in Europe and in the world. And although we had other reasons to visit Prague, we couldn't resist spending some time walking through the dazzling streets and visiting some of the most famous Prague attractions. But like we said, we won't be bothering you with it. Because we have a lot to say about Prague nightlife.
And you bet the nightlife in Prague is somewhere between finding yourself in paradise and discovering the real beauty of a woman's body. To find beautiful girls in Prague, you don't even have to go to nightclubs. Almost everywhere, you will run into gorgeous teen students or groups of charming ladies in mini skirts who won't be mad if you stare at their perfect legs. You can turn into a Public Agent and try your luck right on the street, or you can visit some of the bars and clubs later. But you know, your effort may not be as effective. To not spend useless time talking to random Czech girls, you can go to places where the beautiful girls will want to talk to you. Where you are the one who has all their attention.
What are the best Prague strip clubs?
Here we are. The night is coming, and we are ready to start our strip clubs tour. Before you jump into the action, we will give you a few tips and tricks that you can find in our next article. We tell you how to spend your money wisely or how to avoid scams. But now, we are going to look closer at the best Prague strip clubs. Most of them have free entry, but the prices inside can surprise you. Visiting erotic clubs definitely belongs among the best things to do in Prague. Most strip clubs are located on Wenceslas Square, and that's the place where we are heading right now.
List of the best Prague strip clubs (click name to see more details)
#1 Goldfingers - The Best Prague Strip Club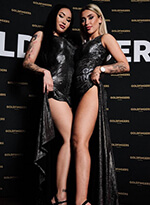 Our first steps took us to one of the most famous Prague strip clubs. For a night, we could feel like an irresistible Sean Connery in a James Bond movie. Because the first strip club of the night for us was the infamous Goldfingers! The club where hot girls will make you a company in the most alluring ways. And we have to say, we will never forget our first moments in this club. Not only because of the gorgeous girls who were standing right at the entrance. But the look at a huge stage where one lady was performing a thrilling striptease show while we were looking for a place to sit left a big mark in our memories.
If you have ever imagined a strip club, this is it. A big stage with a pole, beautiful girls dancing to modern music, and a really nice atmosphere. We were amazed by the number of hot girls who were willing to sit down next to us and talk about everyday things. Although we knew they want us to take them to a private dance, they were nice even though we rejected some of them. Most girls were Czech, but we also had a chance to talk with wild Slovakian beauty or a young Russian lady. English was no problem for them, and for us, it was no problem to invite them for a drink.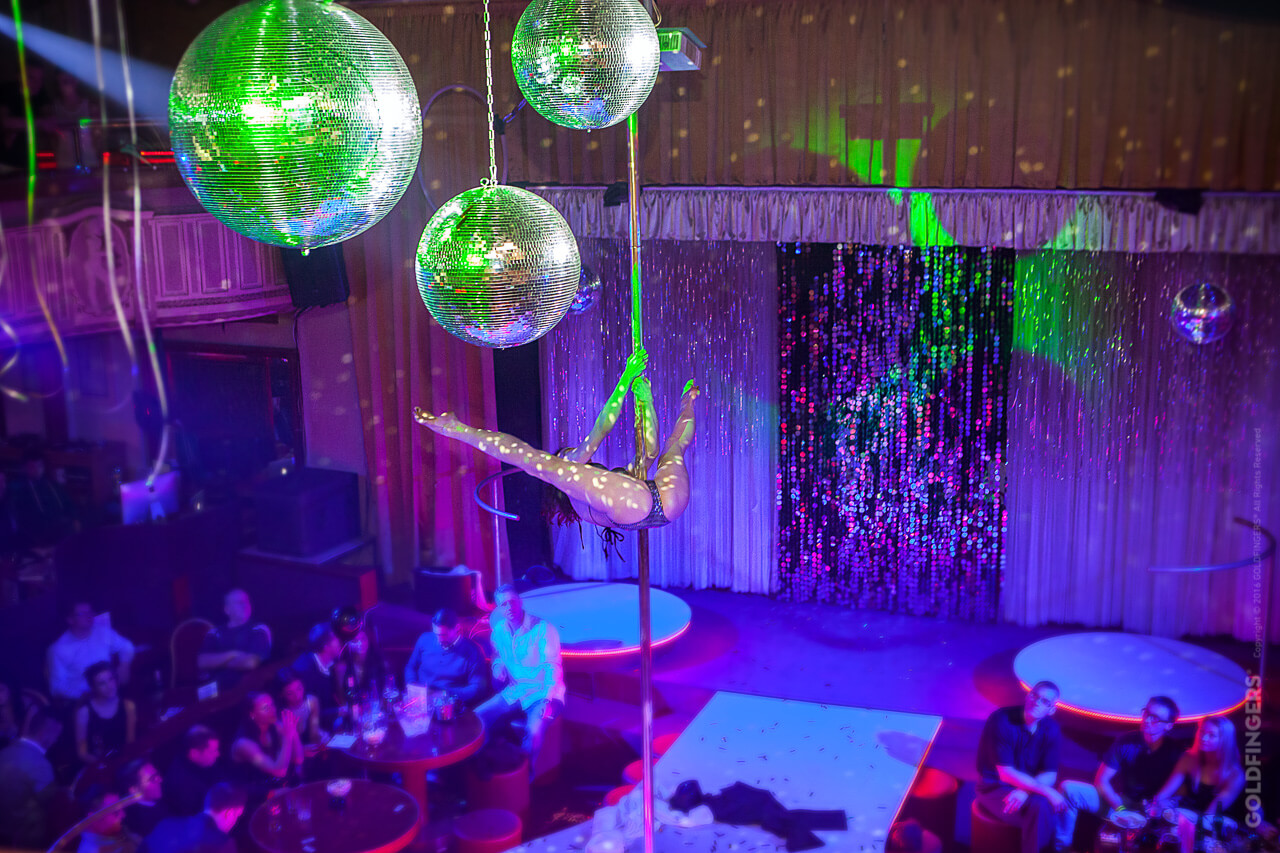 It was inevitable to get a private lap dance in the back from the most gorgeous girls in the club. The prices is similar in each of the Prague strip clubs, and for a lap dance, you pay 1.500 CZK (€60). The dance is 5 minutes long, and you can touch the girl everywhere except the private parts. We were so long in Goldfingers that we even caught a happy hour in which we enjoyed a 10-minute lap dance for the same price. There are also special VIP seats right next to the stage where you've got the best view of the models. And if you want to party in style, you can purchase some of the special packs that include VIP reservation, fake tipping dollars with which you can reward the girls, and of course, tons of drinks. If we should choose the best strip club in Prague, Goldfingers wins the gold medal.
#2 Hot Peppers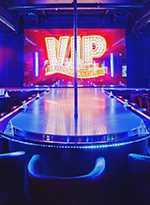 Another famous Prague strip club on the Wenceslas Square is called Hot Peppers. It's not hard to find it, but if you are struggling, don't be afraid to ask one of the black men standing on the street. He will direct you to your desired club. To get into the club, you have to go two floors down through an epileptic hallway, and then you will discover a place where the hottest girls welcome you with their gorgeous smiles. The moment you enter the Hot Peppers strip club, you know you are in the right place at the right time.
You can take a seat by the stage or go directly to a bar where you get a drink for usual strip club prices. Yep, you should expect to spend a lot of money on drinks. But when you decide to enjoy such entertainment, you probably have considered that. Some of the girls are standing right next to the entrance, some are dancing on a stage. We took our places and were ready to watch the spectacular girls showing off their perfect bodies. The club is not as big as Goldfingers, and you are sitting close to other visitors, but that really doesn't affect your experience.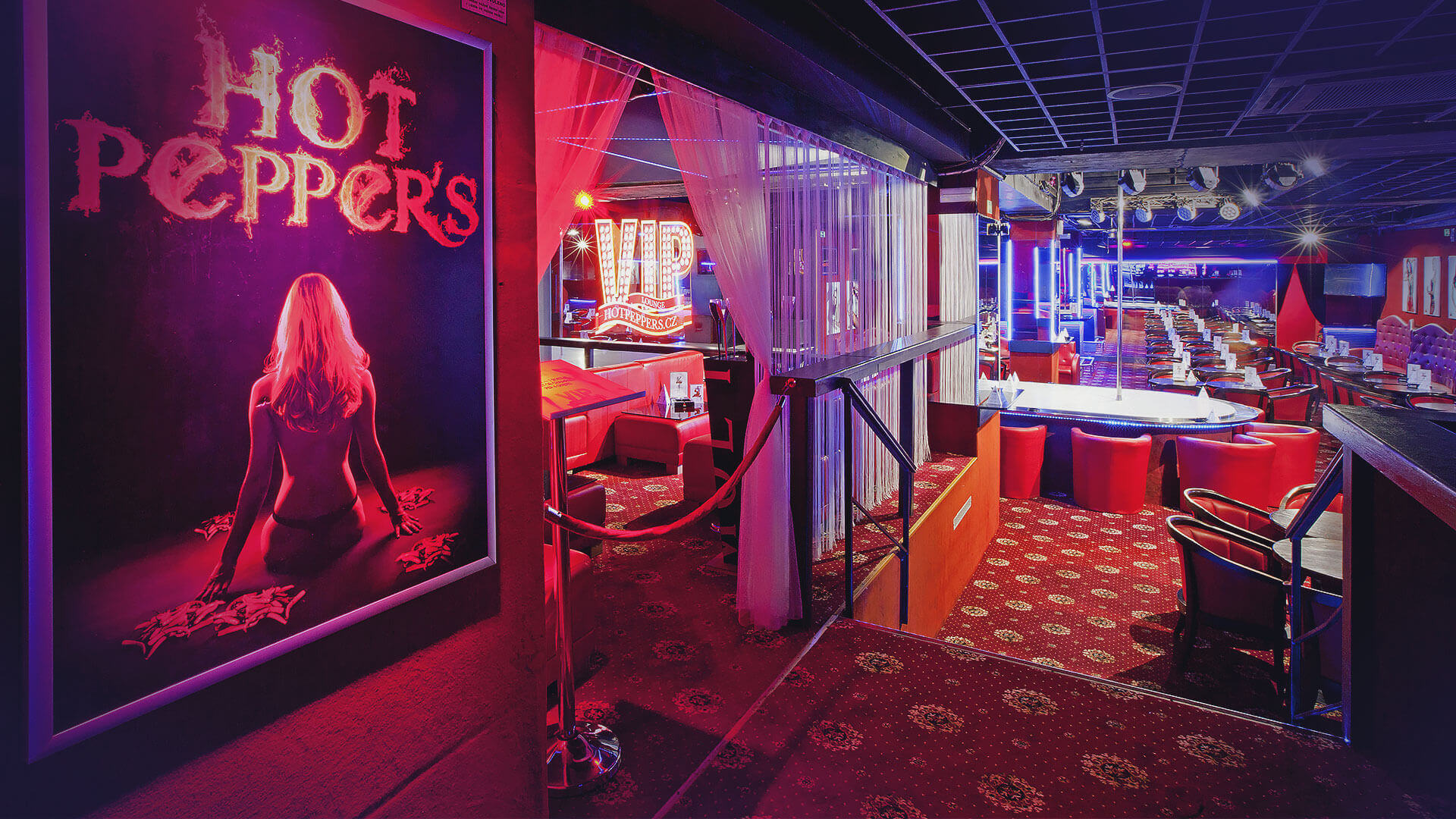 If you want to sit together only with your friends, you can use the VIP section where you have the best view of the stage. And you don't have to worry, the girls will find their way to you. We had a chance to meet beautiful young Czech girls as well as ebony beauties who were ready to fulfil all our secret dreams. The price for a private lap dance in Hot Peppers is also 1.500 CZK (€60), and you can't leave this gentleman's club without enjoying a great time with one of their hot girls. Or with two of them. Because we couldn't resist a private lesbian show that made us stay a little longer than we originally intended. Never mind. Time spent in Hot Peppers is always well-spent time.
#3 Darling Cabaret - The Biggest Strip Club in Prague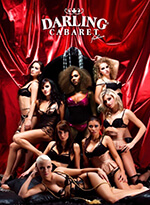 Now, let's go back in time. The Darling Cabaret is not some ordinary strip club. Here you get more than topless girls. Because here, you will enjoy the best night of your life. At least, they say it. And we couldn't resist such an opportunity. We reserved one whole night for them, and after our previous experience with other Prague strip clubs, we couldn't wait to enjoy another great night. To make our experience complete, we called their exclusive free limousine transfer. Yep, they came for us in a long limousine where we felt like VIP while cruising the Prague streets. There was even one hot girl inside who got us in the mood. A pretty promising start.
Darling Cabaret is one big house, and you really can't miss it. Although they try to look like an old school cabaret, the interior is modern, and you feel comfortable inside. There are even three seperate clubs in the Darling Cabaret! You can choose Lounge, Cabaret, or Strip club. We chose the main stage where all the entertainment is taking place. There are two floors where you can sit. If you choose the upper floor, you'll get a better view of the main stage. But if you sit next to the stage, the atmosphere will engulf you. Don't think it's just a regular strip club. Because, unlike other strip clubs, they prepare their own thematic shows with the hottest dancers.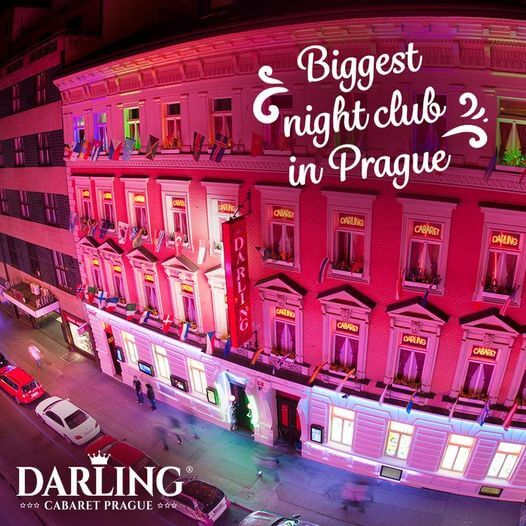 Every day from 10 p.m. you can be a witness to various performances. Every fifteen minutes a new show takes place on the stage. We'd like to say a few words to each of them we had a chance to see, but we get immediately horny again. Never mind, we try it anyway. When you hear the title Angel & Devil, you really wouldn't expect to see two wild girls in a thrilling lesbian show. And this was our start to the unforgettable night. From this moment, everything was so fast. We had one drink after another. The girls danced in the rhythm of the Brazil carnival or in the style of the thirties. And when it came to the Magic Show with an ultimately hot magician's assistant, we knew we couldn't find a better place for this night.
#4 Queens Club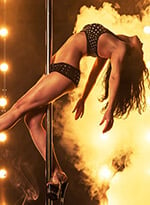 From a big stage to a smaller strip club in Prague. Not so far away from Wenceslas Square, we found the Queens Club that promised services we were really curious to try. Although we knew the place should be small, we were quite surprised by how small it is. But you know, we came for hot girls, and we got beautiful ladies who were willing to do anything for us. And that was just the beginning. Because just like we said, there were services we couldn't get in any other Prague strip club.
Now we are talking about the BDSM private action, where the hottest domina takes care of you. If you ever wanted a naughty girl to completely control you, this is the ideal opportunity. Of course, we had to try it. After choosing your mistress, she takes you to the room where everything is already prepared for all kinds of BDSM games. After she ties you, all you can do is wait for what will come next. When you look the domina in the eyes and see the passion, you know she really loves her job.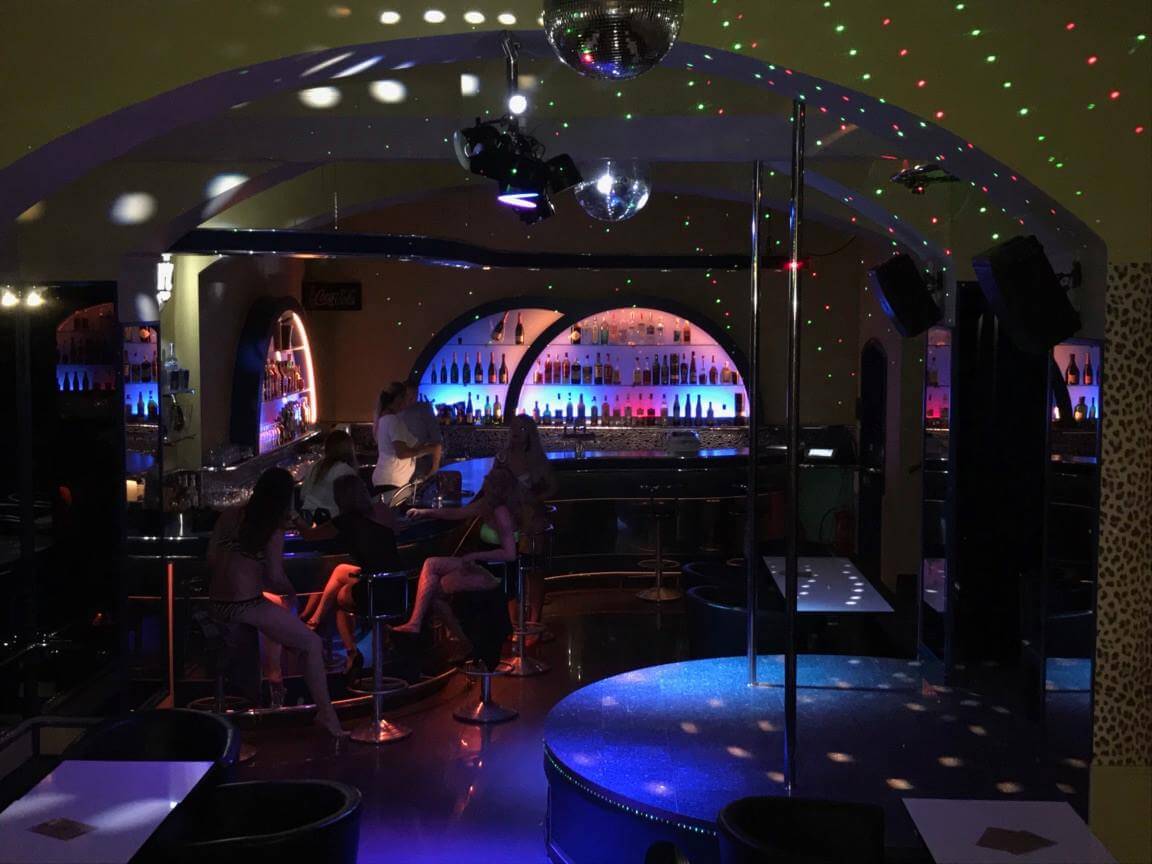 After we enjoyed a little bit of pain, we went to another room with another beautiful girl. But this time, she was nice and was ready to give us the best erotic massage. You probably already heard about the tantric massages. But if not, we definitely recommend visiting Queens Club, where a gorgeous girl takes care of your erogenous zones. You will feel something you have never felt before. During the massage, you are constantly on the edge of reaching orgasm. It's just wow. After this charming experience, we were ready to go back to our hotel and to sleep like a baby. But before that, we saved the Queens Club phone number because they also offer an escort service that we could use next time.
#5 Sauna Club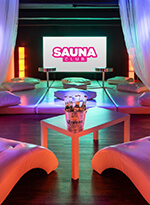 The next stop from our list of Prague strip clubs and nightclubs was the Sauna Club. We were wondering if the name really means we are going to enjoy a sauna experience, and we were not disappointed. This club was the only nightclub with an entry fee. During the Covid times, the fee is 1.500 CZK, but the usual price is 3.000 CZK. For your money, you get not only access to the club but also a few drinks and food. For additional services, you have to pay extra.
Sauna Club offers a unique place where you can relax, talk with your friends while smoking hookah, or enjoy one of the services where you will be surrounded by hot naked women. There is no need to wear clothes inside, so if you are not afraid of showing your body, feel free to do it. You will also get towels and branded bathrobe if needed. But the reason you should visit the Sauna Club is without any doubt the biggest whirlpool in Central Europe. And you can be sure the stunning ladies won't leave you alone.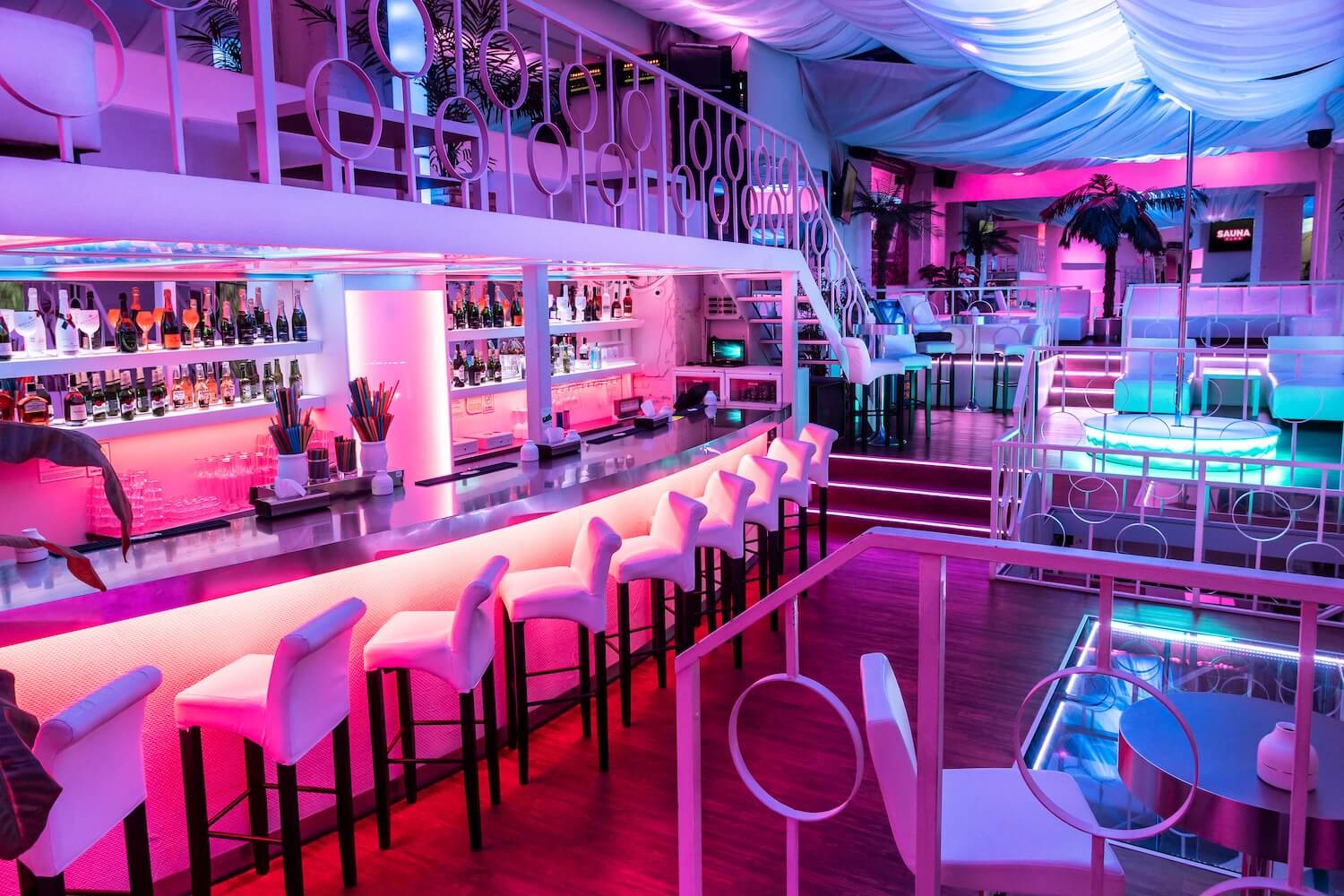 You can also use their skilful hands when getting a massage or take them to the Finnish sauna that you can share with more than ten people. If you are a sports fan, you don't have to worry you will miss any important match because their widescreen TVs are always ready. You can spend here the entire evening and chill out after a hard day at work or simply anytime you feel you need to slow down a little. We would stay here longer, but we had to move on to our last stop.
#6 Faraon Bar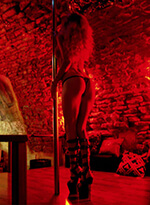 It has a reason we have chosen the Faraon strip bar as our last stop. Not because this Prague strip club is the best of them all. But because we wanted to experience a real happy end. We will get to that later. Now let's have a look at what this strip bar looks like inside. We didn't expect a fancy interior at all, nonetheless, we were surprised by the decoration. There's one big room with a high ceiling, a small stage with a pole, two places for groups of friends to sit down, and a few places at the bar. That's it. We were lucky and came in when there was no one inside, so we could sit down and think of our next steps.
The first moments in the Faraon Bar were quite confusing because there was no girl dancing or talking to us. But after a while, we found out, all the girls are taking care of their customers in private rooms. Never mind, we wait for them. In the meantime, we could listen to some Celine Dion bangers that were not so amazing as the barmaid probably thought. But we got one drink for free, so we forgive her. After a few minutes, one hot girl after another started coming to us, and we could pick our desired girl.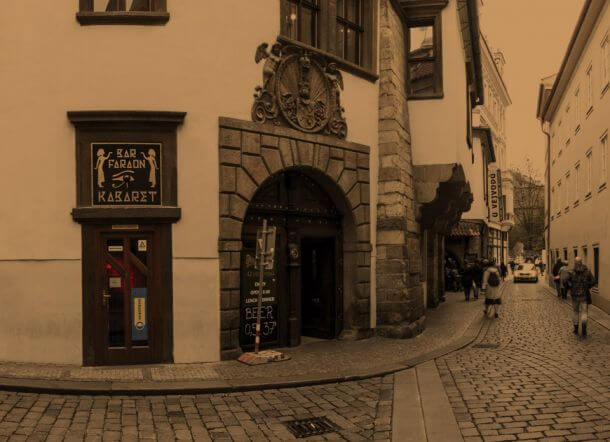 Now, we get to the happy end. This offer is not official, and you can't find it published anywhere. But if you know, you just know. You can kindly ask the girl to go a little bit further than in other strip clubs. You know, usually, the lap dance ends with a naked girl rubbing against your body. But here, you can engage her skilful hands for a special price (4.000 CZK, €160) to the action. We mean, she will jerk you off in the most incredible way! That's it. That's the happy end we were waiting for the entire week.
What are the best nightlife spots in Prague?
If you are thinking of visiting Prague, don't hesitate a minute. Not only you will see one of the most beautiful cities in the world, but you will also enjoy a lot of fun. Especially if you are a man who loves the company of hot women. There are several strip clubs and nightclubs in Prague, and we tried to visit the best of them. But we know there are other strip clubs waiting for our next visit. If you have only one weekend, we definitely recommend visiting the Goldfingers Club and Darling Cabaret. These two gentlemen's clubs have a special atmosphere, and you will remember them for the rest of your life. If you've got more time, feel free to use our list of the best strip clubs in Prague.