These girls had made a decision. Their bodies will never be the same. Because they will be hotter than ever! They decided to cover their already perfect bodies with tattoos! And now you can watch the best inked pornstars in action! We will introduce to you the Top 15 hottest tattooed pornstars, who are getting wilder with every new tattoo! Together with their bio and links to socials, we give you pictures of their alluring body art from their best porn videos. You can call them goth girls, you can call them alt girls, but all we know is they just love to fuck anywhere and anytime. And with the biggest cocks, of course. We also give you a hint on where to find these best tattooed pornstars indulging in thrilling porn scenes! Pornstars with tattoos are waiting. Here we go!
Hottest inked and best tattooed pornstars of today
Just like usual, it wasn't an easy task to select the top tattooed pornstars. There are literally hundreds of pornstars with tattoos. But can we consider every girl with a tattoo to be an inked pornstar? Not really. And that's why you can't find on our list models such as Riley Reid or Gina Valentina. Although they are hot, their paintings cover only a small part of their bodies. And that means our list of the hottest tattooed pornstars contains only girls with sexy bodies used as a tempting painting canvas! You can watch most of the girls in action for the legendary punk and alt porn production – BurningAngel. But we give you also other sources where you can find their stunning scenes. Let us introduce to you the best inked pornstars!
List of the hottest tattooed pornstars (click on name for faster navigation)
#15 Jessie Lee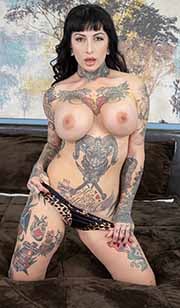 We couldn't pick a better girl for revealing what our list of the hottest tattooed pornstars is all about. Beautiful face, big tits, and only a few body parts without a paint. This is Jessie Lee, the top alt pornstar, who is starting our countdown! This dazzling MILF is already 37 years old, but according to her porn performances being full of energy, we would assume she is in her prime! If you are curious what this goth MILF is capable of, believe she deepthroats a big black cock of Isiah Maxwell like it's nothing!
She started her porn career in 2007, and after 15 years, you can watch her in hundreds of hardcore porn movies! She has always loved body art, but there is a massive difference between her first and the latest scenes. Watch her mesmerizing body in lesbian action on Twistys or a wild BBC threesome on Spizoo! The busty MILF, Jessie Lee, is the perfect inked pornstar!
Jessie Lee tattoos (79+): Right side of neck; Left side of neck; Upper chest; Skull, 'DKN' and numbers on right side of lower abdomen; Left side of lower abdomen; Hand on pubes; Right upper arm; Inside right forearm; Knuckles of right hand; Knuckles of left hand; Back; Left hip; Cat on inner left thigh; Right calf; Left calf; (Later; In unknown order) Full sleeve right arm; Full sleeve left upper arm; Full sleeve left lower arm; Right flank; Left flank; Abdomen; Right thigh; Left thigh; Right shin; Left shin; Right foot, and more.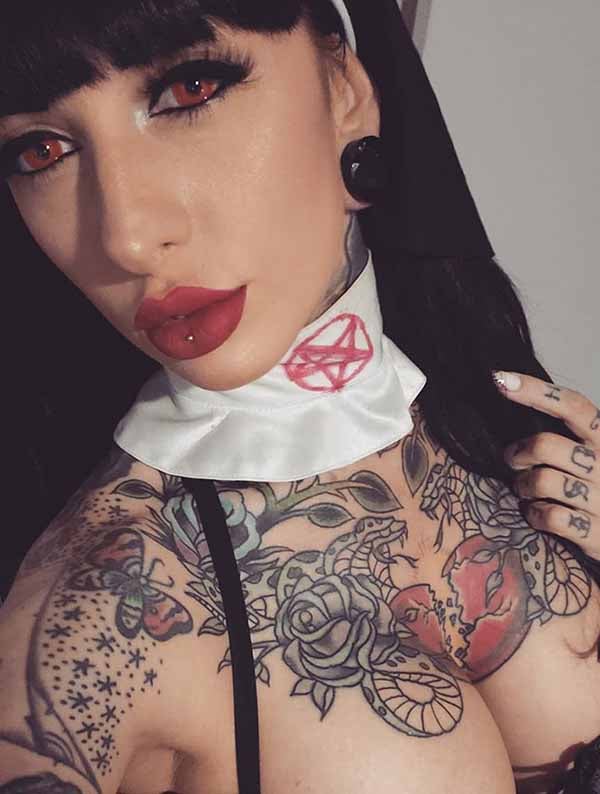 #14 Maddy May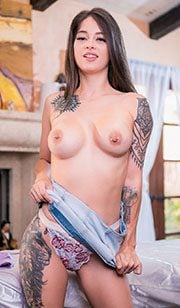 One of the newest sensations in the world of tattooed porn! This is Maddy May, the beautiful pornstar whose journey to the adult industry was not as easy as you would expect. Although she had worked in the striptease club since she was 21, it took her 5 years to finally find the courage to ask for her place in porn. And now, here she is. Hot, wild, but still somehow cute busty girl with a passion for huge cocks. One of her first porn movies ever was for the Shoplyfter series, where she showed her potential just like her big tits with pierced nipples.
Maddy quite quickly found her way into hardcore anal porn with Tushy and showed her endless passion with ExploitedCollegeGirls. It won't be a problem to find her fucking because she starred in more than 50 porn movies in 2021! What an incredible number, and what a naughty girl she is. Maddy still looks very young, although she is already 28 years old, and we are looking forward to seeing this beautiful pornstar, Maddy May, in even more movies this year!
Maddy May tattoos: Right side of upper chest; "Jan 18 200?" on right side of lower abdomen; Left side of lower abdomen; Inside right forearm; Inside right wrist; Left upper arm; Inside left forearm; Inside left wrist; Left side of lower half of back; Right hip and right thigh; Inside right ankle; Inside left ankle, and more.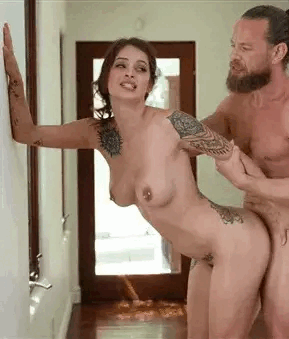 #13 Kali Roses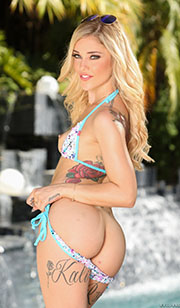 If you ever see this girl in any porn movie, and you forget her name, don't worry. Because she has her name written on the back of her thighs! Yep, that's Kali Roses, and you can be sure your attention will not get only the tattoos but also her perfect big ass that she loves to fill with huge dicks. She started her porn career when she was 20 in 2016 and pretty quickly found her way to movies for the biggest porn productions. Her passion for big black cocks is pretty clear from the Blacked movie, where she takes care of six BBCs in crazy interracial gangbang action! And when it comes to a doctor's appointment, she doesn't hesitate a second to take her clothes off to reveal her hot body, so the lesbian doctor can lick her wet pussy in the Girlsway porn movie.
But her petite inked body gets irresistible, especially when being pounded from behind. Because from that position, you can admire her beautifully painted back and two little hearts above her ass where you should aim your cumshot if she's not hungry at the moment. If you know what we mean. The blonde beauty, Kali Roses, is the next girl on our list of the hottest pornstars!
Kali Roses tattoos (36+): Text under right breast; Flower design upper back/shoulder (left side) with text "Count the garden by the roses, never by the fallen petals"; Text left shoulder; Right side of groin; "Kali" and "Rose" on back of each thigh; Text on the side of the index finger and the middle finger on her right hand, and more.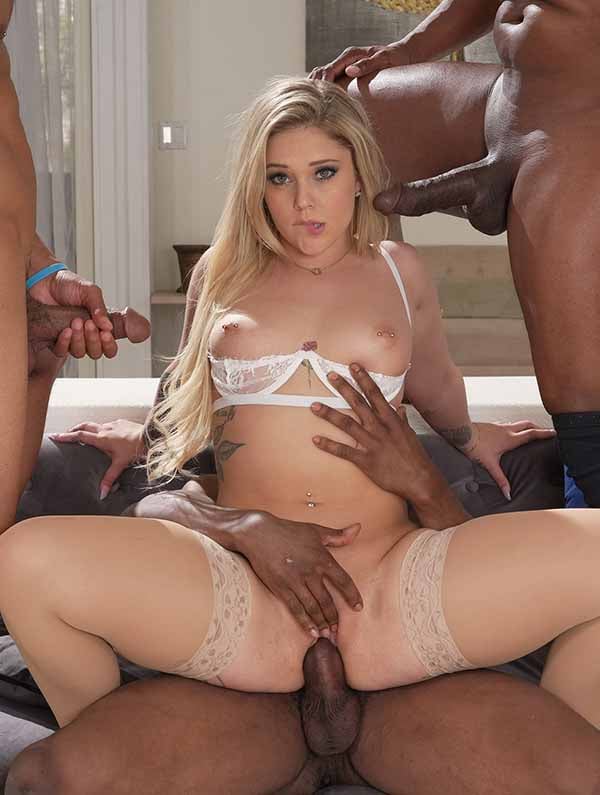 #12 Leigh Raven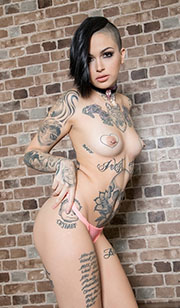 Here comes definitely one of the most gorgeous girls among the hottest tattooed pornstars! Her name is Leigh Raven, and her body is covered with more than 75 body art works! It's quite easy to recognize her not only because of that but also because of her short hair, which gives her an incredibly intriguing look. She already celebrated her 30th birthday, but she is still not done with fulfilling her sex fantasies. Although, the DevilsGangBangs' interracial double penetration action, where she ended airtight with BBCs completely filling her every hole, was definitely one of her biggest dreams coming true. Leigh started her porn career when she was twenty and already had a body covered in many pictures.
That look was also the reason why she got so popular right from her career start. And she was really not afraid of also being a wild punk mistress in the FemdomEmpire movies. Moreover, she enjoyed the power, and today, she still finds time for pegging and fisting her submissive male slaves. We should also mention her natural tits with nipples being inside the hearts that you can admire not only in a threesome transgender porn movie for the Transfixed production! Leigh Raven belongs among the best inked pornstars of today!
Leigh Raven tattoos (75+): Front of neck; Wolf head between breasts; Skull and flowers on abdomen; Right shoulder, biceps, and upper arm; Full sleeve on right forearm; Full sleeve left arm; Left hand and knuckles; Script on front of right thigh; Right knee; Script on front of left thigh; "Born" on back of left thigh; "Free" on back of right thigh; Head of a woman on left shoulderblade; Back; "Forever Shining Star" on left hip; Left ankle; Left foot (Later) "West Side" across upper abdomen, and more.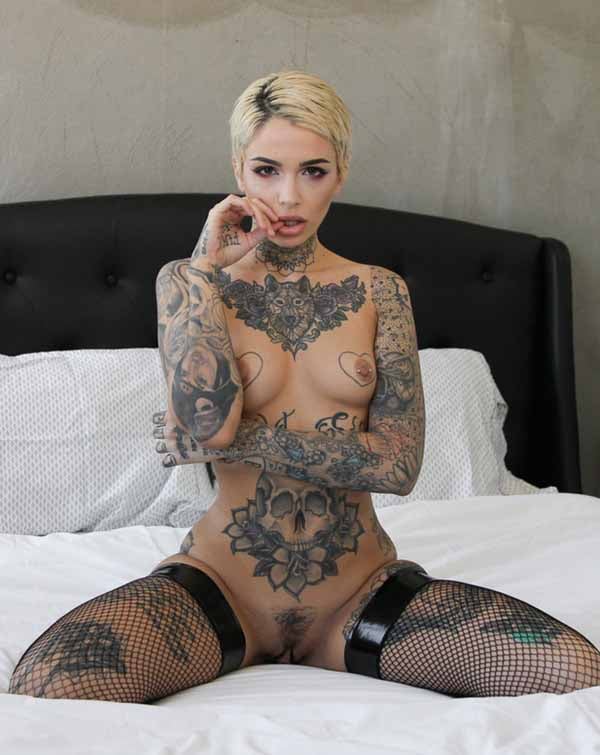 #11 Kleio Valentien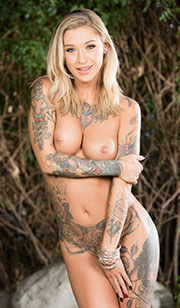 It looks like a pretty wild journey from a farm girl to a famous pornstar. But in this case, Kleio Valentien followed her instincts and became one of the most popular tattooed pornstars! She was always an exhibitionist, but when she was 23, she decided to take it to a whole nother level. She joined the adult industry! And thanks to her already inked body, it was pretty obvious that the success was coming. Now she is a perfect MILF, and still has no trouble putting huge cocks inside her anal hole, just like in the case of Lex Steele's shaft for the Evil Angel production. You can enjoy a look at her perfect fake tits and body art right above the big pair of boobs in hundreds of hardcore porn movies.
Kleio is now a hot MILF but still looks incredibly sexy in a Harley Quinn costume when being fucked by Batman and Robin in the Wicked threesome cosplay action. And when she gets oiled on a RealityKings massage table, you know hardcore action with multiple squirting orgasms is coming! She loved the Harley Quinn expression so much that she even tattooed a small heart on her face under the right eye! And not only that makes Kleio Valentien one of the hottest pornstars of today!
Kleio Valentien tattoos (34+): Large heart on chest; Left shoulder; Above and each side of pubes; Batman logo both ass cheeks; Zombie girl right arm; Big design covers whole belly (2011); Cupcake on left forearm; Left hand; Left leg; 'Stay True' across fingers; Right forearm; Right calf; star(s) on both feet, and more.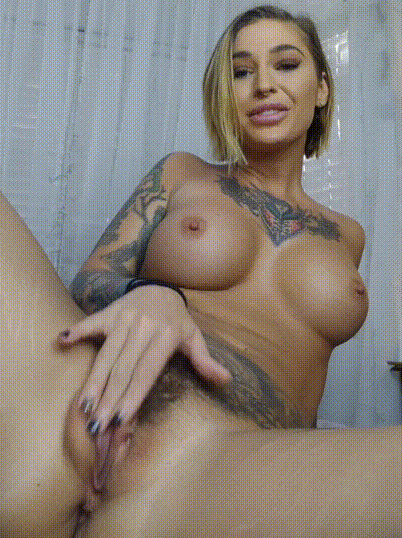 #10 Anna Bell Peaks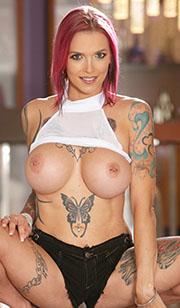 It's never too late to enter the adult industry. Just ask Anna Bell Peaks, the next girl on our list of the hottest inked pornstars! She was 34 when she was first recorded having sex on camera. And since that time, she has made more than 300 porn movies! At school, she was usually called a nerd because of her studying successes. Most of the paintings came later. She admitted she masturbates 10 times a day to satisfy her nympho pussy! And as you can assume, it was one of the reasons she wanted to try the sex cam model career. But her extraordinary look quickly attracted the attention of various model agencies, and she made a huge step into the world of porn. We even placed her on our list of the hottest MILF pornstars!
Anna Bell is easy to recognize thanks to her alluring appearance. She has short pink hair, enormous fake tits, and body art all over her body! You can admire not only her painted thighs, belly or back in the MYLF porn movie but also her wild squirting pussy that always gets huge attention. She is now a real MILF pornstar who never says no to a hardcore fucking with her big cocked neighbor for the Pure Mature production. Her signature tattoo on the chest says "Judge Me Not", and we can definitely say Anna Bell Peaks is one of the best pornstars of today!
Anna Bell Peaks tattoos (35+): Text "Judge Me Not" and roses above breasts; Butterfly above navel; Tribal design right flank; Design left shoulder; skull and floral design right arm; rose above pussy; Large mask design and ""Masquerade! Paper faces on parade Masquerade! Hide your face so the world will never find you" on left thigh; Band right thigh; Angel wings and Chinese characters upper back; Tribal design lower back; Bow designs back of each thigh, and more.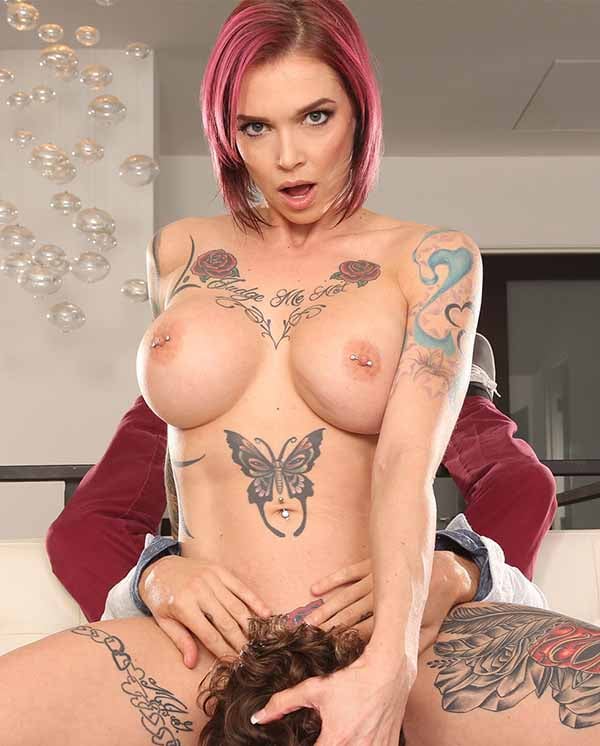 #9 Ivy Lebelle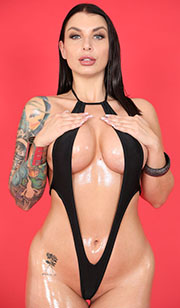 From a Christian family to hardcore porn actions. Although her parents are probably not proud of her, we love her decision. And now she even belongs among the hottest tattooed pornstars! Her name is Ivy Lebelle, and from a goth girl, she became incredibly hot MILF! She got her first body art work at the age of 18, and since that time, she has added a few more. When we look back to the past, she was 14 when she had her first sexual experience, and it had big consequences. And by big, we mean that she said that her first boyfriend had such a big dick that a smaller one would never satisfy her since then. That's a pretty obvious reason for entering the porn industry.
Ivy also said she loves to feel large dicks not only inside her wet pussy, but also in her hand and throat, just like you can see in the PervMom movies. Or in the ass. Yep, the Analized scene is definitely one of her wildest sex performances ever. She is a bisexual in real life but still loves the most the spit roast position where she gets fucked from behind while the second dick is reaching her throat. The wild porn star Ivy Lebelle definitely deserves a place on our list of the best inked pornstars!
Ivy Lebelle tattoos: Full sleeve right arm; Floral inside left forearm and wrist; "It's not as much fun to pick up the pieces" on left thigh; Flower back of upper left leg; Flower back of upper right leg; Jesus on top of right foot; Mary (Jesus's mother) on top of left foot, and more.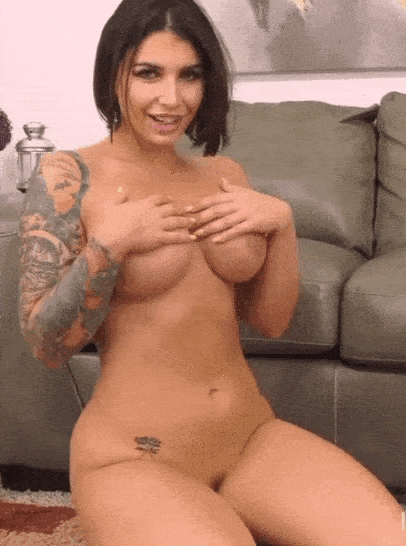 #8 Christy Mack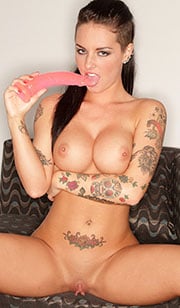 If a beautiful face, huge tits, and excellent body mean a perfect pornstar, then Christy Mack deserves more attention! Because this punk girl will do anything to satisfy not only her wet cunt, but also her horny audience. Once, she even made a competition for her fans. The winner should have been awarded with her sloppy blowjob! Christy started her porn career when she was 20, and since that time, she has gathered more than 200 movies into her portfolio. Every girl on our list of the hottest inked pornstars is charming. But when you look at Christy's body, there is no way you will not fall in love with her! We don't speak only about all her body paintings. But look at her sexy big round ass! And those big tits? They will haunt you in your wet dreams!
Her pussy gets wet every time a huge dick is nearby. And when that happens in the gym, this wild girl doesn't hesitate a second, jumps on that dick and rides it until making him cum on her huge fake boobs! Just like in the TeamSkeet hardcore scene. And when she turns into a sexy waitress and meets a handsome customer, she takes him to the bathroom, where she fucks the soul out of him for the Wicked production. The busty beauty Christy Mack is another horny nympho among the hottest tattooed pornstars!
Christy Mack tattoos (61+): Sleeve on left arm; right upper arm; below navel; large sail boat on back; lower back; outside of left calf; right lower arm; right thigh; Snake and rose on the left side of torso Throat, neck and armpit Side of skull, Fingers "love" right hand "sick" left hand; Violet rose on right upper arm Hands, including an "XXX" on the underside of her left hand large diamond tattoo covering the upper abdomen, and more.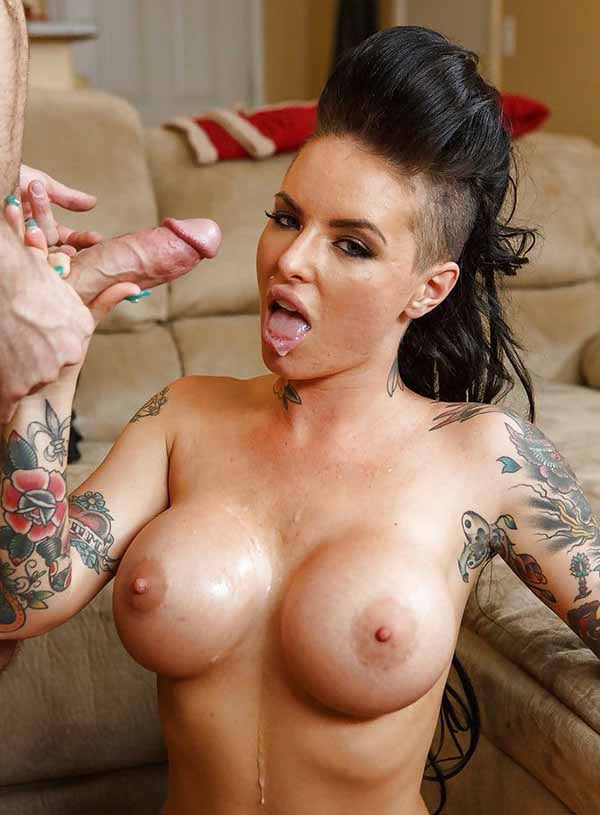 #7 Romi Rain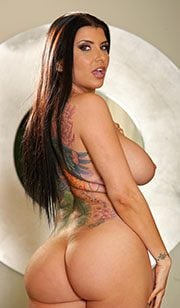 Another MILF who already has a few scenes as a busty stepmom in her portfolio found her way to our list of the hottest inked pornstars! This is Romi Rain, who never ceases to amaze us with her passionate performances! Like many beautiful and extraordinary alt girls, before entering porn, she appeared as a model in the Playboy or Hustler magazines. And from there, it's a pretty short way to the adult industry. Even though Romi Rain always had in mind that becoming a pornstar could be her life choice, she didn't feel comfortable with fucking with strangers. That's why she started as a strictly lesbian and solo performer.
And even now, we have an opportunity to watch this pornstar in a thrilling lesbian threesome with her stepdaughter Elsa Jean and her BFF Jill Kassidy in the wild LetsDoeIt action. But with tattoos all over the back, it's pretty hard to not appear in brutal hardcore scenes. Yes, we are talking about her never-ending anal fucking for the Evil Angel production! Romi Rain, one of the best pornstars, is already 10 years in porn, and we hope she will make us happy also for the next decade!
Romi Rain tattoos: Large design over whole back; cat prints right calf and ankle; band right wrist, and more.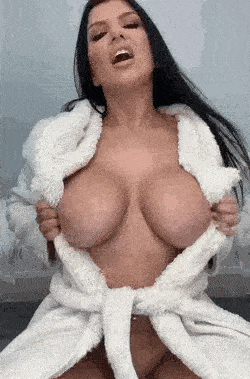 #6 Charlotte Sartre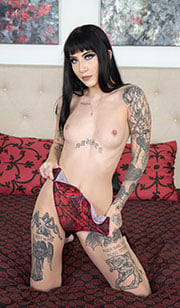 Our next girl on the list of the hottest tattooed pornstars is probably the wildest of them all. You will find that out pretty easily when watching Charlotte Sartre in a double anal penetration scene where she asks for the third dick to join the destruction of her perfect butt! Yep, we are not kidding. She is the top goth pornstar with paintings all over her body, who simply lost all her limits. She borrowed her name from her favorite philosopher Jean-Paul Sartre. But you won't see any philosopher fucking her stunning ass, don't worry. Charlotte's porn career got pretty exciting right from the start because her first scenes were for the Assylum and Kink productions!
Can you imagine how freaky you have to be to jump right into such a hardcore action? She was only 21 at that time! And now, she is still not ready to slow down. Have you ever heard the term QUAP? That's the next level of anal destruction since the TAP (Triple Anal Penetration) is not enough for this emo pornstar. She let three cocks pound her asshole, and as a bonus, she got a dildo completing the Quadruple Anal Penetration! All this happened on AnalVids (ex LegalPorno), and you really don't want to miss that. And Charlotte Sartre couldn't be missed between the best inked pornstars!
Charlotte Sartre tattoos (28+): 'DCLXVI' upper right collarbone; Anubis upper right arm; 'NAUSEA' under breasts; heart with arrow through it left forearm; cobra with spiderwebs and a black widow left forearm; flowers elbow and upper left arm; rose left hand; lamb holding cross right hand; script "LAMB" across fingers right hand; bloody dagger through knuckle left middle finger; SF logo and W left index finger; T left ring finger; 'REST IN PISS' over grave right thigh; two damned souls entwined in naked combat with one man biting the other's neck (inspired by William-Adolphe Bouguereau painting 'Dante and Virgil') left thigh; "AUCH DAS SCHÖNE MUSS STERBEN" upper left thigh; demon upper left thigh; "LERNE LEIDEN OHNE ZU KLAGEN" above right knee; "SCHÖNHEIT IST MEIN KREUZ ZU TRAGEN" above left knee; 3 nails on right knee; spiderweb side of left knee; dalmatian cartoon left lower leg; burning church right lower leg; "Debit" right ankle; "Credit" left ankle; script "URINAL" inside lower lip (2017); black widow spider right side of neck; snake back of right thigh.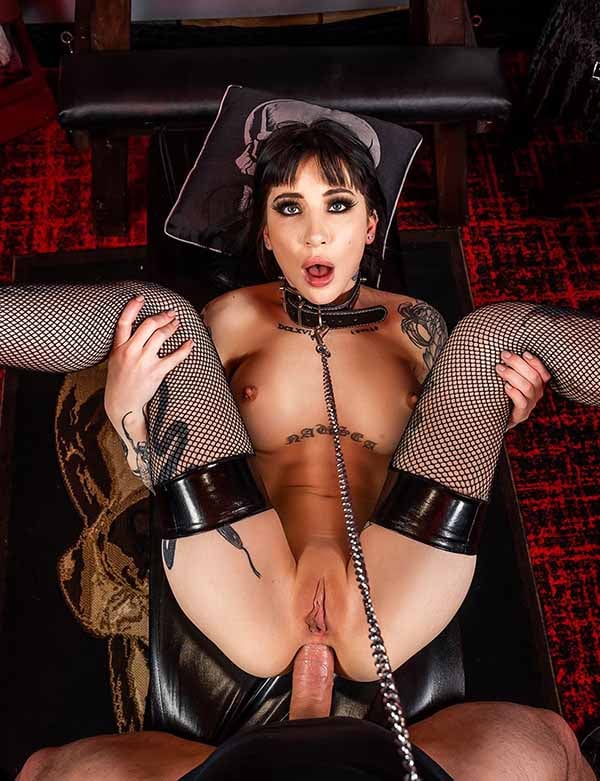 #5 Katrina Jade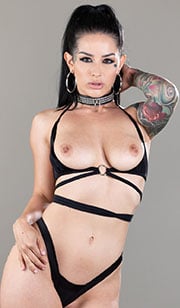 From punk girl to a hot alt pornstar. From promiscuous slut to fetish model. That's how we would describe the journey to porn of Katrina Jade. The next girl in our list of the hottest inked pornstars! For a girl like her, it's pretty easy to find a job in the adult industry. When you have big natural tits, a tattooed body and a passion for hardcore fucking, you are the ideal porn star. One day, Katrina made the decision, picked up the phone, and a few days later, she became one of the ElectroSluts in the Kink series! It was quite amazing because she loved to watch BDSM Kink movies, and now, she was the one getting destroyed in various painful ways.
Just like many girls, also she dreams about a huge gangbang orgy where she will be not only fucked, but also creampied and filled completely with fresh semen! Of course, we hope this dream will come true for this alt pornstar. But until then, we can enjoy watching her being fucked at home on the couch for the FullPornNetwork, or in the interracial threesome for the Pure Taboo. And when she gets really horny, rough anal sex for Deeper is the only way how to satisfy one of the best pornstars! This is Katrina Jade!
Katrina Jade tattoos (26+): Left upper cheek; Left upper arm; Left hand; "Daddy's Girl" across pubes; Nape; "Slut" on right butt cheek, and more.
#4 Karma RX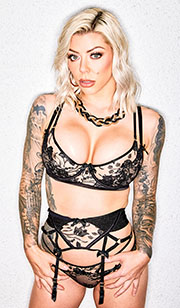 Another young MILF made it to our list of the hottest inked pornstars! Her name is Karma RX, and she definitely knows how to turn us on. Not only because she is really hot, but also because she was a popular sex cam model for a long time. She said she always loved watching herself in the mirror while masturbating. That's probably the reason why she became such a famous webcam star. In 2017, she decided to cheer up her fanbase by trying her first hardcore porn action. And since that time, she has appeared in hundreds of porn movies! Karma went pretty fast from a young petite pornstar to busty MILF, so now we can enjoy both versions of her.
She quickly found a love for big black cocks, and Dogfart Network is always ready to fulfil all her wildest fantasies. And you can fulfil your fantasies with Karma in Virtual Reality in BaDoinkVR wild VR porn scene. Lately, the ModelMediaUS came to her with an offer to fuck in their brand-new series Jerkaoke, and she couldn't refuse! And we can't refuse to watch her big fake tits and amazing inked body. And that's the reason why Karma RX is one of the hottest tattooed pornstars of today!
Karma RX tattoos (20+): Right arm sleeve; Left arm sleeve;Large design covering back; right side/stomach; Back of upper left leg; Back of upper right leg, and more.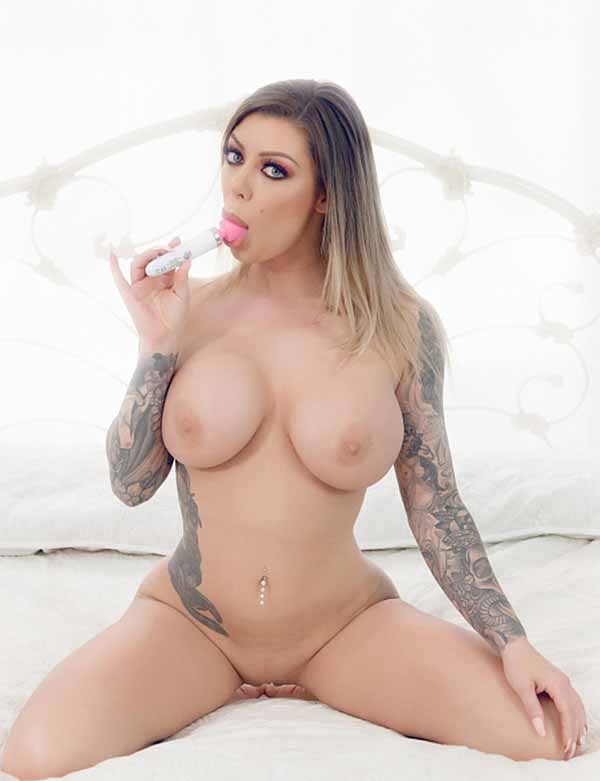 #3 Honey Gold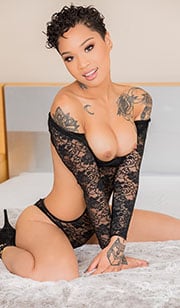 Have you ever seen a more passionate girl than Honey Gold? Once she reaches the first climax, you know there are many more coming! And she will be shaking for an hour straight until she will finally be able to catch a breath. We placed her also on our list of the hottest Asian pornstars, although she was born in the USA. She is multiracial, and that's probably what makes her so beautiful. Not only does she has paintings all over her body, but her gorgeous face and nice fake tits will definitely attract your attention. Honey went from long hair to really short and back, but you will definitely love every type of haircut on this inked pornstar.
And when you hear her screaming loud while reaching multiple orgasms in the Adult Time movie, there is no way you won't fall in love with her. We have to mention also her wild performance in the Vixen threesome with ebony beauty Nia Nacci and the infamous Johnny Sins! Honey Gold has more than 25 tattoos on her sexy body, and that entitles her to be one of the hottest tattooed pornstars in the adult industry!
Honey Gold tattoos (25+): Large owl left upper arm; Right shoulder; Crescent moon above right breast; Flower right side of neck; Back of neck; Outside right wrist; Feather outside left forearm; Dreamcatcher inside right forearm, and more.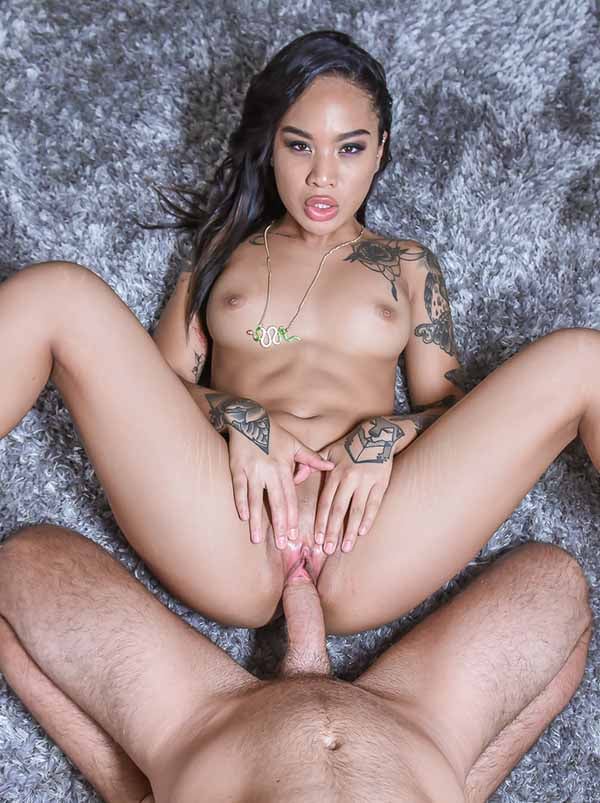 #2 Bonnie Rotten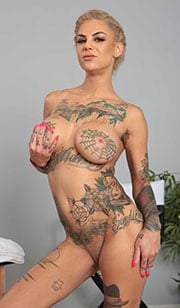 In 2014, this inked girl made history! Bonnie Rotten was the first alt pornstar who won the AVN award for Female Performer of the Year! And now, almost ten years after, we can still talk about this wild model in superlatives. She started her porn career when she was 19, and Brazzers knew why they gave a chance to this young teen lady. And yes, you can watch the spider webs around her nipples in tens of hardcore movies for this infamous production. You will definitely notice these paintings at first, but her body is covered with more than 46 art pieces! Is she planning to stop with them? Probably not.
And she is also not planning to stop fucking the biggest dicks for the most popular porn productions. The mighty Rocco Siffredi tasted her tight anal hole and thrilling squirting pussy in a wild threesome. And Angela White invited her to her place to fill her slutty mouth with fresh squirt! Bonnie also tried a porn director career, but she soon found out that her place was on the stage. And we love to watch Bonnie Rotten, one of the hottest tattooed pornstars, right there where she can bring us dazzling happiness!
Bonnie Rotten tattoos (46+): Large stomach zombie (From "Night of the Living Dead: The Beginning, Issue 1" comic book) (This was Bonnie Rotten's first ever work); "Camp Blud" on knuckles ("Friday the 13th" reference); "1428" on the inside of right arm (Address to the house on Nightmare on elm street); Leatherface III: LEFT half sleeve reading: "the saw is family"; Zombie alter-ego: Bonnie Rotten, on right leg; The myth of the apple and the razor blade with a serpent on left arm; Right Arm - Sleeve of things loved by Rotten, e.g. Rat Fink, her great grandmother"s name "Odessa", lyrics from the 80s death metal band Kreator "the promise of a better future is a lie"; Sailor pin-up girl and a cross in her arm pit; Left Leg - Frank Sinatra; Left Leg - Halloween scenery; Chest - The hanging gardens of Babylon; Ribs - "Dead Girls Don"t Cry" (Reference to the Nekromantix and psychobilly band); Back - Bearded lady; Left Foot - Hillbilly devil. Text reads: "If you ain't sinnin you ain't winnin"; Hands - "UNTIL DEATH", "CAMP BLUD"; Side of hands - Text reads "Demon Seed". Top includes "13" and the Spade symbol.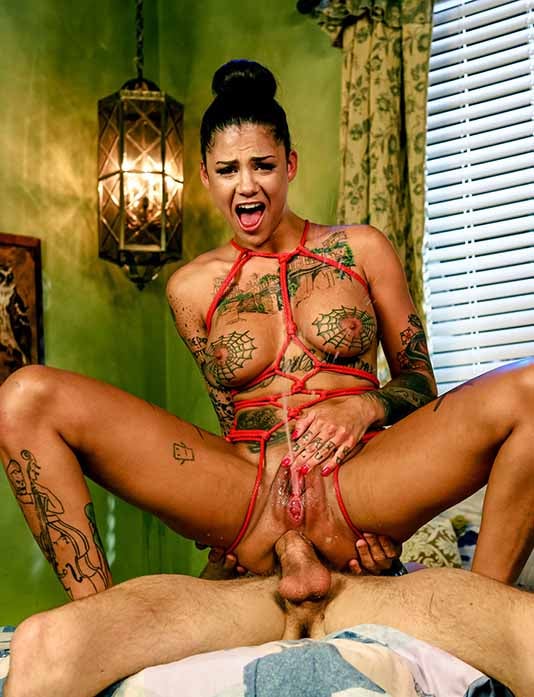 #1 Joanna Angel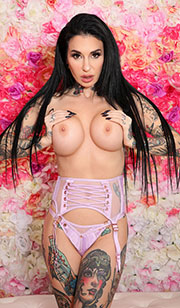 The tattooed queen is here. The alt goth legend arrived. Please welcome, Joanna Angel. The hottest inked pornstar! No one can question her contribution to the adult industry. She is the one who created BurningAngel. She is the one who gives opportunities to alt ladies to develop their careers in the world of porn. Although she is already in the MILF age, her passion won't let her stop fucking the biggest dicks. We could also talk about her directing career, but maybe next time. Because now, we are about to look at her beautiful inked body, perfect big fake tits, and her wild porn scenes.
She decided to enhance her boobs in 2020, so there is plenty of movies where you can admire her natural breast. Even though she shoots most of the videos for the Burning Angel studio, she has her own porn site called JoannaAngel.com, where she fulfils all her sexual fantasies. And when MrLuckyPOV offered her hardcore anal pounding, she couldn't say no. Joanna's body is covered with more than 50 paintings, and we are sure you will love every one of them. Just like we love watching her in more than 500 porn scenes! This is Joanna Angel, the hottest tattooed pornstar!
Joanna Angel tattoos (50+): Skull right shoulder; Venus flytrap with words inscribed "Touch me and you shall burn" right forearm; Knife through heart with words "Damn this foolish heart" inner right calf; Flaming skull with words below "So it goes" left bicep; Star above inside left elbow; Upper back; Diamond on each pelvic bone; Back of both thighs - pink ribbons, and more.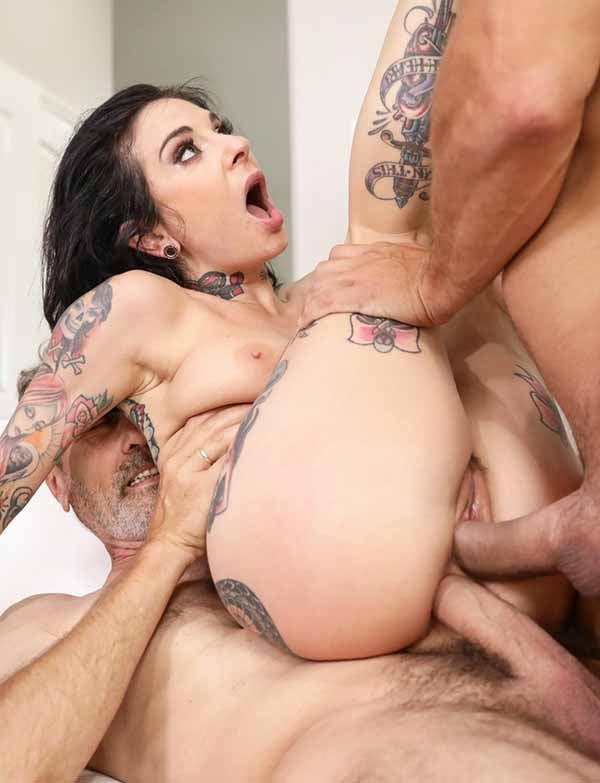 Hottest tattooed pornstars on the best tattoo porn sites
We already gave you a few options where you can watch all those inked girls in action. But there are way more beautiful models who also deserve your attention. And that's why we bring you the top tattoo porn sites! Of course, BurningAngel is an obligation to visit. But we have a few more exciting sites you should definitely take a look at. Popular pornstars and not so famous punk teens are fucking on HotAndTatted. And wild punk and goth girls bring you their stunning inked bodies on InkedGurlz! Feel free to try every site from our list of the best tattoo porn sites.
WHAT NOW?
We have more! Check our other lists of the hottest pornstars: