There's a long story behind each of the most popular Asian pornstars who are willing to fulfill all their dreams and fill their tight pussies with the biggest cocks. We bring you a list of the top 30 hottest Asian pornstars, where you can find tiny teens as well as busty MILFs who have made their way to the best porn productions in the world. You can expect skinny Japanese girls, perfect Vietnamese women, or busty Chinese moms who are well-known for their passion for big black cocks. Be prepared to discover some new faces, among which you can find your new favorite pornstar! Watching censored JAV porn is the past. These ladies bring the hottest bodies in all their beauty straight to you. Check out the most beautiful women in the world who have made it into our list of the best Asian pornstars.
Hottest Asian Pornstars of 2023
Most of the girls, which we will introduce to you, were born in Southeast Asia, or they've got at least one parent from this part of the world. Indian or Middle Eastern (Arab) girls are not considered Asian in the world of porn. Remember that. We picked the hottest Japanese pornstars, stunning models from China, petite Korean girls, beautiful teens from Vietnam or naughty women from Phillipines. All of them are ready to show you their best in hundreds of spectacular porn scenes. But now, no more talking, because the loudest girls on the Internet are waiting. Thirty names, thirty sexiest Asian porn stars!
List of the best Asian pornstars (click name to see more details)
#30 Kaylani Lei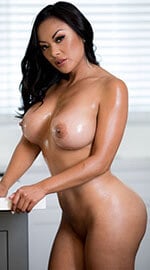 One of the hottest Asian MILF pornstars already celebrated her fortieth birthday, but she's not stopping making wild anal porn movies. Her name is Kaylani Lei, and you can simply recognize her by her endless energy and usually by a huge dick in her tight ass. She's one of the pornstars who were starring in the first season of the reality show Brazzers House together with Ava Addams or Tory Lane.
She then deserved a place in other hardcore Brazzers porn movies where she could show her new pierced big fake tits. She's not avoiding also lesbian scenes where she's usually the one who cums hard and squirts all over the place. You can meet her also in Tushy or True Anal porn movies, where she's enjoying real rough anal sex just like she likes it. Kaylani Lei, hot mom, who's still got a lot to offer!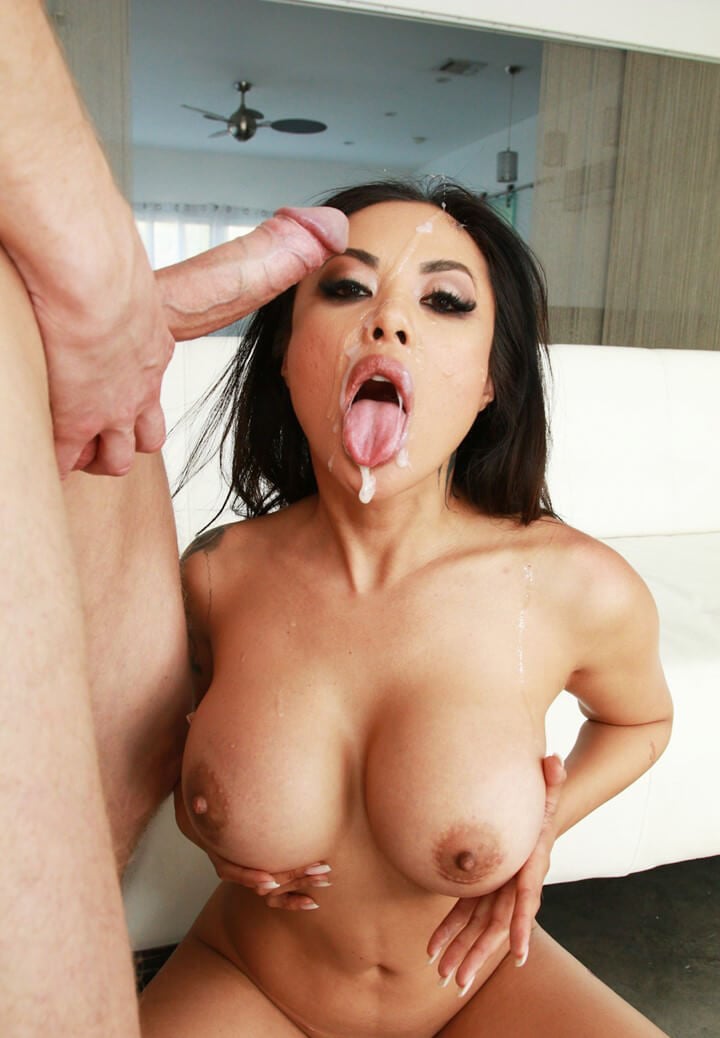 ---
#29 Katsuni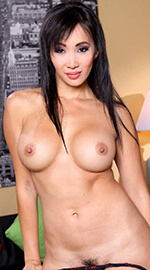 Another MILF pornstar, who's not active anymore, but tens of her porn videos rank among the most legendary porn movies that any of the top Asian pornstars have ever made! Katsuni retired from porn already in 2014, but it's still hard to find such a wild Vietnamese pornstar who would be able to replace this bombshell. She was born in Asia, now lives in France, and her real name Céline Tran tells us her father is from Vietnam. She won several AVN awards for her astonishing sex performances, such as Female Foreign Performer of the Year 2005 or the Wildest Sex Scene in 2011.
Three years in a row, she made the best anal sex scene, and there was no doubt, she deserves to be inducted into the AVN Hall of Fame. That happened in 2014 after her retirement. Just like you can guess, she's not afraid of doing anything. And that's why she's got her place in our list of the best Asian pornstars. Just when you thought you've seen everything, Katsuni in the airtight position will convince you otherwise!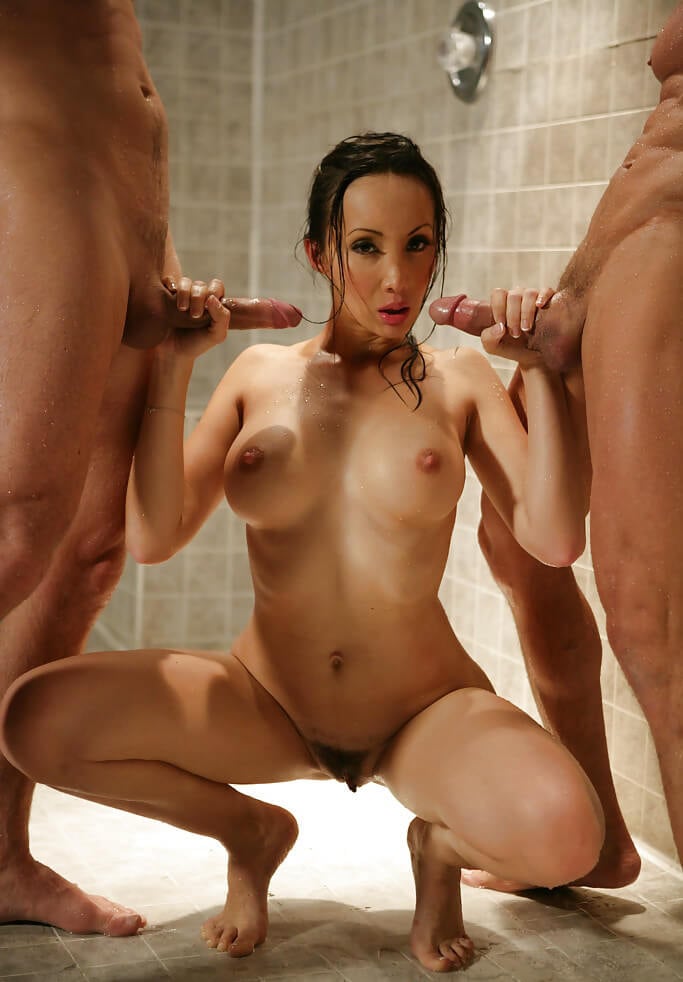 ---
#28 London Keyes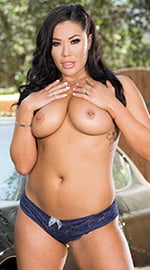 In 2010, London Keyes was nominated for the AVN Award as the Best New Starlet. And now, after more than ten years, we can look at her beautiful career in a nutshell. Her porn debut came in 2008 in a hot threesome for Naughty America. And since then, every big porn production has been curious about this new pornstar from Asia in the industry. Even though she has never had a problem fitting two cocks inside both her holes in double penetration sessions, she said she loves blowjob actions the most because it feels really intimate making the man cum using just her mouth. That's some amazing attitude!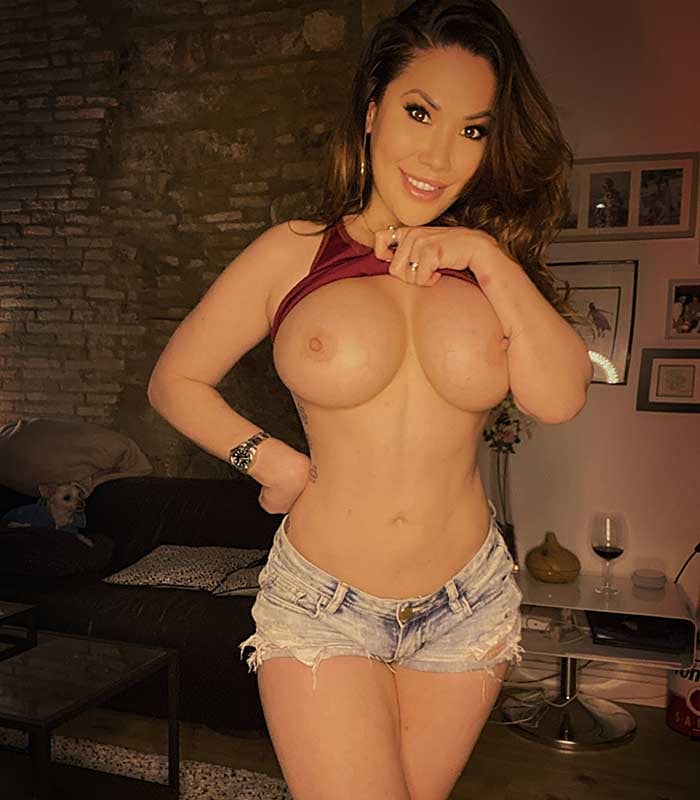 ---
#27 Katana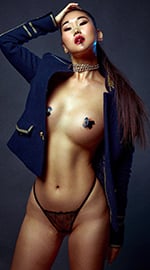 One of her parents comes from Japan. The other one is from China. But she was born in Spain. But that really doesn't change the fact she is incredibly hot, and her tight pussy needs to be drilled by the biggest cocks in every position. Her name is Katana, and she is as sharp as real katana. There are more girls with such name, but this lady is the most popular of them. And this lady doesn't mind fucking any big cock or any lesbian model with a huge strapon. She stopped shooting porn in 2020, but she never said she won't come back. And we hope, Katana will be back soon! Together with her new big fake tits!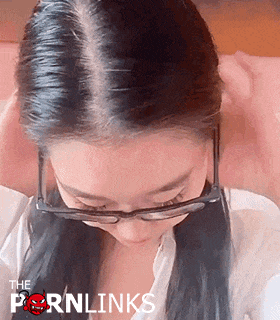 ---
#26 Kalina Ryu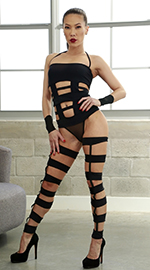 Even though this fabulous woman doesn't watch porn, she masturbates every day. And when she has sex, she likes it deep, hard and rough. That's the ideal introduction of Kalina Ryu, the already a popular Asian MILF porn star. Her decision to do porn came quite late. She was 29 and met a friend who invited her to a porn shooting. And since then, she joined the porn industry and soon became a real deal. One of her parents comes from Korea, and it's pretty easy to recognize her Euroasian beauty. Some say she is the hottest cocksucker they have ever seen. And some say she is even hotter than Asa! All we know is she is one hell of a wild petite slut!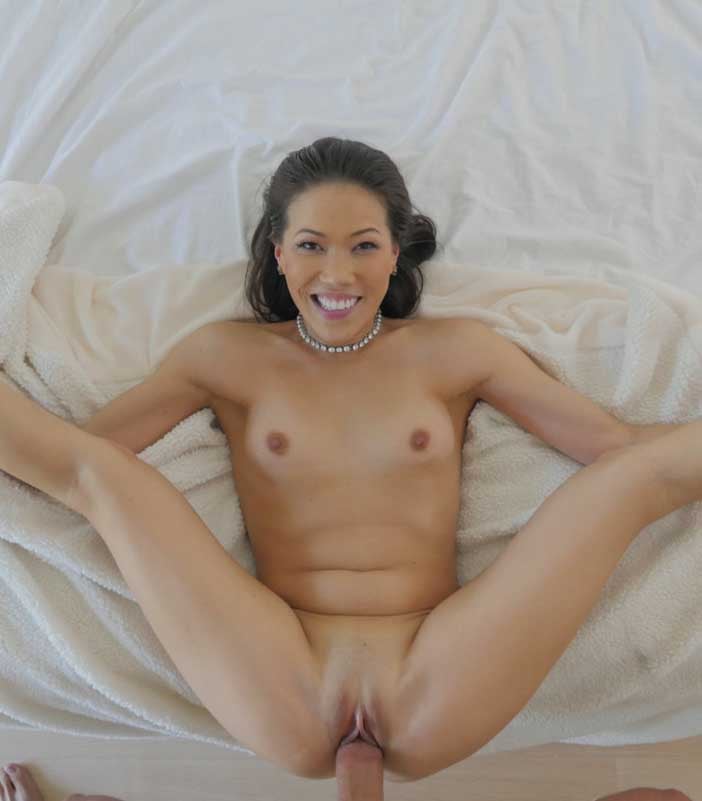 ---
#25 May Thai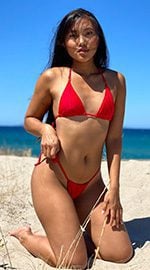 Her name says it all. May Thai is a hot pornstar from Thailand who decided to overwhelm the European porn scene with her beautiful body and a big passion for hardcore sex. And by hardcore, we mean double penetration sessions with big black cocks cumming inside her slutty mouth afterward. She was even nominated for the best international anal sex scene of the year at the AVN Awards 2022! May Thai rely on her stunning body and arousing eyes, with which she has no problem seducing any big cock nearby. And the result is always the same. Destroyed Thai pussy and satisfied fans of this top Asian pornstar!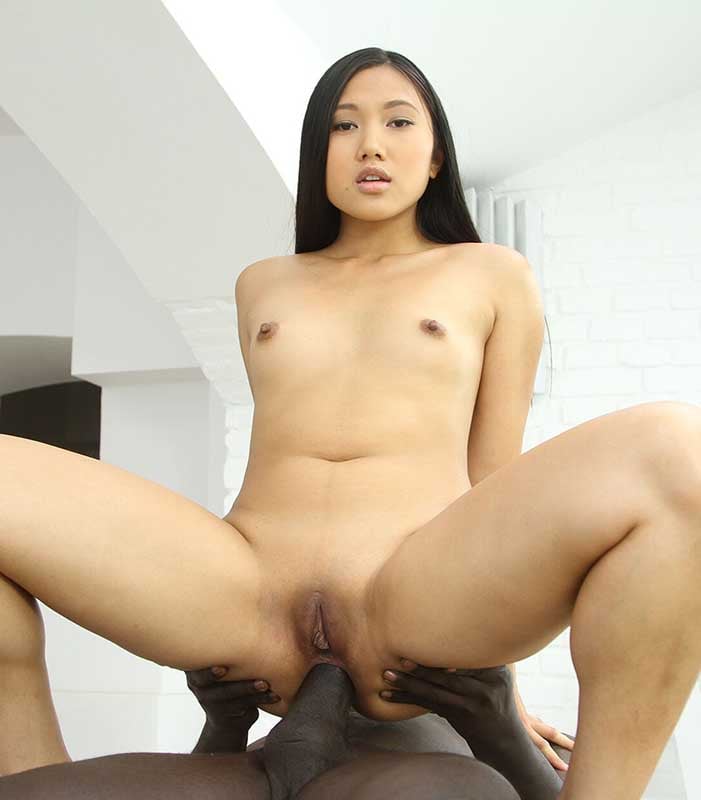 ---
#24 Kianna Dior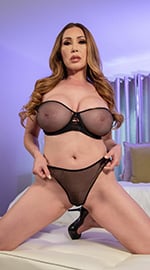 The oldest of them all. This woman has already celebrated her 50th birthday! But still has not enough. Her name is Kianna Dior, and she started her porn career in 1999! Is that even possible? She went from VHS to 4K recordings during her wild career. In 2020, AVN decided to induct her into the Hall of Fame. And her big tits belong there too. Just look at them! And look at her stretched pussy being destroyed by big black cocks again and again. She is of Chinese descent but was born in Canada. If every Canadian was so hot and wild, the US hotties would have a big competition!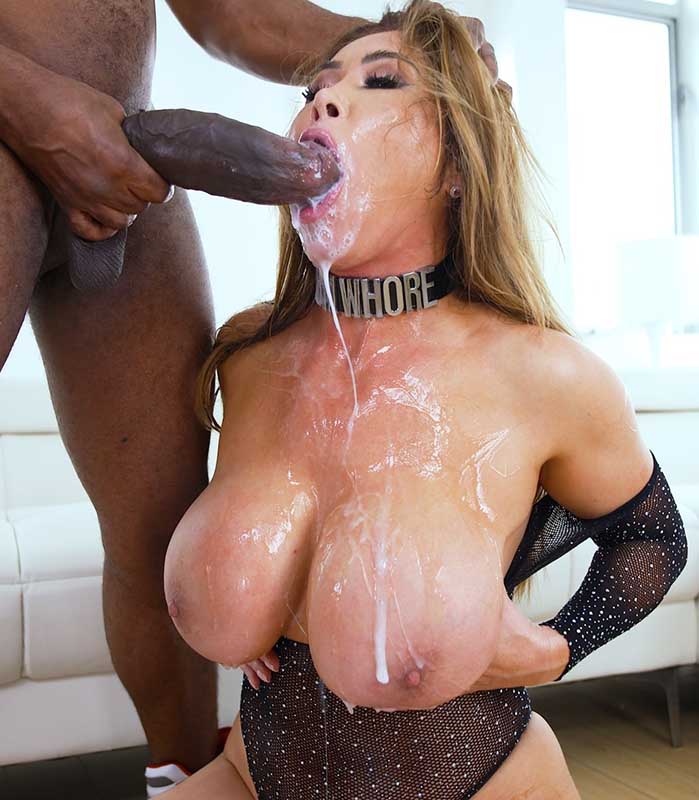 ---
#23 Alina Li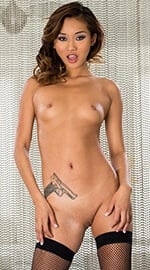 If someone says petite Asian pornstar, Alina Li is definitely the one who meets this definition. Her Chinese tight pussy is prepared for any huge dick, and a big black cock is not an exception. You can see her stretched pussy being destroyed for the first time by a BBC in crazy threesome action with famous Riley Reid! Just when you think she's the ideal girl, you find out she's not doing anal porn. What a shame! Her tight ass deserves to be fucked by some huge cock, but she's not willing to do it.
She retired in 2018, but we can still hope for her comeback. Until then, we have to be satisfied with her crazy performances as a horny babysitter or sexy masseuse. The beautiful Asian porn star Chichi Zhou, as you can also call Alina Li, comes from Shanghai. When she was 15 years old, she moved to the United States, and after five years, she decided to try her luck in the porn industry. Was her porn career successful? You decide.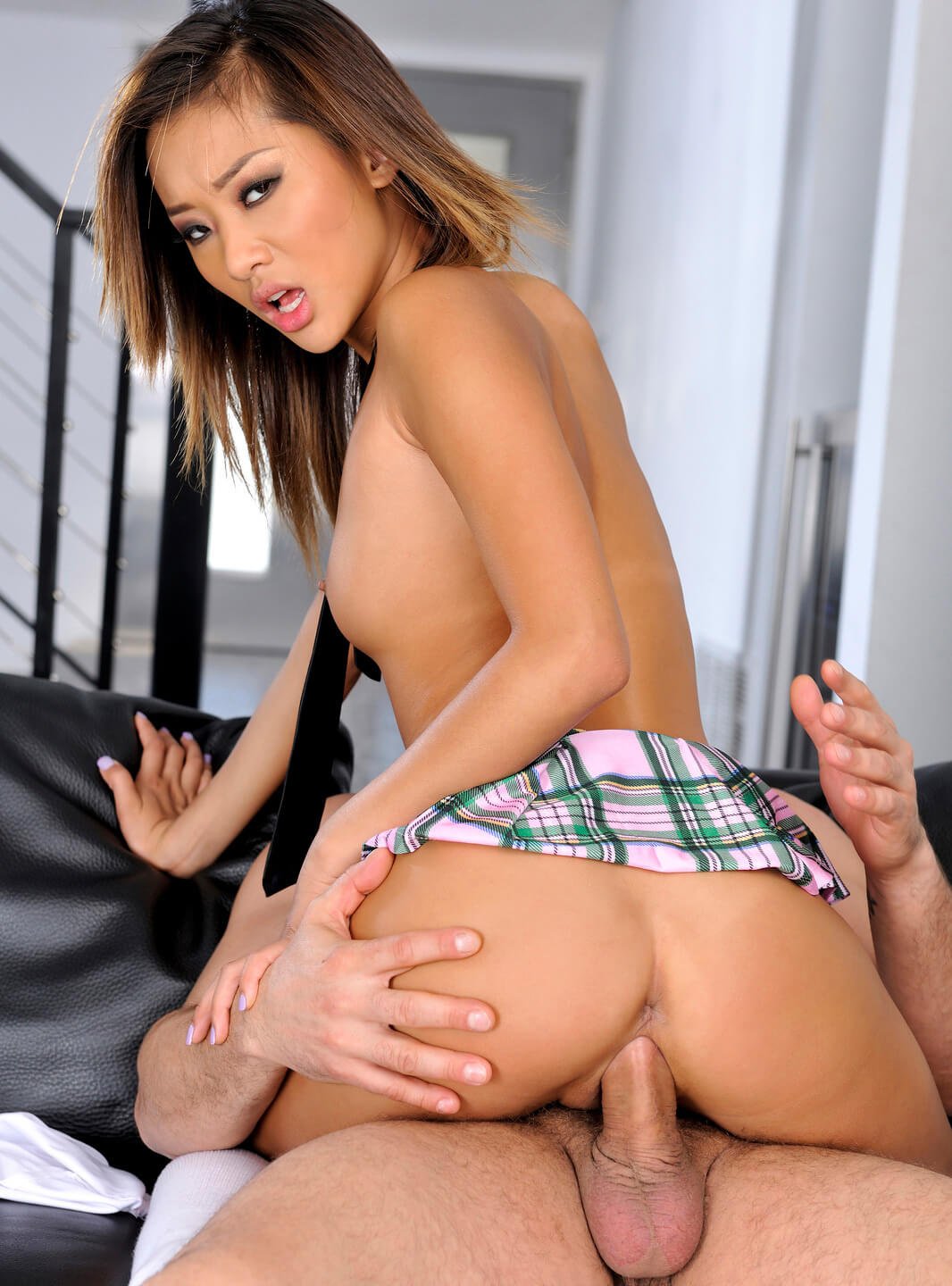 ---
#22 Jada Kai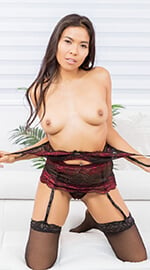 Figure skating is full of hot petite girls, but you wouldn't expect to meet some of the International Gold Medalists on Pornhub. But here we are. Melissa Bulanhagui, known as Jada Kai, is quite new in the porn business but already has thousands of fans. That's not surprising if you look at her perfect body and her energy with which she's making her porn videos. She's already got more than five hundred porn clips in her portfolio, and she's not stopping!
A porn career was probably the only option for such a nympho. You can watch her pleasuring herself in solo masturbation videos or with a big white cock deep in her wet pussy. Although both her parents are from the Philippines, she was born in the United States. But that's not something that would stop her from being one of the hottest Asian pornstars!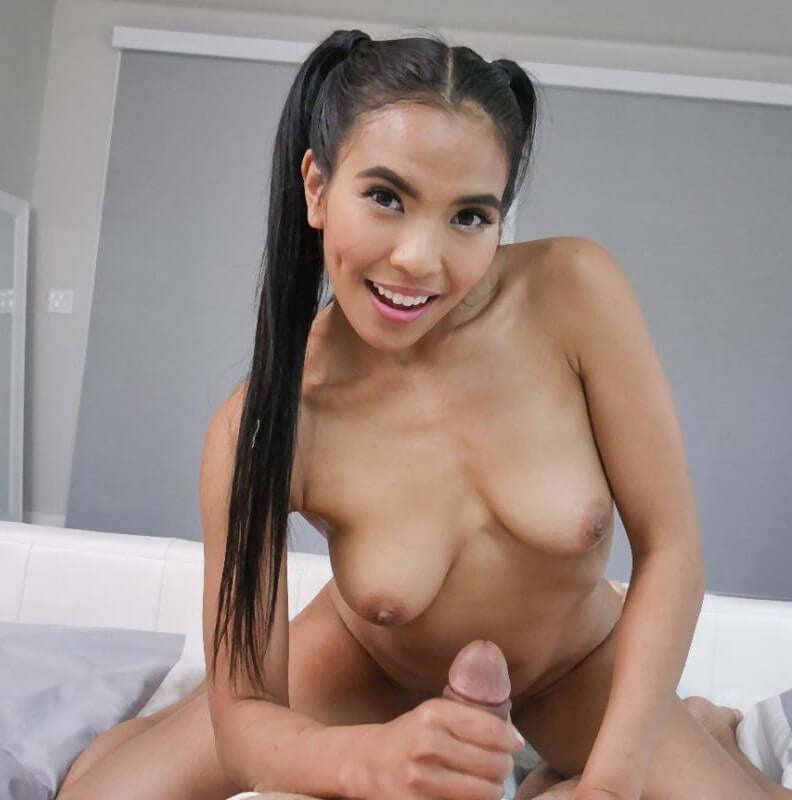 ---
#21 Avery Black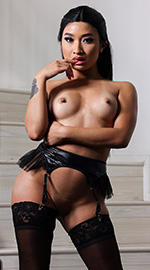 She is pretty, she has a perfect body, and she loves to fill her tight pussy with huge dicks. Sounds like an ideal girl. And yes, Avery Black proves with every scene that she should get way more attention! Just look at that body one more time. Would you guess she is thirty already? She is able to jump on that dick all night long! Avery has thrilling long black hair, but when she experimented with blonde, she was really stunning. And we are stunned when watching this hottest Filipina pornstar in tens of explicit scenes! Her height? 4′ 11″ (150 cm). Her weight? 94 lbs (43 kg). Is she the perfect petite girl for any action? Yes, she is!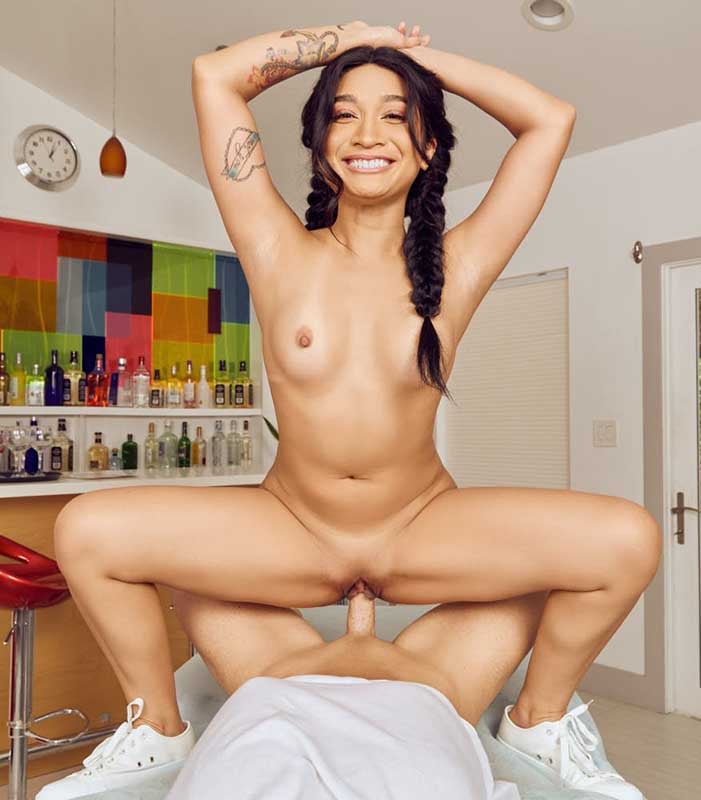 ---
#20 August Taylor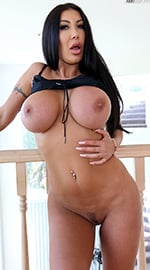 One of the former nicknames of this busty beauty was Angelica Titties. Do you ask why? After you see those massive tits, you won't ask anymore! Today, she uses the name August Taylor, but her boobs are still impressive. So impressive that she can fuck any dick in the porn industry she wants. She is now a perfect MILF, who doesn't refuse her stepson's fresh anal creampie in the morning. August is another babe born in the USA of Filipino descent. She is not as active lately as she used to be, but her OnlyFans account is proof she still has a lot to offer!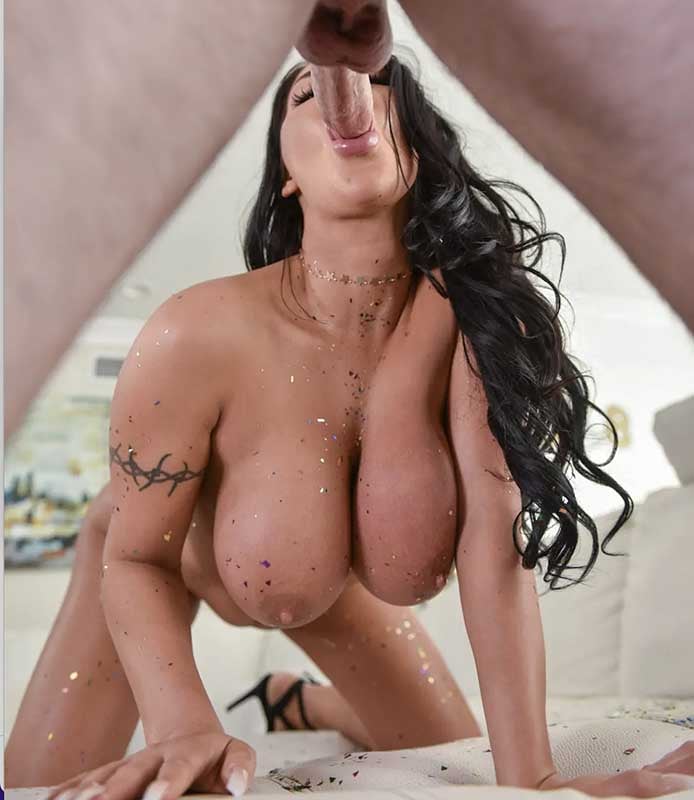 ---
#19 Morgan Lee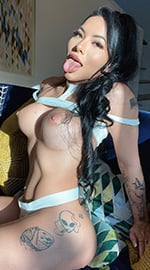 How does a teen girl who has never seen any porn video end up in the adult industry? You could ask Morgan Lee, our next girl on the list. But the reasons are usually always the same. For someone, it's money. For someone, it's a lot of sex. And in the case of Morgan, formerly Lil Kymchii, it was the second option. She loved sex so much that she was extremely popular with the boys in school. Not so much with their girlfriends. But as soon as she left the school, she was looking for other sex opportunities. And when you have a body like that, you know no one will refuse you. And that's why we can now watch this Korean pornstar in more than 300 porn movies! She was once even nominated by fans in the category Most Epic Ass. Would you vote for Morgan Lee too?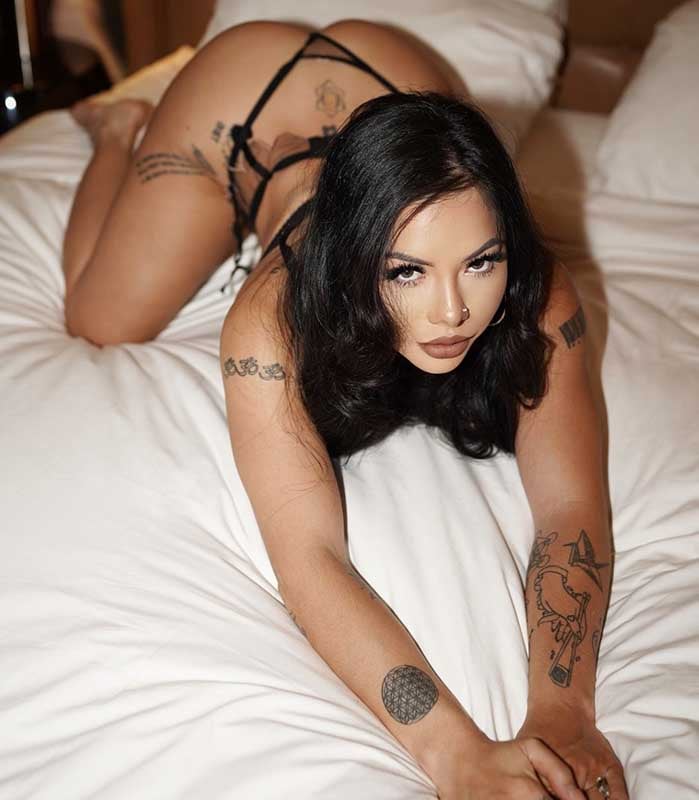 ---
#18 Nicole Doshi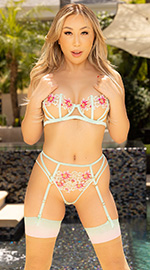 Did someone ask for a busty Chinese pornstar? Because we bring you Nicole Doshi, one of the best Asian pornstars, who decided to leave her amateur career only to fuck the best male pornstars! At first, you will focus on her big fake tits that she loves to use for tittyfucking big black cocks. But then, all the attention will get the incredibly wet pussy! You can see Nicole squirting in every position, which makes her even hotter. And yes, she does anal too! Just like you can see in the Adult Time movie, where her tight asshole gets drilled on a table by a massive dick. Are you ready for this Chinese bombshell?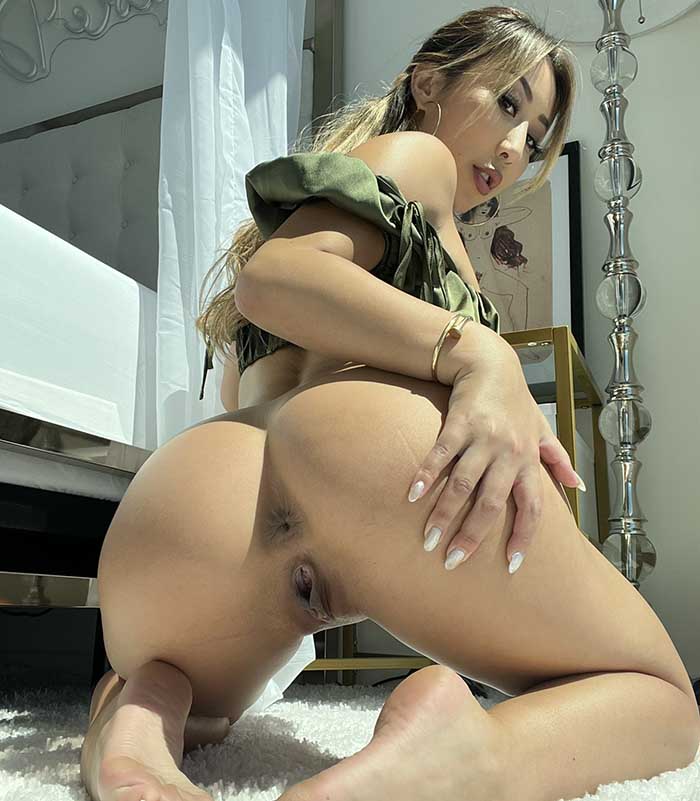 ---
#17 Ember Snow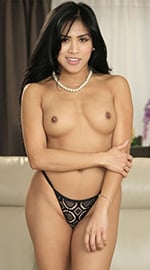 Ember Snow has a Filipino origin, was born in Saudi Arabia, but has been living her entire life in the USA. Sounds quite exciting. And when you look at her beautiful face, she becomes even more exciting. Because yes, she uses that face to seduce horny guys to cover that face with fresh cum later. But first thing first. Unlike any other pornstar, Ember lost her virginity when she was 24! She said she wanted to have her first sex with someone who she would really love. That took quite a long time, but as we know now, her virgin days are forgotten. And today, she even fucks tranny pornstars in Transfixed scenes! We still haven't said a word about her perfect natural tits. But they speak for themselves. Just check them out!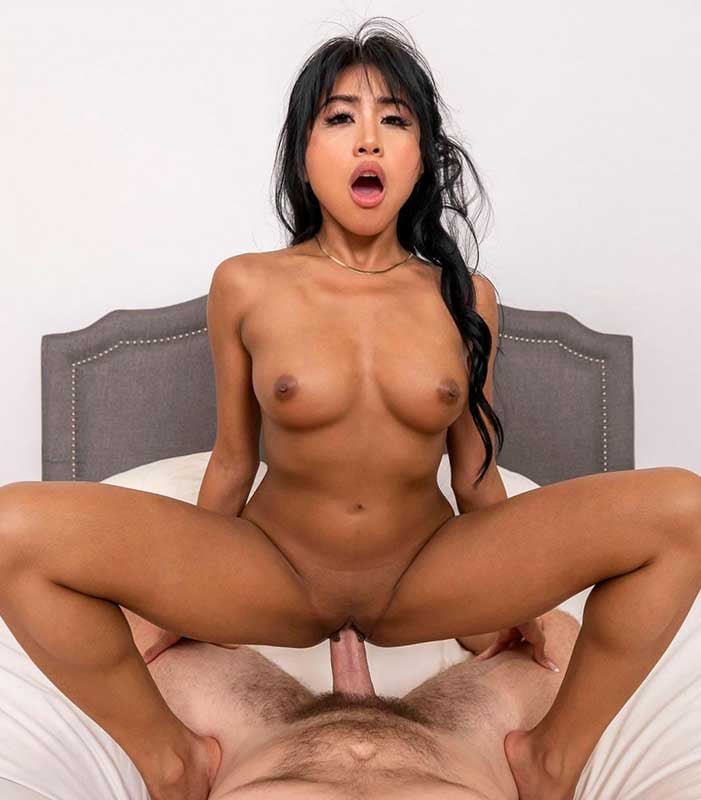 ---
#16 Sharon Lee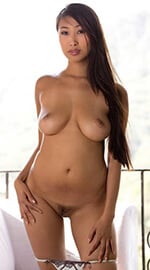 Born in France, but still one of the hottest Asian pornstars. We are talking about Sharon Lee, who will shout dirty French words to your ear while being fucked rough by a real big black cock. That's everything you need to know to believe this girl really deserves a place on our list. You can admire her perfect natural tits in tens of nasty porn videos and even in Virtual Reality, where you can get as close to this top Asian pornstar as possible. And when one dick is not enough, she's got no problem with a double penetration action in which she's got both tight holes stuffed by huge cocks.
You can also watch Fake Agent trying to satisfy her juicy pussy on the casting couch. Ten years of porn experience during which she tried almost anything make her a girl you really want to see getting fucked in all possible ways. This is Sharon Lee, one of the best pornstars from Asia!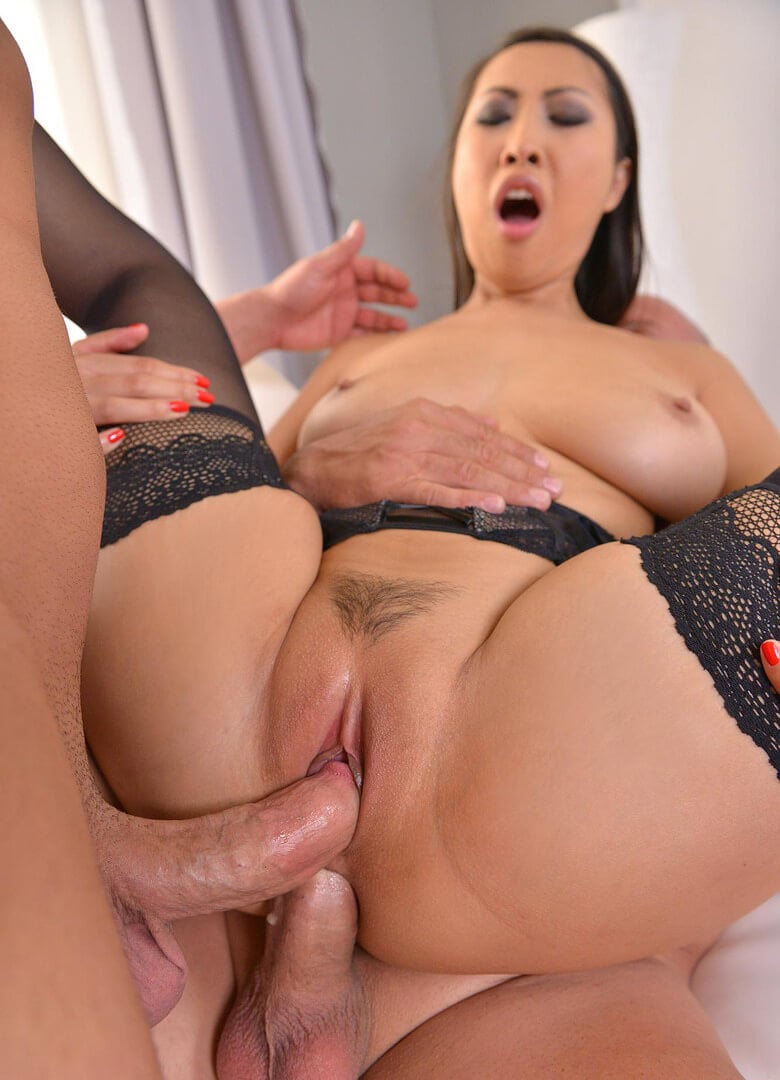 ---
#15 Jasmine Grey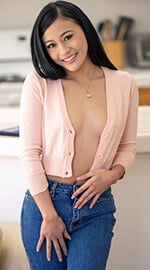 One of the cutest girls on our list of the sexiest Asian pornstars. Her petite body predestined her to become a popular porn actress, which she tried for the first time in 2016. Jasmine Grey has more than a hundred porn videos in her portfolio in which she combines solo masturbating scenes, lesbian actions, and hardcore fucking with the biggest dicks in porn. She looks like an innocent teen girl until she gets her tight pussy filled with some cock or dildo.
After that, she transforms into a fucking machine that is almost impossible to stop! Her huge squirting orgasms are turning every bed into a swimming pool. She's not only working for porn productions such as POVD or Tiny4K, but she's also a popular sex cam girl. You probably won't notice the pierced nipples because all your attention will get the creamy pussy, but take a moment to appreciate her perfect small tits that deserve to be covered in cum every time she gives a crazy sloppy blowjob. This is the hottest Filipina pornstar Jasmine Grey!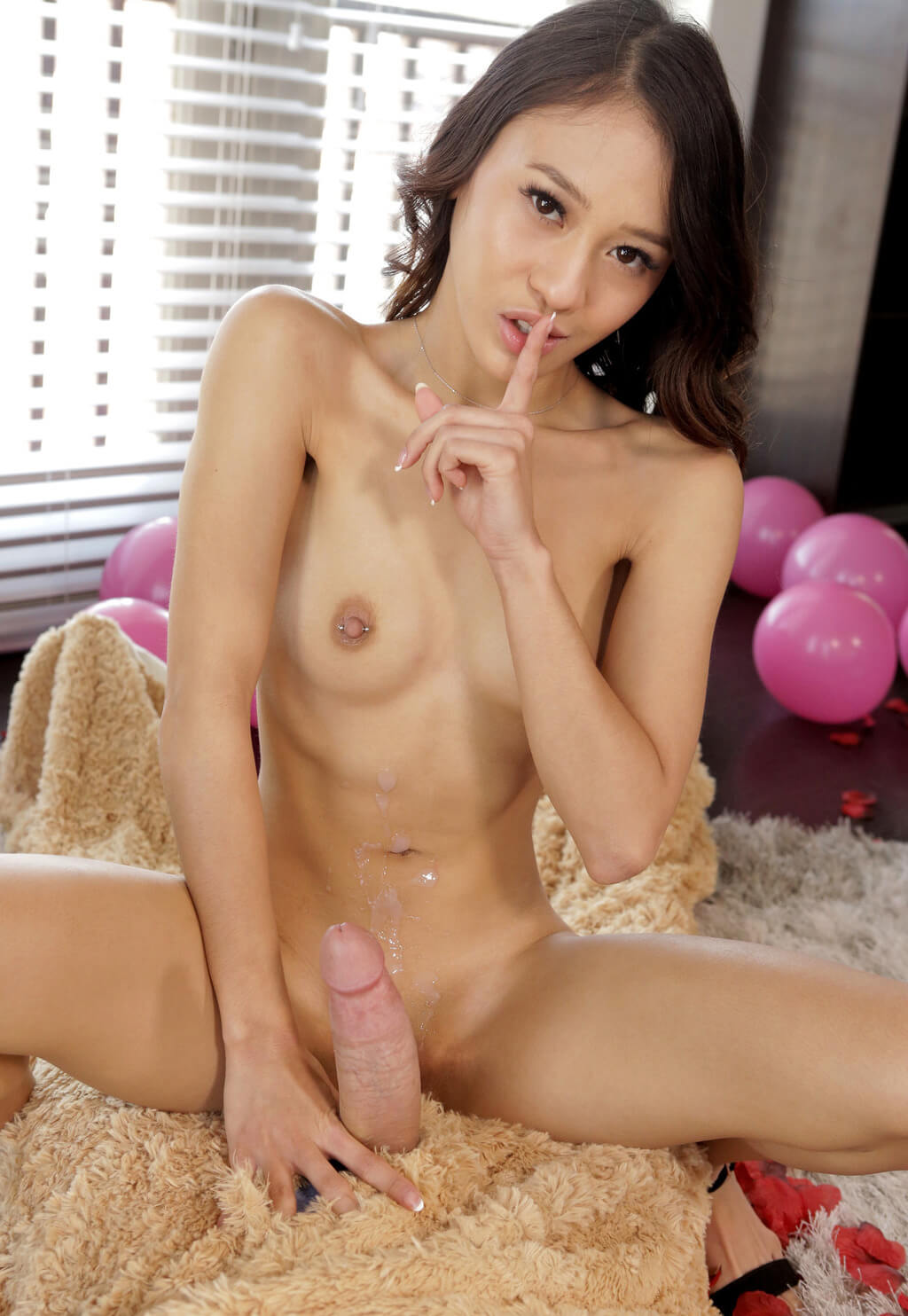 ---
#14 Marica Hase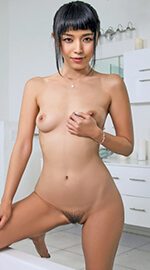 What started as a promising gravure idol career in Japan turned pretty quickly in recording hardcore porn in the US. That's not some Hollywood Pretty Woman story but the real life of Japanese beauty Marica Hase. After a few months in the United States, she became the first Japanese Penthouse Pet. She's now forty years old, but that doesn't mean she is thinking about quitting her porn career.
She's already got more than 500 porn videos in her collection and is looking forward to adding more crazy sex scenes with the most beautiful lesbian girls or with guys with huge cocks. You can recognize her also by nickname Marika or by the roughest interracial porn movies with big black cocks. She warns all her fans that her English is a bit limited, but when you hear her loud screaming orgasms, you really won't care. One of the hottest Japanese pornstars brings you hours of ultimate entertainment!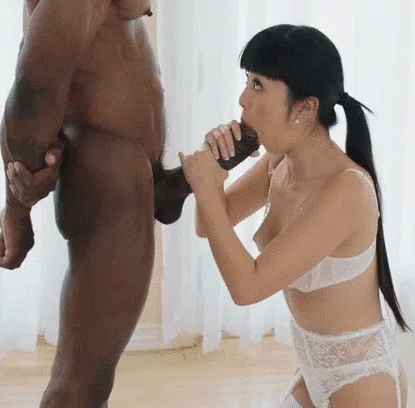 ---
#13 Jade Kush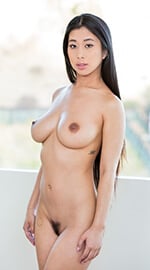 One of the hottest pornstars made in China! She's got everything you would wish from a top Chinese pornstar. Perfect petite body, huge natural tits, and passion for hardcore fucking. The most famous porn productions are fighting to get Jade Kush in their porn movies. Because they know that this still very young Asian pornstar has a bright future ahead of her. She's 24 but has already recorded more than a hundred porn videos!
We can mention her wild performances for Team Skeet, Reality Kings, or POVD, where she shows not only amazing sucking skills but also her tight pussy ready to fit any huge cock deep inside. This Chinese pornstar also never says no to a lesbian sex scene or crazy threesome. Watch this busty girl closely because she's one of the future porn megastars. All-natural Jade Kush lets you fulfill all your fantasies!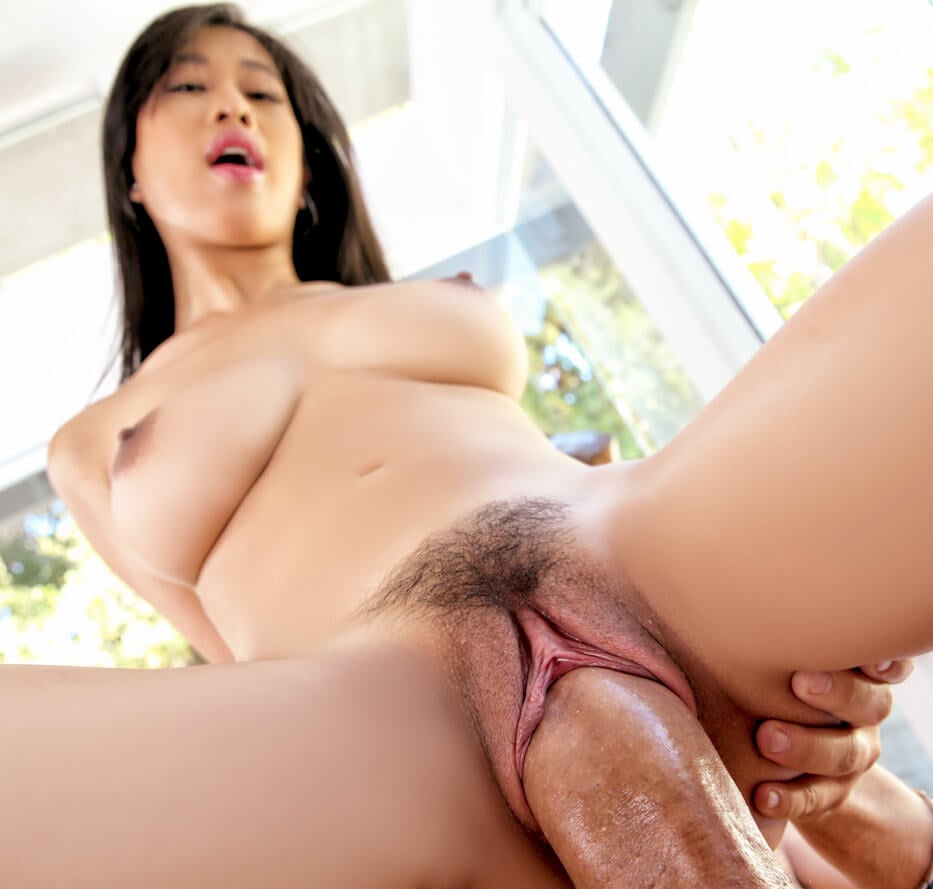 ---
#12 HongKongDoll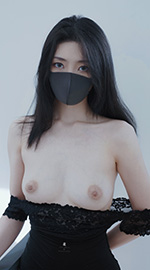 She is shy, she doesn't let you see her whole face, but she still has no problem fucking on camera. This is the hottest Asian teen pornstar HongKongDoll. And as you can guess, she comes from Hong Kong. Or should we say China? She decided for a career in the adult industry in 2020, and it took her only a few weeks to gain tons of fans all over the world. But it's not a surprise. Just look at her perfect body with even hotter tits! And when she takes that dick inside her wet pussy, entire Hong Kong can hear her moan and scream when reaching massive orgasms. She's got only twenty videos on her Pornhub profile, but every single one of them has millions of views!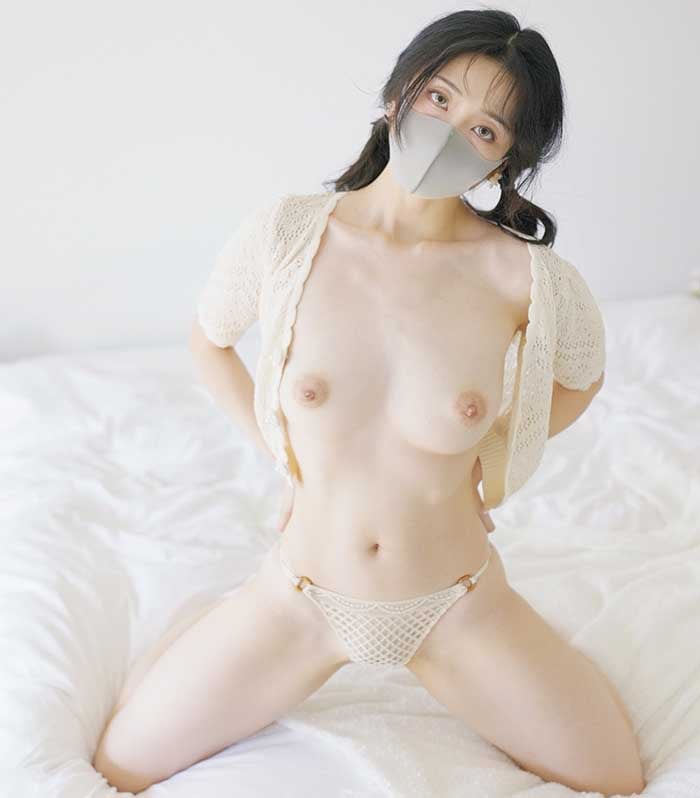 ---
#11 Brenna Sparks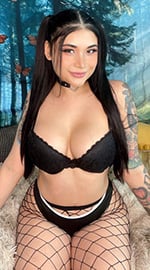 Her name doesn't suggest she's got Asian roots. But when you look at her closely, you can see it. Even though Brenna Sparks lives in the US, one of her parents is from Laos. Not a big country in south-eastern Asia. Her mixed descent makes her extremely hot, and when she decided to enhance her tits, she became simply irresistible! Now, you can watch her big fake boobs and tattooed body in tens of spectacular hardcore scenes! Her LetsDoeIt threesome action is one of her best performances ever. Brenna Sparks has already celebrated her 30th birthday, but we believe she will bring us joy for a few more years!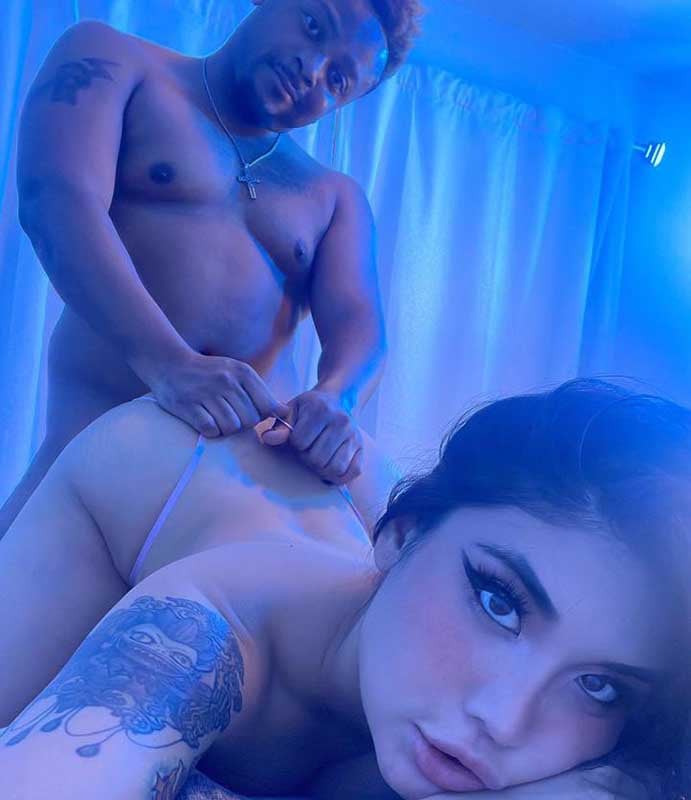 ---
#10 June Liu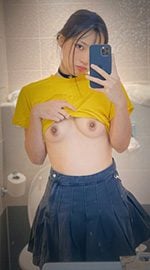 Imagine the situation. You are a hot teen Chinese student in London, and everyone wants to fuck you. What would you do? Yep, you would probably start doing porn and use your perfect skinny body to get some money. And that's exactly what June Liu has been doing for the last three years. She is not only extremely hot but also super passionate and doesn't even mind travelling to meet new big cocks for her amateur videos. You can also watch her in many threesome actions with another horny amateur pornstar from China, sharing one dick together. Can June Liu, or as her nickname is, SpicyGum, get any hotter?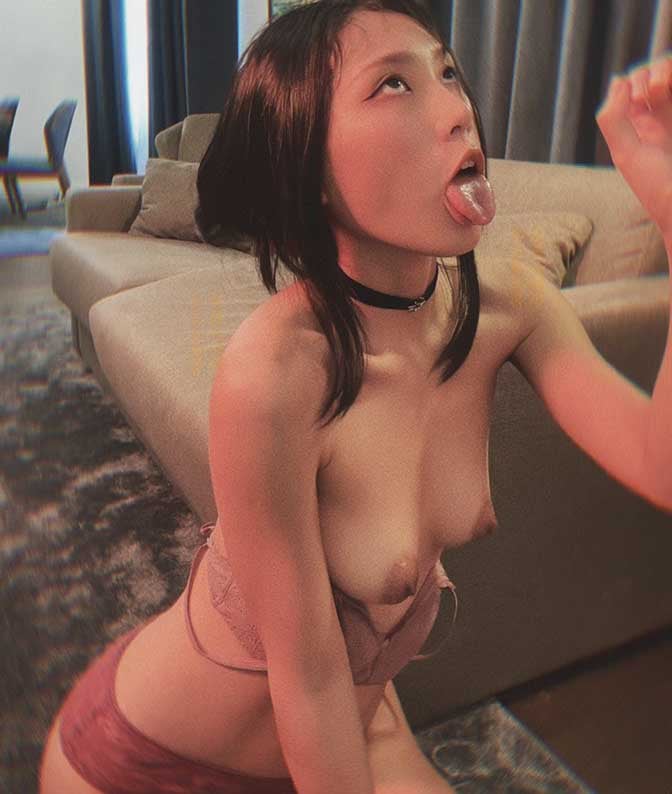 ---
#9 Luna Okko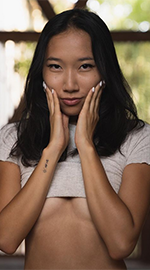 Have you noticed there are way more top Asian amateur pornstars than ever before? We've noticed, and that's why Luna Okko is the next girl we are about to introduce to you! Of course, there is not much information about her as she doesn't shoot movies for big porn productions. She just fucks her boyfriend while travelling around the world. That's why there are so many various places where Luna appears with a huge dick deep inside her tight pussy. She comes from Vietnam and has no problem fucking in nature, in public, or simply anywhere. She speaks fluently French but always adds subtitles to her videos on Pornhub. And when she is done talking, she puts the big white dick inside her mouth only to ride it in a hotel room later!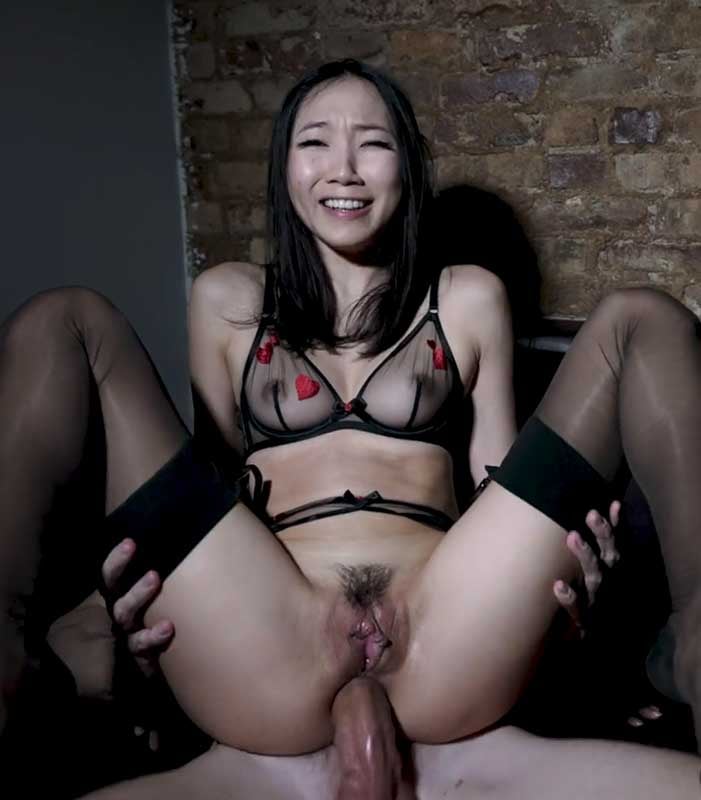 ---
#8 Eva Lovia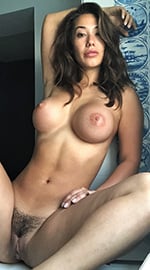 It may be quite a surprise to see this lady among the hottest Asian pornstars. But believe it or not, Eva Lovia is half Japanese and half Latina beauty! However, she was born in the US, so it was quite easy for such a lovely girl to enter the porn industry. It was in 2011, she was 22 years old and decided to become a popular sex cam girl. Not so long after, she got her first offers from adult productions, and she couldn't say no to them. But still, she agreed with only lesbian scenes. It took her a few more years to finally enjoy hardcore fucking with a guy on camera. And today, we can watch more than 200 porn movies with this spectacular pornstar, Eva Lovia!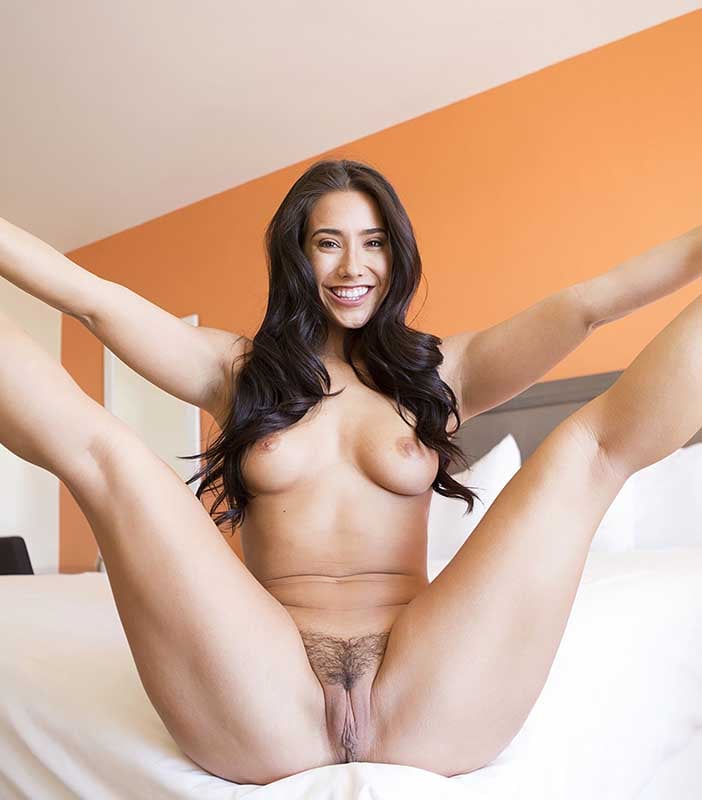 ---
#7 Kendra Spade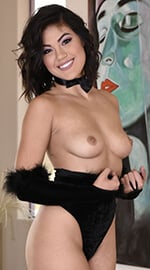 Her beautiful eyes will look right into your soul, and don't let you calm down until she gets what she needs. This girl really doesn't need some special tricks to get attention from the best professional porn productions. Kendra Spade is simply irresistible. Just like her perfect natural body, amazing tits, and lovely ass. She's well aware of that, which is probably the reason why she has chosen the porn career at a young age. Although her name doesn't sound Asian, you shouldn't be surprised by her tight pussy and passion for big black cocks and hardcore fucking.
You can watch this beautiful teen in more than two hundred porn movies made by Pure Taboo, Reality Kings, or VR Bangers. One of her best friends is Lana Rhoades, who's always got time to take care of her wet pussy. Kendra Spade loves to squirt all over the place while having a huge dick deep in her tight asshole. And you will probably like that too!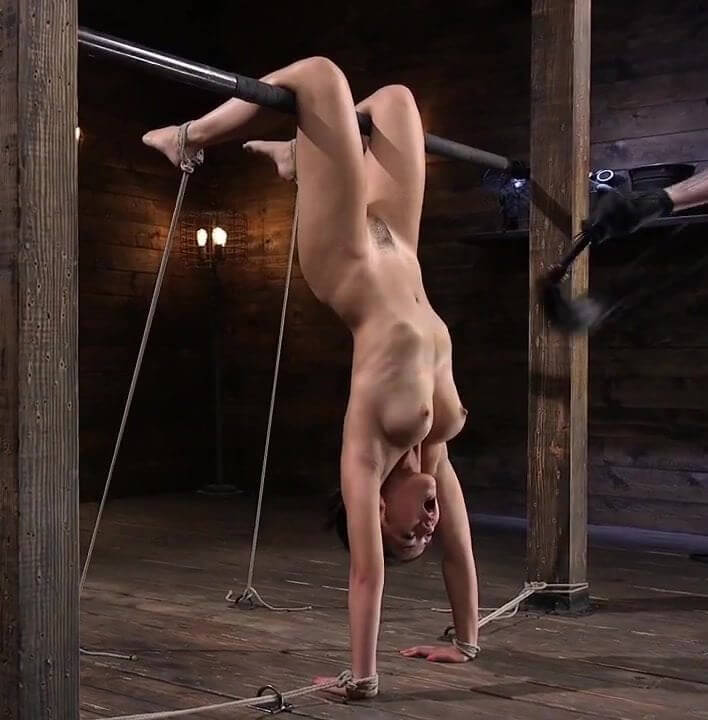 ---
#6 Lulu Chu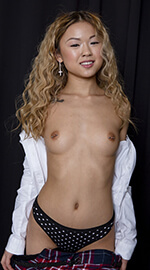 Let us introduce to you the youngest girl on our list of the best Asian pornstars. Her name is Lulu Chu, and she was born in 2001! She's the real tiny Asian teen pornstar who's got trouble to fit a huge cock in her tight pussy. You probably don't want to see the Blacked movie, where her cunt was destroyed by a big black cock. Or do you? Lulu has been doing porn for two years now, and she's already recorded almost one hundred porn movies.
You can see her in hardcore actions or threesome scenes, but she's not a fan of lesbian sex. That's a pity because her threesome performances with another girl look pretty nice. If you love taboo porn, you are gonna love this Chinese teen in the role of a young stepsister who always knows how to seduce her older stepbrother. You should also pay attention to her schoolgirl activities. Five feet and 95 pounds, this is Lulu Chuchu, top pornstar from China!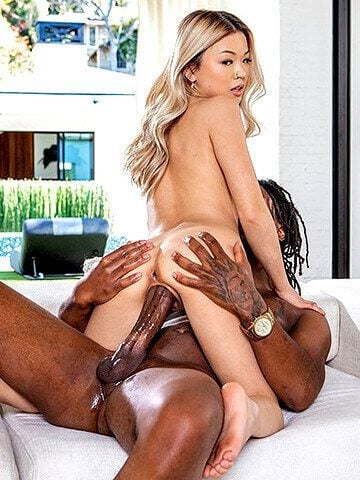 ---
#5 Hitomi Tanaka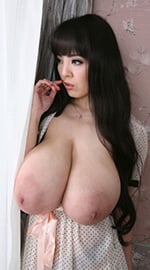 There are no words to describe this beautiful Japanese pornstar. You just have to see her, and you will immediately love her. Probably not because of her beautiful face or perfect ass. But because of her extra huge boobs! It's almost impossible how this petite girl Hitomi Tanaka is able to even move with such enormous tits. The size of her natural breasts is 34J, and you probably haven't seen anything like that before. She has started her porn career in Japan as an AV model in 2008, and she hasn't joined the US porn industry yet.
That's why most of her porn videos have blurred pussy and cock because of the law in Japan. But when you watch her porn movies, you really don't care about anything else but her boobs. In 2016 Hitomi Tanaka won an AVN fan Award for the Most Spectacular Boobs. Deservedly. Let's hope she will join the western porn industry soon to become one of the best Asian pornstars ever!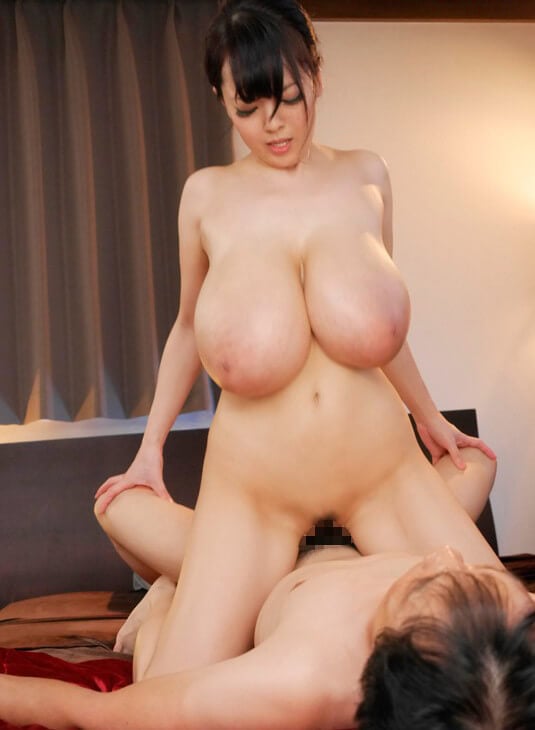 ---
#4 Honey Gold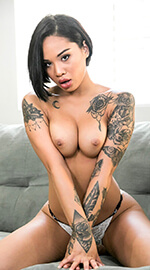 A rising star and one of the hottest girls in the porn industry nowadays! That's Honey Gold, who's enjoying sex like no one else. She's often labeled as an ebony pornstar, but it's not that easy as you would think. As she says, she's multiracial mixed with Cantonese, African American, Irish, Mongolian, and Cherokee Indian. But her beautiful eyes say we can easily include her in our list of the sexiest Asian pornstars. If you are ready to watch her porn movies, be prepared for a spectacular experience.
At the moment the huge cock stuffs her incredibly wet pussy, the ride begins. There is no way someone can stop her uncontrollable shaking orgasms. You can admire this perfect tattooed pornstar when she's getting fucked in her juicy pussy or tight ass by some huge cock. Even Johnny Sins had trouble not cumming prematurely during wild threesome action for the Vixen production. Honey Gold is the most passionate pornstar who loves to be fucked in any position. Look at her!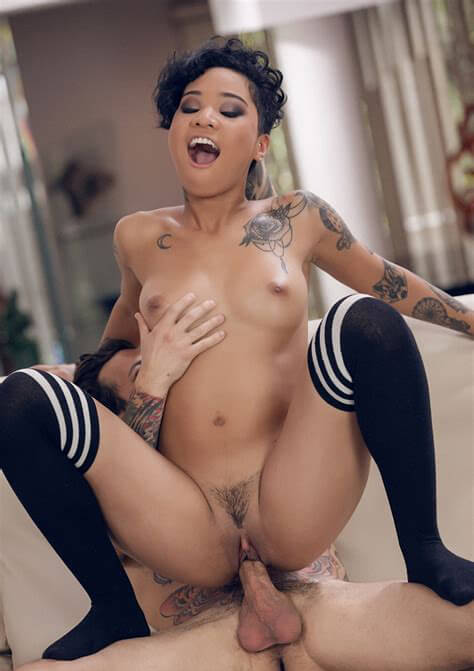 ---
#3 Vina Sky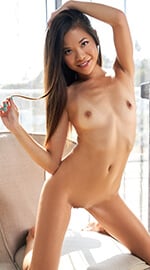 Vietnam gave us one of the best Asian pornstars of today. Innocent looking Vina Sky will blow your mind with her extra petite body, nice small tits, and passion for huge cocks. Her tiny ass is prepared to be stuffed by the biggest dicks in crazy hardcore anal actions. And when it comes to huge orgasms, she is able to squirt all over the place like a nasty fountain. You can watch her being fucked in various positions in Tushy, Property Sex, or Tiny 4K movies. She weighs only 84 pounds and is 5 feet tall, which makes her a perfect fuck toy on every occasion.
If you love taboo porn with a horny stepsister or stepdaughter role, Vina Sky is the perfect teen who will fuck anyone nearby. She's not afraid of hardcore threesome actions as well as lesbian or interracial porn scenes with a real big black cock destroying her tiny cunt. She's still at the beginning of her porn journey and is prepared to bring us more of her incredible sex performances in the future.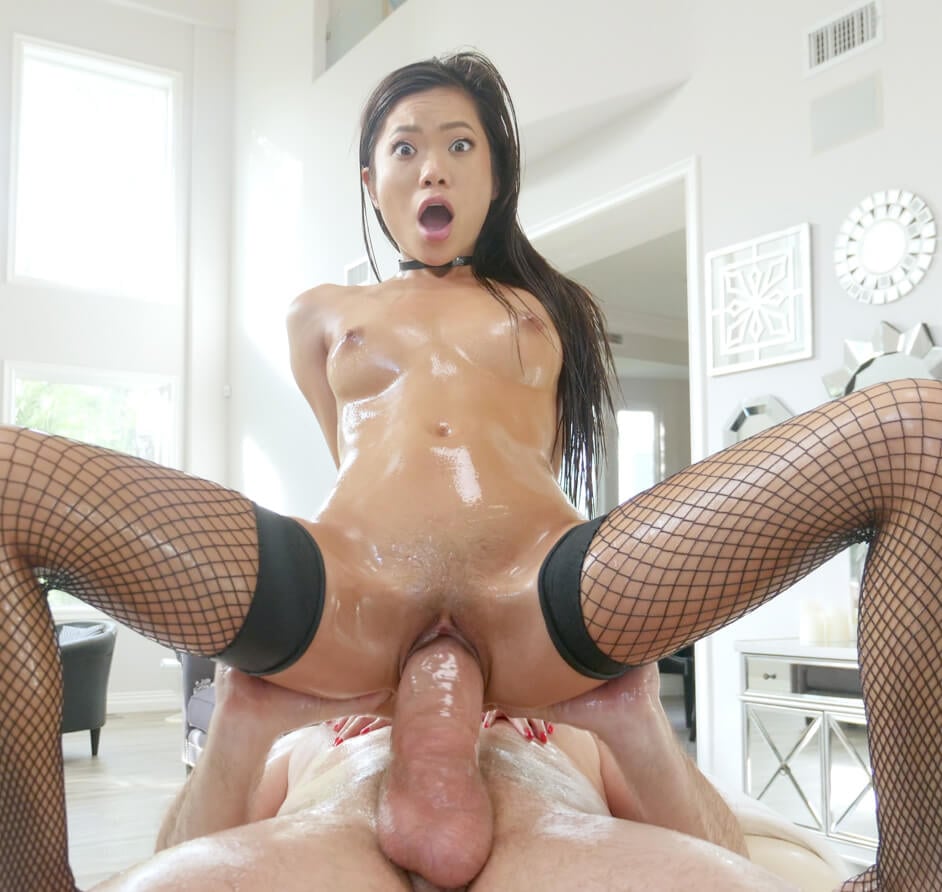 ---
#2 Asa Akira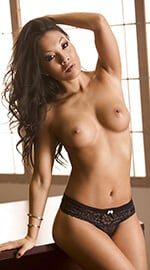 The living legend. Still active and still one of the hottest Asian pornstars who brings us joy for more than fifteen years. From a shy teen, Asa Akira turned into a hot MILF who's not only starring in porn movies, but she decided to become also a porn director. You can watch her in more than five hundred porn videos, and it's quite hard to find anything she's not willing to do. A double penetration action with two big black cocks is not an exception.
She's been doing porn for Brazzers since forever, but she has tried almost every famous porn production such as Evil Angel, PUBA, or Bang Bros. In 2013 she won the AVN Award Female Performer of the Year, which made her the third Asian pornstar who got this prize. If you want to get closer to Asa, check her Snapchat profile because she's one of the best Snapchat girls, who are always prepared to send you some nude pictures when you need them the most. Asa Akira is simply amazing and definitely belongs among the best Asian pornstars in history.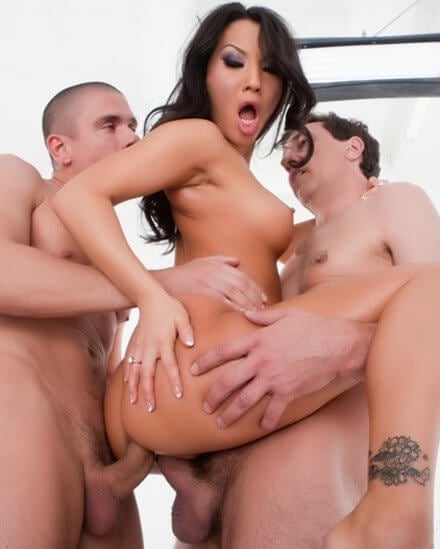 ---
#1 Rae Lil Black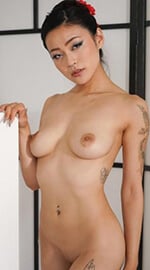 There is no doubt about the number one on our list of the hottest Asian pornstars. Japanese girls are considered the most beautiful girls in the world, and Rae Lil Black is the one who represents the Land of the Rising Sun in the western porn industry. Before she got to the United States, she tried her luck in Europe, so it's no surprise she also appeared in Fake Taxi movies. Right now, she's got more than a hundred porn movies in her portfolio and is recording for the best porn productions in the world, such as Brazzers or Reality Kings.
If you look at her cute face, you can notice a piercing in her septum, beautiful dark brown eyes, and a lovely smile with which she can easily seduce any man. She's got amazing natural tits and several tattoos on her body. You can watch her solo masturbating in the sex cam show or being fucked in the most hardcore ways by the biggest cocks. BBCs are not an exception. This is Rae Lil Black, the best Asian pornstar of today!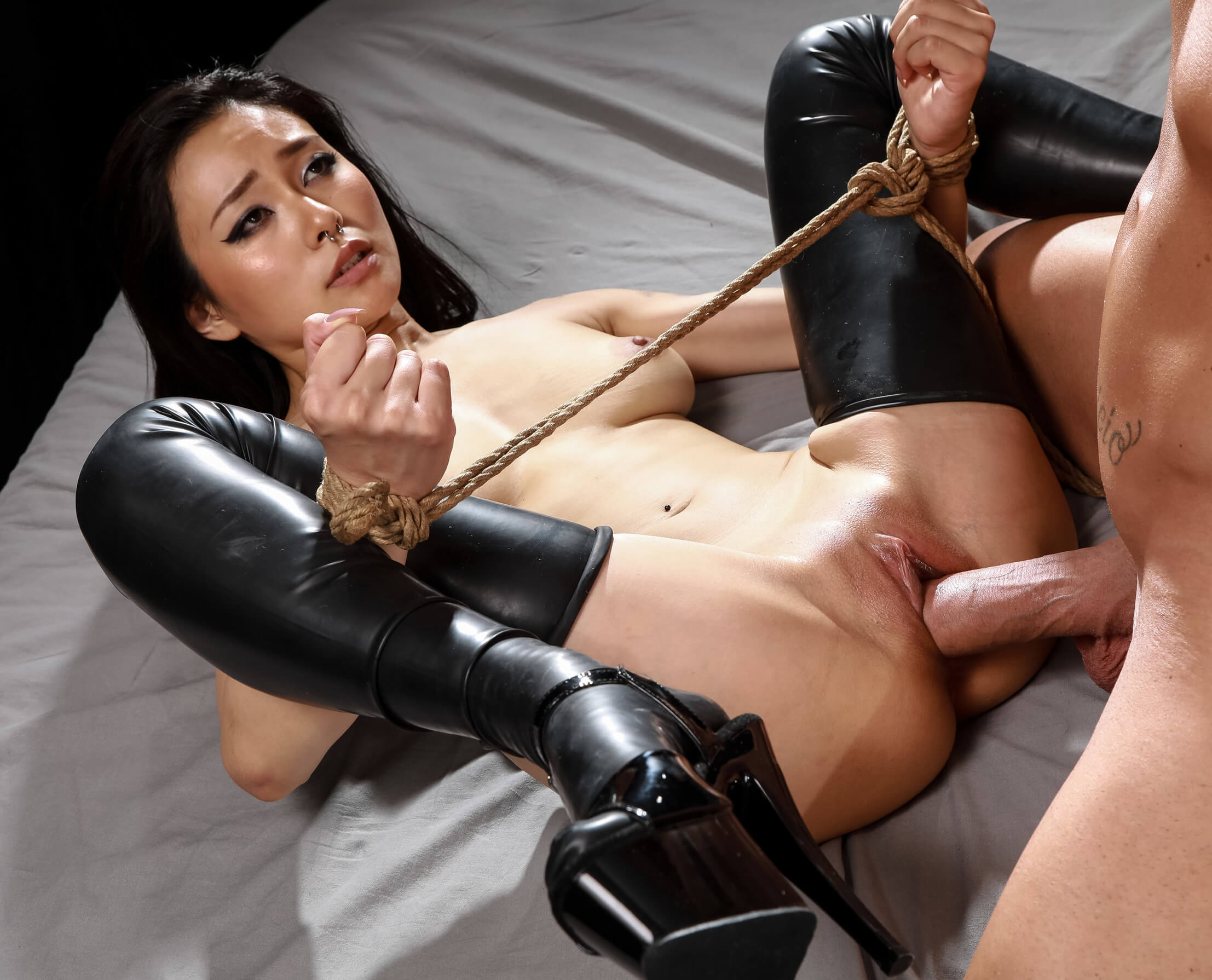 ---
Hottest Pornstars From Asia
There are no doubts, Japanese women belong among the most beautiful girls in the world. You would think how lucky the Japanese men are. But as Hitomi Tanaka says, Japanese boys love cute and innocent girls. It's pretty hard to find a decent man when you join the porn industry. Most of the Japanese teens have small tits, in contrast with European pornstars. But in Japan, nobody cares. Men in Japan are more into innocent and passionate girls, and they really don't care about the body. When you are a young girl with huge tits, it's almost impossible to avoid offers for doing modeling or porn. And you can bet, most of the busty Japanese women have at least tried to shoot some sex scene. You can watch the hottest Asian girls doing porn on the best Asian porn sites. Only a few of them will eventually join the western porn industry. We introduced to you some of the most popular Asian pornstars, but imagine how many wild Japanese girls are still waiting for the chance to fuck the biggest dicks in the porn industry!
WHAT NOW?
We have more! Check our other lists of the hottest pornstars: