Shemale pornstars are taking over the world of porn! We had here girls with the biggest tits, men with the biggest dicks, and now, we have here pornstars who could compete in both categories. Because we are going to look at the top 15 hottest shemale pornstars! They are becoming more popular than ever, so we couldn't miss the opportunity to look at them closer. Gone are the days transgender porn was considered taboo. Today, even the biggest porn productions focus on TS porn, where you can finally meet the best tranny pornstars in their original roles. We are not going to lie. It's not for everyone. But even if you still haven't found a way to TS porn, maybe these fifteen TGirls will change your mind. Give them a chance, and we promise you won't regret it. We prepared their hot pictures, bio, and more info in our list of the best shemale pornstars!
Hottest Shemale & Best Tranny Pornstars of 2023
Our list combines hot transgender amateurs who make their first steps in the porn industry with already experienced top trans pornstars. Some of them already have an AVN or XBiz award in their portfolio, and some of them fuck for the best porn productions in the world. They meet the hottest cis girls and the best male pornstars who are ready to experience their first time with a hot transgender pornstar. After you go through the gallery of the hottest shemale pornstars, you will find tips for the best TS porn sites below. Enjoy!
Top Trans Pornstars and How to Call Them
With more trans people, it's more important to know how to respectfully call them. In porn, there was always the term shemale. Although we got used to calling them that way, the new wave could be offended by this label. So, you really shouldn't use this term in real life. In porn, it's still okay. But even here, you can lately meet the word trans more often. You should avoid using the term tranny because that's a word they use to describe themselves. That's why it's labelled as the T-word. Other terms such as TGirls, chicks with dicks, or ladyboys are usually used only in porn. And who are the best transgender pornstars?
List of the best Shemale pornstars (click name to see more details)
#15 Venus Lux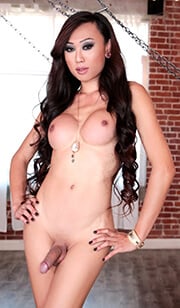 You know there will be some hot chicks in our list when the number 15 belongs to amazing Venus Lux. She is one of a few Asian transgender pornstars who made it to the western porn industry. It was in 2009 when she decided to change her gender, and after three years, she appeared in her first hardcore porn movie. At that time, everyone saw the potential of her huge cock and Asian look. Every TS porn production dreamed of having her in their movies.
It didn't take long, and she was awarded the Transsexual Performer of the Year. Two times in a row (2015, 2016) at the AVN Awards and two times (2014, 2015) at the XBIZ Awards. Venus Lux is now 31 and will still blow your mind in scenes with cis girls such as Adriana Chechik, with horny guys, or solo in Virtual Reality. This is the ultimate start to our list of the best tranny pornstars!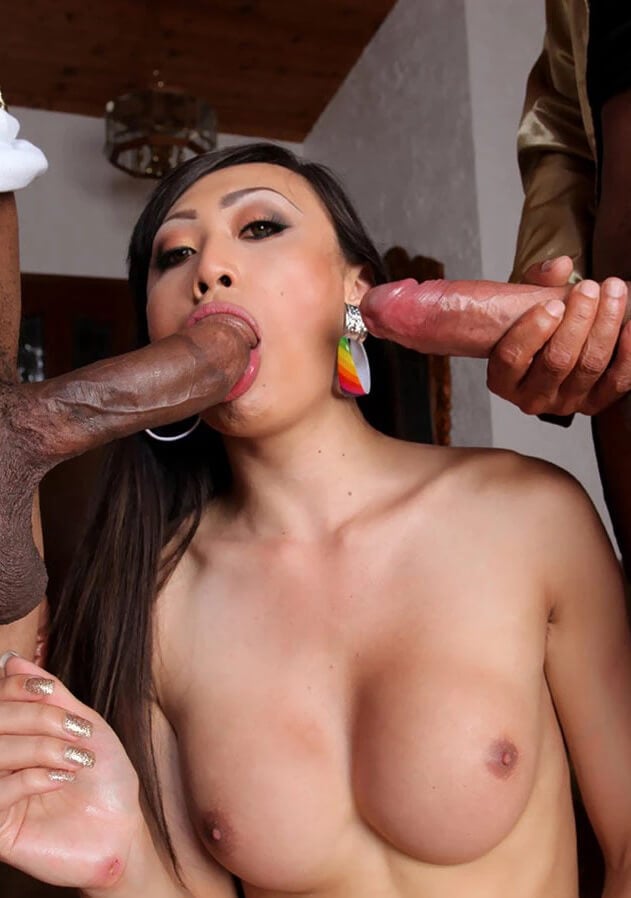 #14 Jane Marie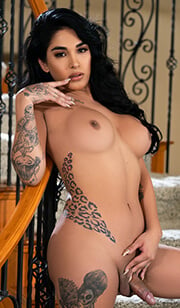 From Asian beauty to Latina hottie! This is Jane Marie, one of the most beautiful shemale pornstars in general. It takes only one look at her gorgeous face, and you will immediately fall in love with her. She's got a perfect tanned body, and her tits plus big cock make her simply irresistible. She made her porn debut in 2012 when she was 20 years old. Now, almost ten years and several award nominations later, she is not prepared to stop being fucked in her tight ass. Yes, she is more taker than giver, but you will find a lot of scenes of her stretching those assholes too!
#13 Luna Love St James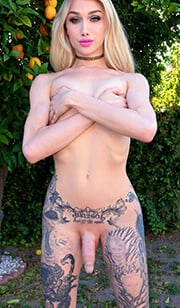 Don't confuse Luna Love with Luna Love. That sounds pretty confusing, but if you try to find this sexy tranny pornstar, you might run into another blonde who also loves to be fucked in her ass. But only the petite tattooed TGirl can stick her huge cock inside another's anal hole. If you know what we mean. She tried to make it easy for her fans, so she added St James behind her name. She always knew her future was in the adult industry. Already in 2015, Luna started her modelling career, and a few months later, she made her first hardcore porn movie. She loves to be fucked in the ass, and she never says no to a big black cock. Give a chance to a wild Luna Love St James! She won't disappoint you.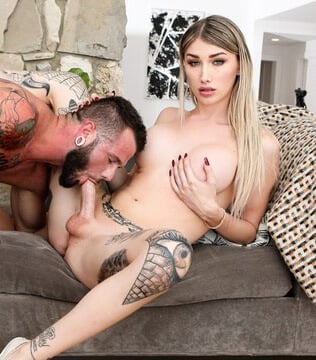 #12 Shiri Allwood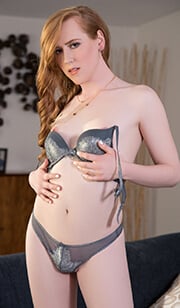 Recently, we made a list of the hottest redhead pornstars, and this name could pretty easily appear among those hot cis girls. We are talking about Shiri Allwood, who is always ready to ride some huge cock or to penetrate the tight ass of another transgender porn star. She is almost 30 years old but still full of energy. Her porn career started in 2014, and you can watch her in all kinds of actions. With girls, guys, TGirls, or in wild group orgy by the pool. And if you love Pokemon, you will be surprised that Misty from Pokemon has a penis! The hottest cosplay we have seen lately, and that's another reason why Shiri Allwood is one of the hottest tranny pornstars of today.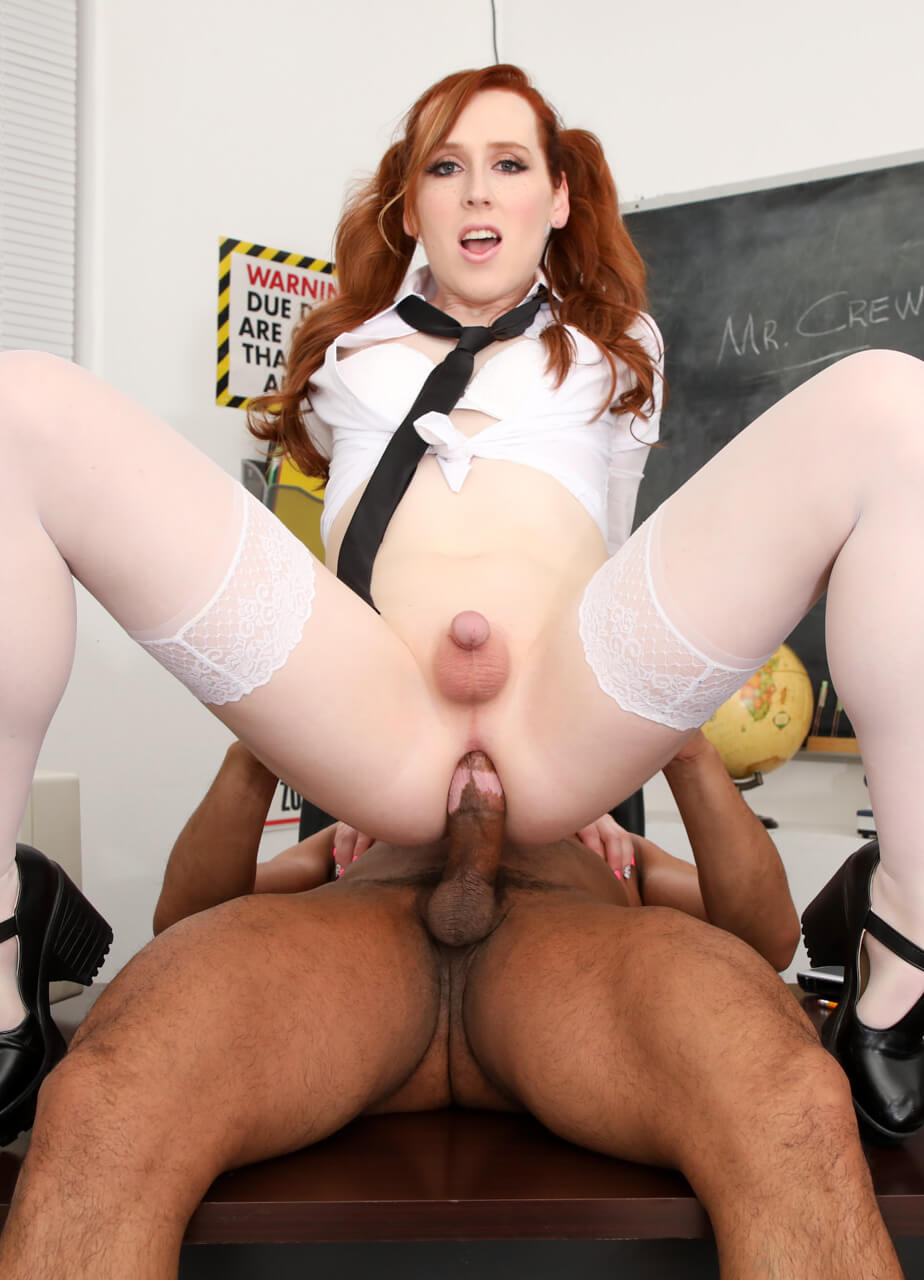 #11 Emma Rose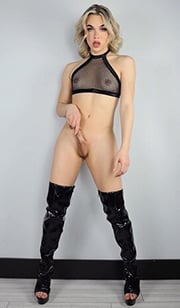 There are beautiful trans girls, and then there is Emma Rose. She would deserve a separate category because of her gorgeous look. You could be staring at her for ages, but without seeing her cock, she would be able to seduce you in seconds. She's one of the trannies who would definitely get you in the bed, and then, it would be too late to realize what is going on. Even though she won't amaze you with a huge cock, her hardcore actions are definitely worth watching. She is still considered a newbie in the porn business, so we can look forward to watching her future porn career from a close distance. Emma Rose is young, hot, and incredibly gorgeous!
#10 Domino Presley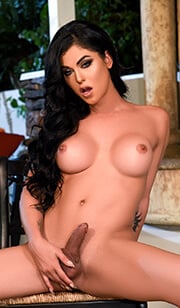 Eleven years in the business, ten nominations for the best transsexual performer of the year. And now, the tenth place in our list of the best tranny pornstars. This is Domino Presley, the TGirl who proves every year how exceptional she is. You can watch her mostly riding some huge dick or in solo movies where she is even cumming on her own face. How hot is that?! You can recognize her by her huge tits and perfect body. She is now 33 years old but still hasn't said her last words in porn. If we had to pick one scene, we would definitely recommend watching the Wicked movie where Domino Presley, together with two other trannies are taking care of one horny female pornstar. That's how we love it!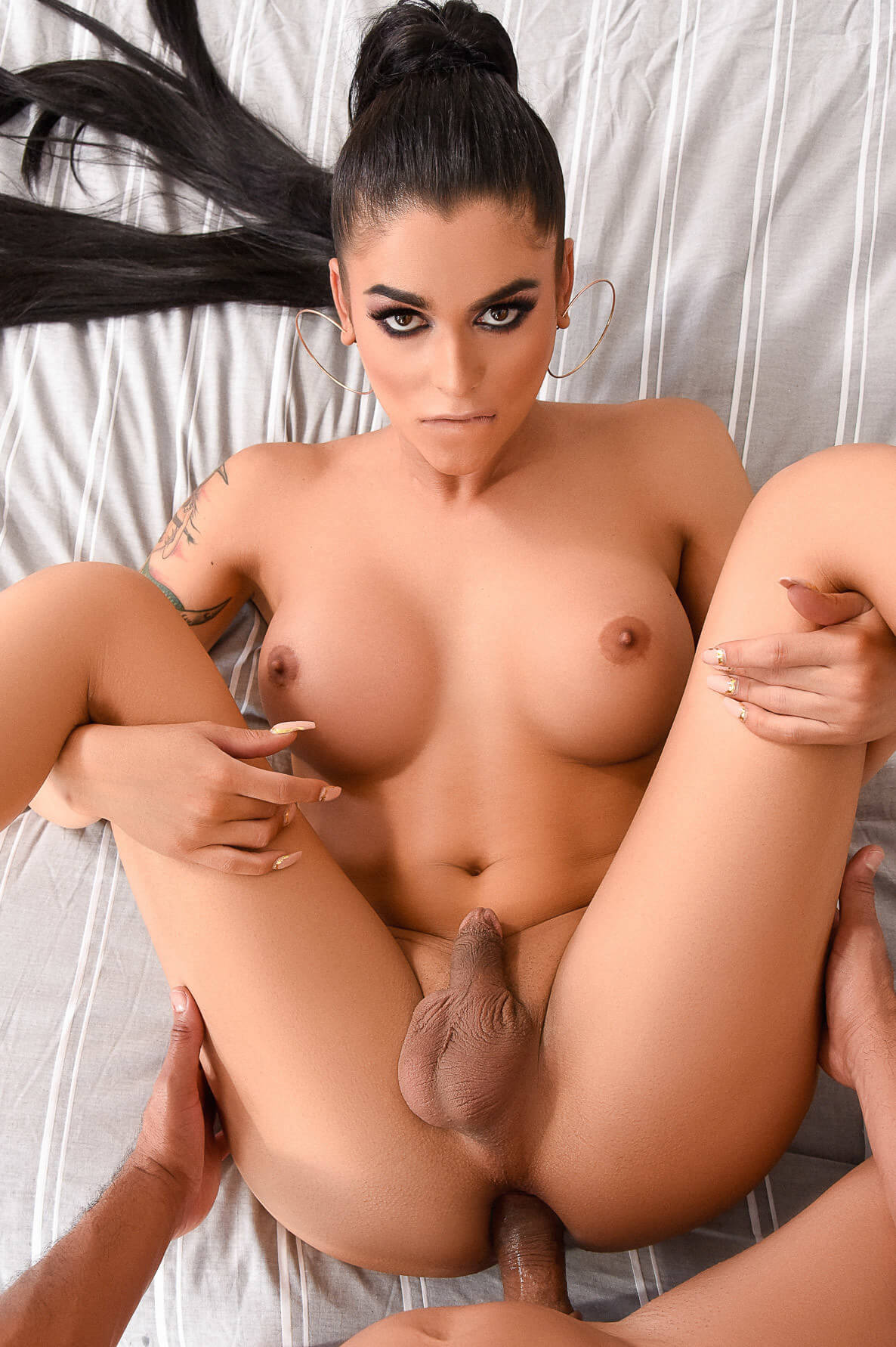 #9 Bailey Jay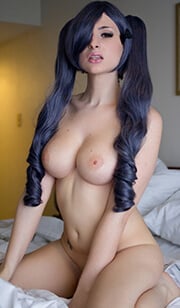 Is it already time to call this tranny pornstar a legend? It was in 2011 when she was named for the first time the Transsexual Performer of the Year. And now, ten years after, we still get new content from Bailey Jay. That's how naughty she is. She still doesn't have enough, and we don't have enough of her huge tits. But do you know what her favorite hobby is? If you already know her, you know it's sucking the biggest dicks and letting them cum on her beautiful face. Her full name is Bailey-Jay Granger, she is 33 years old, and she is in the top 10 hottest shemale pornstars!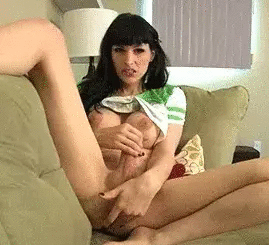 #8 Jessy Dubai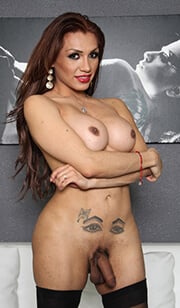 You know the action will be wild when the main star is a Mexican transgender pornstar. And when her huge tits are bouncing up and down just like her big dick while riding some monster cock, you get instantly to the mood. Let us introduce to you the one and only Jessy Dubai, one of the hottest Latina tranny pornstars! She told about herself she was a shy child, but after moving to the USA, she changed her gender during her high school years and soon became a confident ladyboy who knows how to fuck hard on camera. She started her porn career when she was 24, in 2013. And after three years, in 2016, Jessy Dubai got the XBIZ Award for the best Transgender Performer of the Year. You can watch her in tens of hardcore TS porn movies, and you will recognize her by the tattoo of eyes right above her penis. Quite original, what do you say?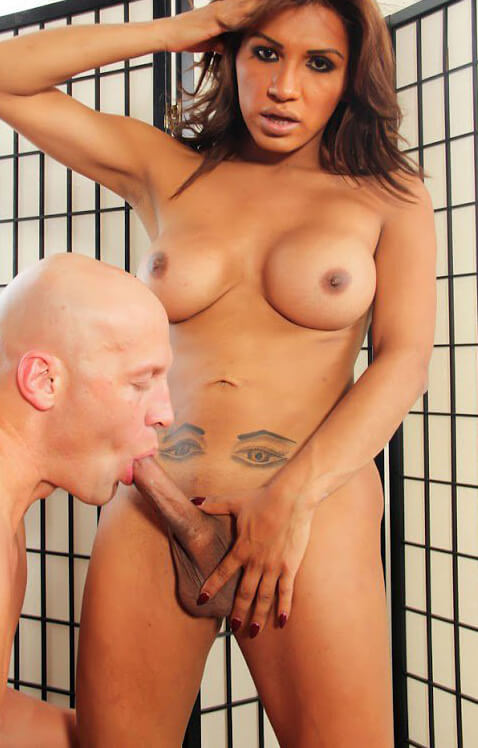 #7 Ella Hollywood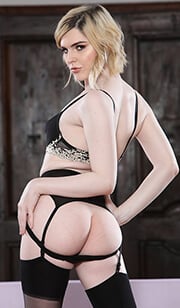 Young and wild Ella Hollywood is our next girl on the list of the best shemale pornstars. She is now 22 years old but has already appeared in more than 60 porn movies! When she announced she would move from the webcam business to the hardcore porn industry, the biggest porn studios were ready to explore her potential. Her first movie was a solo casting session, but she soon jumped on a big black cock, and since that time, she has been unstoppable. She fucks guys, she fucks straight girls, but the most, she loves to feel a huge cock inside her tight asshole. She got her first nomination for the AVN Transgender Performer of the Year in 2020, and we believe Ella Hollywood is not far from winning one in the near future!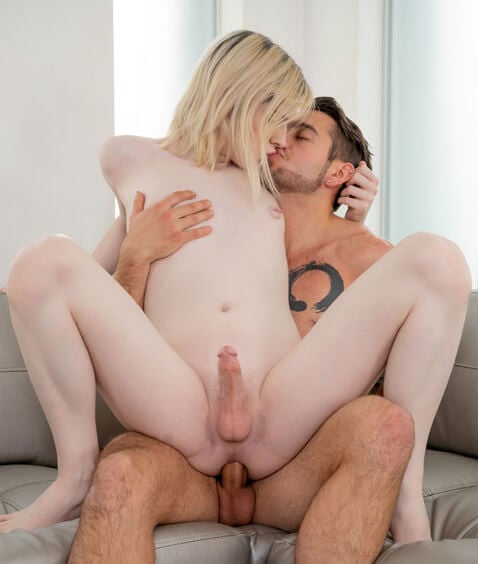 #6 Chanel Santini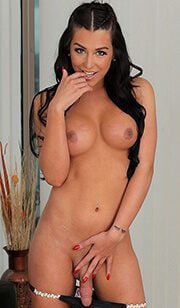 Another award-winning transgender pornstar found her way to our list of the hottest tranny pornstars. In 2019, there was only one TGirl who got AVN and XBIZ awards for the Performer of the Year. And it was Chanel Santini. The young lady who is not afraid of anything. Even if three guys decide to take care of her tight ass and huge dick in a group orgy for the Devil's TGirls production. She loves to fuck other trannies as much as she loves to be pounded from behind by horny guys. Even though she is already a real deal in the TS porn business, Chanel Santini is still only 23 years old, and we believe she will cheer us up also in the future years!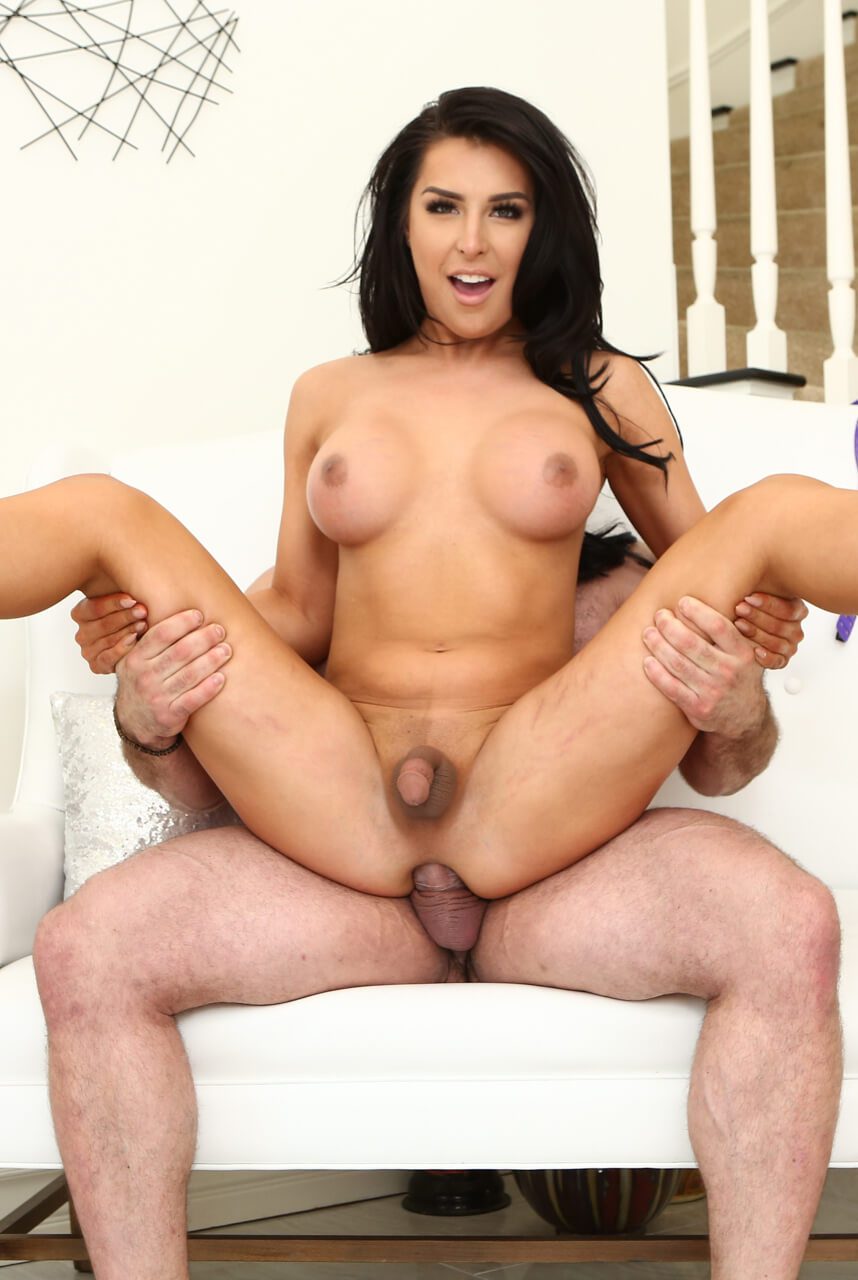 #5 Miran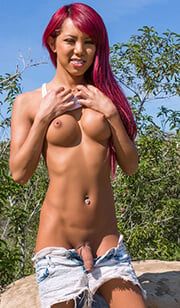 For someone, it could be a surprise. For others, it's a clear choice. Because the number five on our list of the best shemale pornstars belongs to the hottest Asian tranny – Miran! We said many times, we love Japanese girls. And after we saw this lady in a bunch of porn movies, we have to say we love them even more. Maybe she is not as famous as the other girls above, but we believe she deserves this place. And as we said, many of you will agree with us, and the rest will eventually agree too. Because when you look at her hot Asian cock pounding some guy's ass, you wouldn't be able to think of anything else for the rest of the day. Maybe we should place Miran also in our list of the hottest Asian pornstars. What do you think?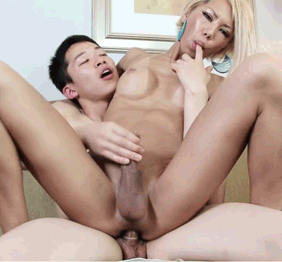 #4 Natalie Mars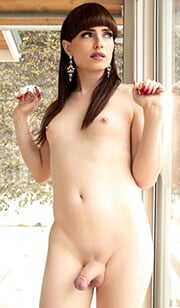 We know you waited for this name. The question is not if Natalie Mars belongs to the list of the best tranny pornstars. But it's more like, is she the hottest shemale pornstar? For us, she definitely deserves the top 5 position. In 2020, the AVN decided she was the best Transgender Performer of the Year. And the biggest porn productions totally agree because she is probably the most active transsexual in the industry. She stars in hundreds of porn movies and cooperates with the biggest names. Once, she even let Emily Willis suck her cock and finger her ass in an Adult Time scene. Natalie Mars started her porn career pretty late when she was 31, but it was the best decision she could make. Because now she belongs among the hottest tranny pornstars! But there are still three girls left!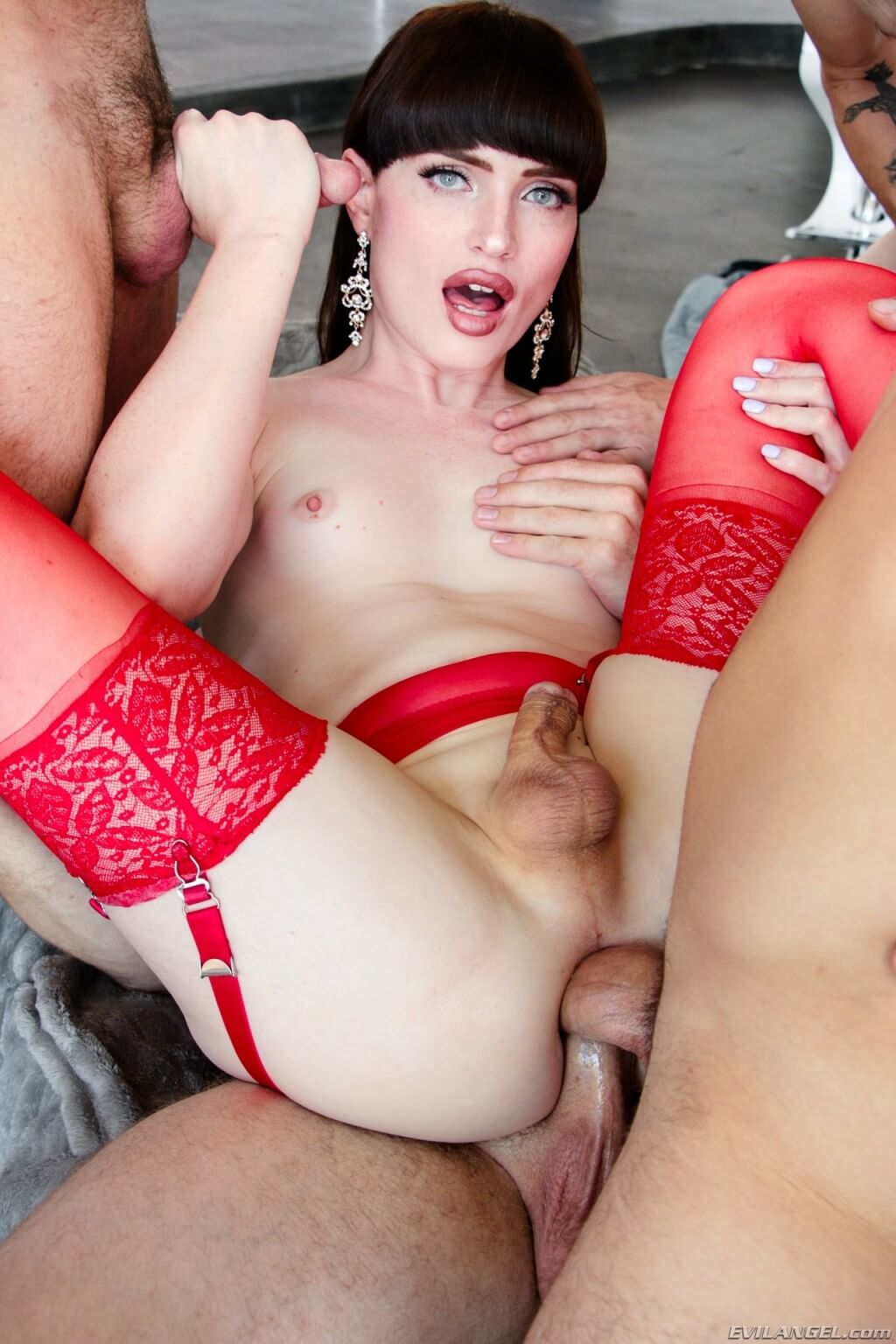 #3 Casey Kisses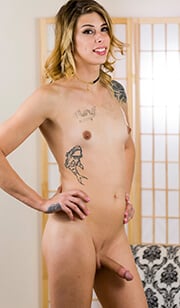 We have already introduced many tranny pornstars. But probably none of them recorded themselves having sex with their girlfriend in Hawaii while being on a hike. But here we are. Casey Kisses is this wild TGirl, who has no boundaries when it comes to using her huge cock. Although you can't find her among the AVN or XBIZ awards winners, she is highly appreciated in the trans community. That's why in 2020, she won the TEA awards for the Best Cam Performer of the Year and Best Solo Model. She has huge experience with webcam live shows on Chaturbate, but she still finds time for big porn productions and their hardcore movies. She loves to fuck Cis-girls and then let them fuck her ass with a strap-on. Yep, Casey Kisses is one of the hottest shemale pornstars who deserves your attention!
#2 Aubrey Kate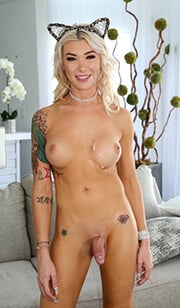 We are getting closer to the hottest tranny pornstar! It was a hard decision, but it had to be done. The second place belongs to blonde TS pornstar Aubrey Kate! If you had to choose a girl who would pound your ass, she is probably the one. Her dick seems almost perfect, and her passion for fucking makes her even hotter. She loves to be fucked by guys, but when there is some wet pussy nearby, she doesn't hesitate a moment and fuck that slut as hard as possible. She was named by the AVN the Transsexual Performer of the Year two years in a row (2017, 2018). After that, she worked even harder, and she repeated the victory in 2021. When you see Aubrey Kate in the second place, you know there must follow some spectacular TGirl!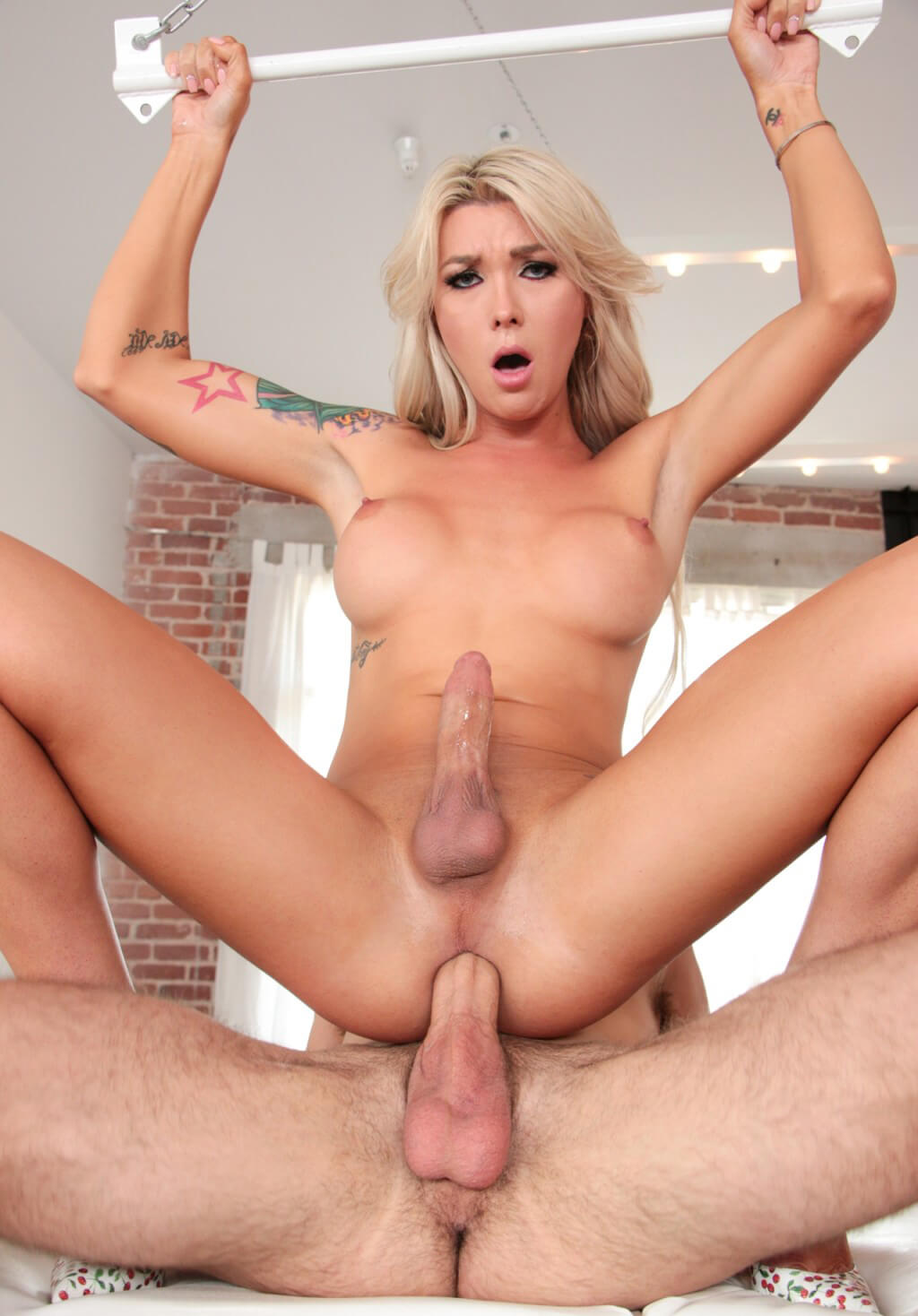 #1 Daisy Taylor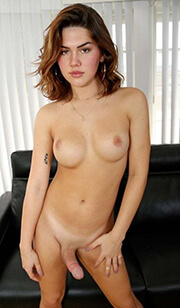 And here we are. The representative of the new wave of transgender pornstars celebrates the victory. Ladies and gentlemen, Daisy Taylor! The 23-year-old tranny has still a bright future ahead of her, and despite the fact she has not won any AVN or XBIZ award yet, she is one of the most popular tranny pornstars out there. She can be simply recognized by her short hair and her passionate scenes with famous male porn stars such as Owen Gray or with cis girls in wild actions. She started her porn career in 2018 and soon became in demand by the big porn productions. That led to her first and only big victory at the Pornhub Awards 2020, where she was named the Most Popular Trans Performer. We are only adding, Daisy Taylor is not only popular but also the hottest shemale pornstar!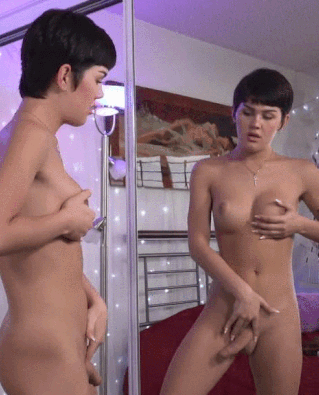 Hottest tranny pornstars on the best shemale porn sites
With the rising popularity of transgender porn, more porn productions started focusing on this porn sphere. We showed you the top 15 best shemale pornstars, and now, we want to introduce to you the best shemale porn sites. One of the biggest and most famous tranny porn sites comes from the Adult Time network and is called Transfixed. Almost every girl from our selection has her role in some of their scenes. We could say the same about the Devil's TGirls with hardcore actions. And even harder TS porn movies has prepared for us the Kink production in their TS Seduction site. We can't also forget Grooby Girls, one of the oldest productions focusing on transgender porn and the award-winning studio. Have a good time!
WHAT NOW?
We have more! Check our other lists of the hottest pornstars: