Social media are an important part of the lives of the most popular pornstars. It's a way to get closer to their audience and also a way to show pieces of their real life outside the adult industry. There is Twitter, where they can show even NSFW content. There is Instagram for posting their non-nude pictures. And then there is TikTok to post random videos without nudity. And today, we are about to look at the best TikTok pornstars with thousands of followers on this platform and millions of views on their videos. It's finally time to discover the true faces of ladies who bring joy to our screen in their thrilling naughty roles. Some might surprise you. And some might be as wild as you would expect from their hardcore sex performances!
Hottest Pornstars on TikTok Right Now
TikTok has taken over the world, and the adult industry is no exception. It's almost necessary to be a part of this social media app if you want to be popular. And popularity is one of the factors that play an important role in the porn business. The more popular you are, the more people will watch your movies and the more money you get. And these models know it. And they also know what to post to get their fans excited. We bring you the list of the best TikTok pornstars who still find new ways to give their fans something new!
List of the best TikTok pornstars (click on name for faster navigation)
#21 Kissa Sins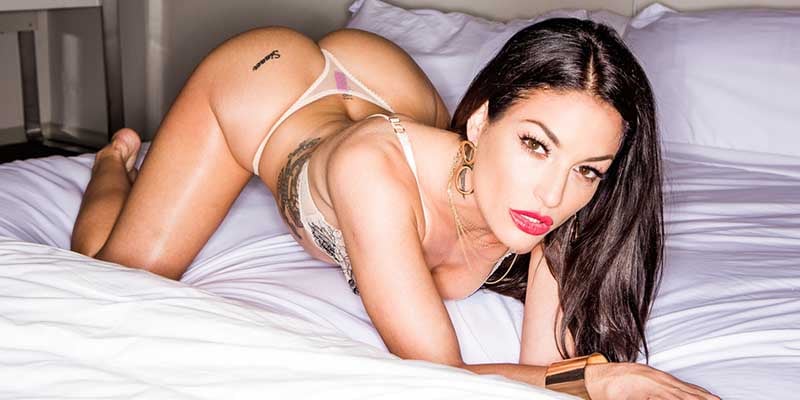 One of the most passionate pornstars in the industry shares her real life on TikTok, where she posts her dancing clips, her dog and cat, and her husband. Her name is Kissa Sins, and as you know, her husband is one of the most popular male pornstars, Johnny Sins. But this time, they don't fuck. They just lay in bed, cuddle, or do whatever makes Kissa happy. You can join over 140 thousand followers on her TikTok page, KissaSins, or over million fans on other social media. She will always amaze you with her big fake tits, beautiful eyes, and that charming smile!
#20 Cherie DeVille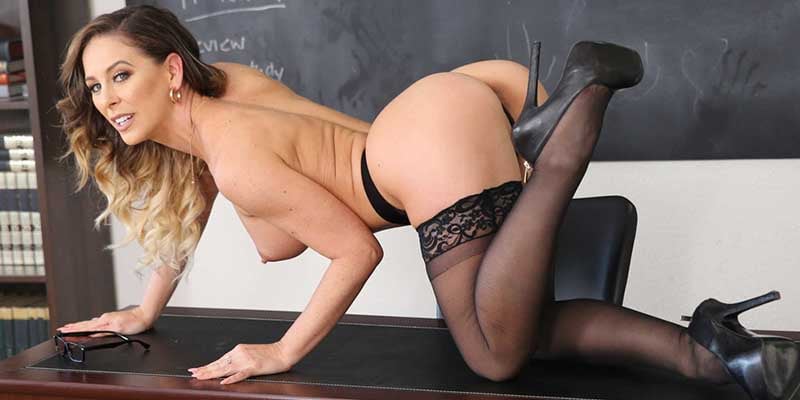 This hot stepmom knows how to entertain her audience, not only with her porn performances. Cherie DeVille has already gathered more than 130 thousand followers on her TikTok profile, where she posts daily! She somehow finds time for this and loves being one of the best TikTok pornstars. TheInternetsStepmom, as she calls herself, usually posts short clips with jokes, reactions or answers to questions from her fans. She stepped into the world of porn in 2011, and even though she really could be a mom of younger top blonde pornstars, she keeps track of new trends and technologies. You can also find her on X Twitter and Instagram, where the number of followers has climbed to 4 million!
#19 Joanna Angel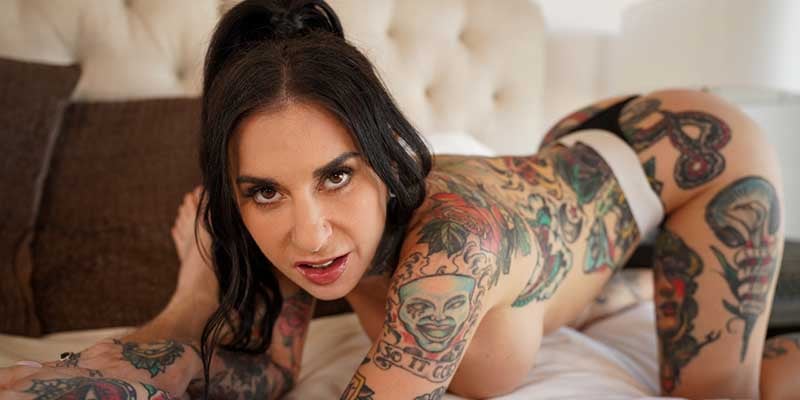 The tattooed queen has found a way into our hearts and also on TikTok! Her name is Joanna Angel, and she belongs among the most successful porn directors and models as well. Right from the first view of her body, you will be amazed by countless tattoos and those fake tits. But they stay hidden on TikTok, so you can move to her adult website BurningAngel or to other porn sites where you can admire the beauty of this lovely woman. Around 140 thousand followers get insight into her life and clips from her podcast on her TikTok profile page, JoannaAngelx. You can also find Joanna, one of the hottest tattooed pornstars, on X Twitter, where she posts some juicier content or on Instagram with daily stories from her life.
#18 Abigail Mac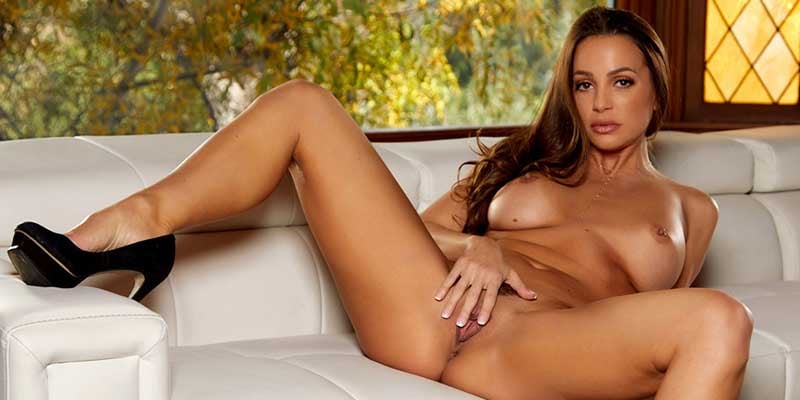 A busty TikTok pornstar, who even in her MILF age has a body of Goddess! Her name is Abigail Mac, and you can meet her not only on porn sites but also on social media. Her TikTok profile, MSAbigailMac, has amassed over 160 thousand followers that she loves to entertain with short funny clips. She is quite active on the site, as she has already posted hundreds of videos! Her X Twitter with NSFW content, where she satisfies the biggest dicks in porn or other top lesbian pornstars, is also worth following, as well as her Instagram account with almost 3 million followers. And we probably don't need to mention you can get her paid content on OnlyFans.
#17 Abella Danger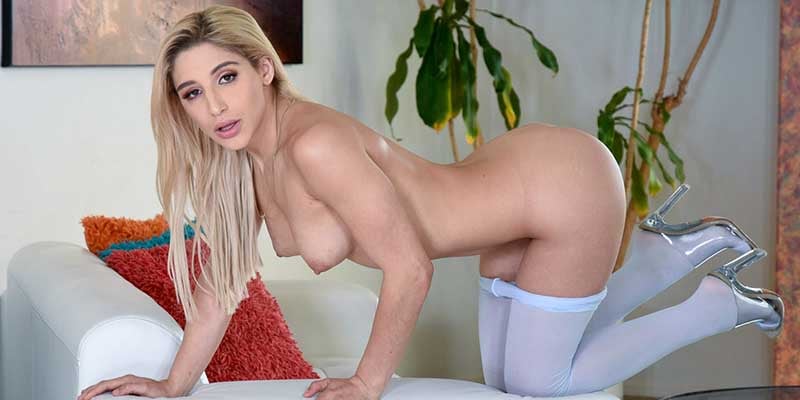 Is she the hottest pornstar right now? If not, she definitely belongs among the top models in the industry, and in the future, we will talk about Abella Danger as a legend! Even though she is not as active as before on TikTok, we are introducing her profile AbellaDangerXO, where she still keeps tens of clips from the past. Some of them have over a million views. Usually, the ones where you can admire her perfect ass. The best ass in porn, without a doubt. She has gathered over 200 thousand followers on TikTok, 2 million on X Twitter and almost 10 million fans on Instagram!
#16 Adriana Chechik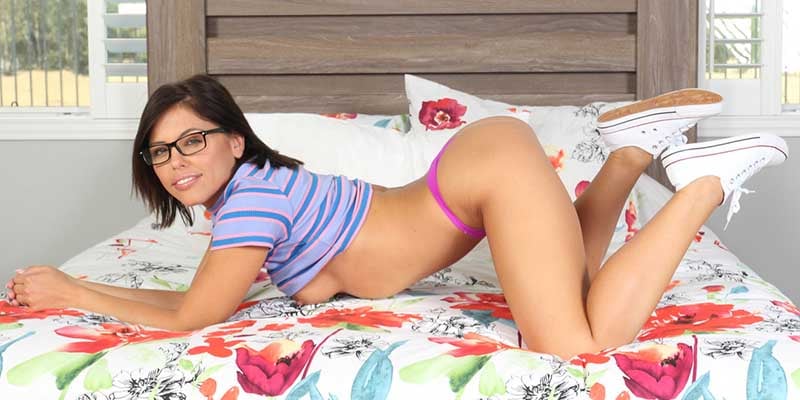 Yes, she is the pornstar who got injured in the amusement park. Since then, Adriana Chechik has been out of the adult industry, but you can watch her recovery process and her beautiful face on TikTok. So she is now one of the TikTokers who do porn. And she is also your dream gamer girl! Yep, she is one of the pornstars on Twitch, where you can watch her live streams. She always finds a way to entertain her fans, and even though we still have a lot to watch, as she has already recorded more than a thousand porn videos, we love to get a fresh look at this squirting queen. Just like 300 thousand followers on her TikTok profile, AdrianaChechik91, or 4 million people on her Instagram page!
#15 Eva Lovia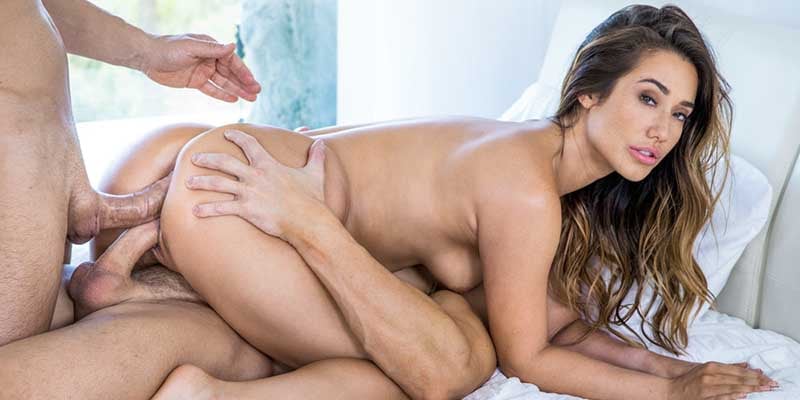 Even though this mixed Asian pornstar has already stepped out of the adult industry, we still have enough evidence of it and enough videos getting us in the mood to want more of her content. And TikTok is the place where Eva Lovia posts exciting clips where we get to see this beauty still being incredibly hot. She is now a podcaster for her podcast, Chatting with Candice. Her TikTok, LoviaLongTime, contains hundreds of videos, where her lovely smile plays the main role. Definitely worth watching and definitely worth also following her other social media pages.
#14 Morgpie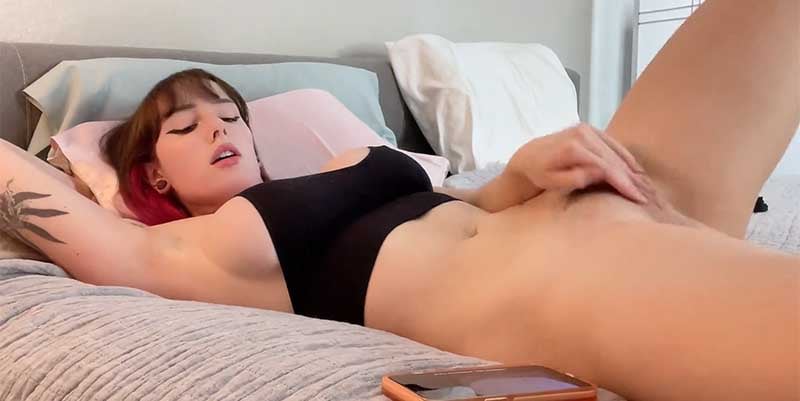 A redhead amateur pornstar who has become one of the most popular models on Pornhub lately. Her name is Morgpie, but her TikTok page is called Mogrpie. Watch out for this. Just like you should watch out for her big tits and quite muscular body. She's one of the tallest women in the industry, but that only makes her sexier! Just look at that body. Look at those boobs! And look at that amazing red hair! She usually dances in her TikTok clips, and we really don't mind when she appears just in her underwear or bikini. And over 300 thousand followers don't mind it too!
#13 Indigo White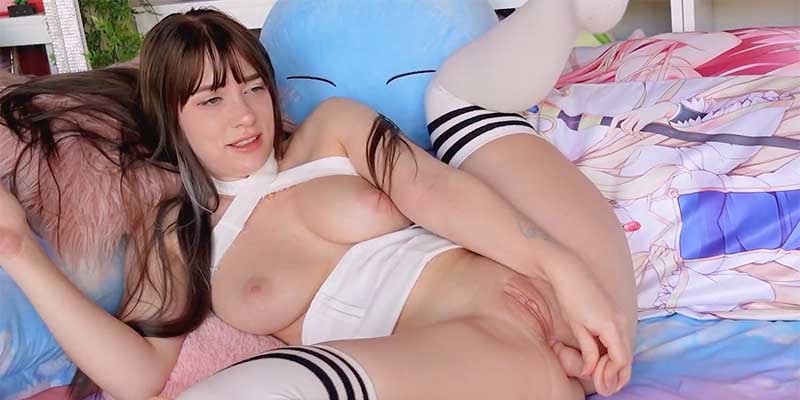 Ok, we have always talked about Indigo White as one of the hottest cosplay pornstars. We can still do that. But she now talks about herself as a boy. Better said as a dude. He still does cosplays, and he is still sexy, so let's understand his decision and look at his TikTok page. His account has a pretty weird name – user12342069911. But once you know the link or porn name of this transgender pornstar, you get to this profile. He has over 400 thousand followers and posts short clips daily. He has gathered almost 7 million likes on his videos, but that's still a lot behind Indigo's Pornhub numbers!
#12 Valentina Nappi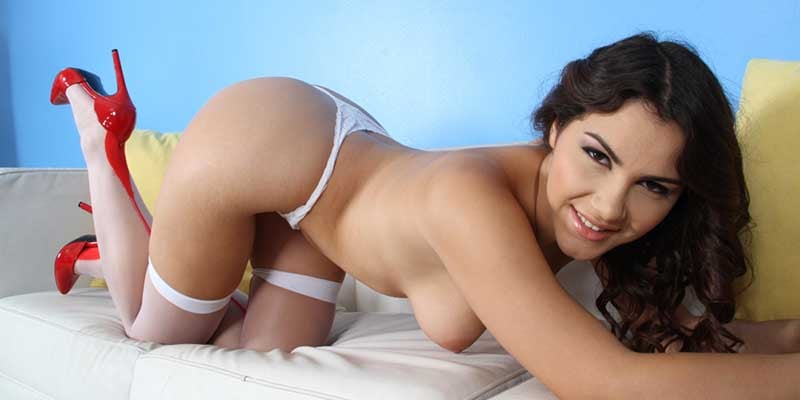 Even the hottest European pornstars have found their way on TikTok, and Valentina Nappi is one of them! She comes from Italy and has been a solid part of the industry since 2012, when she decided it was time to show her incredible curves to the world. Her TikTok profile is called TheValentinaNappi, and you can join the 500 thousand followers. She says about herself that she is a model, gourmet and content creator. All we know is that her TikTok clips usually feature her lovely face, epic ass, and her almost-naked body! Some of her videos already have over a million views!
#11 Rae Lil Black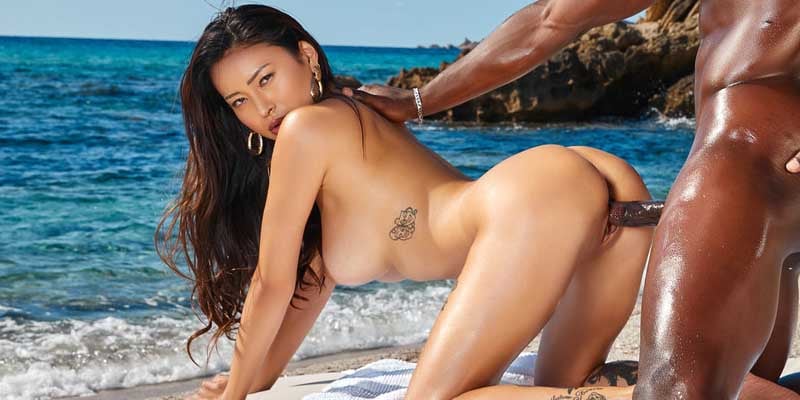 We don't have to think long about who the hottest Asian pornstar of today is. Her name is Rae Lil Black, and she was born in Japan but soon moved to Europe to show her fucking skills in hardcore porn movies. It was in 2018 when she first stepped in front of the camera with a massive dick deep down her tight Asian pussy. And since then, this top Japanese pornstar has been recognized for her deepthroat skills and a huge passion for rough sex acts. But that's not what we can see on her TikTok page. There we can usually see short clips where she does various activities. RaeLilBlack.Official has already gathered 600 thousand followers, and with daily posts, she will soon attack million!
#10 Kira Noir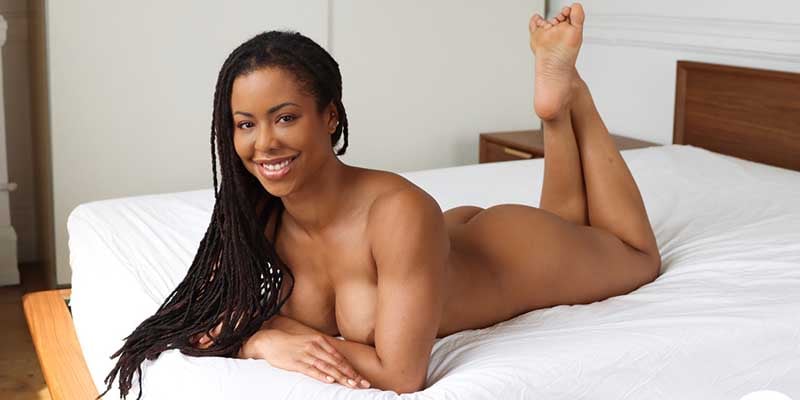 Have you already heard the voice of Kira Noir? She talks like a professional voice actor! You can listen to her amazing voice in tons of her TikTok clips if you follow her page, TheKiraNoir. Besides that, she is the hottest black pornstar of today and also one of the most active performers on social media, where she posts every day! Her videos usually have hundreds of thousand views, and if you don't have enough of her NSFW content, TikTok is the perfect place where to be in touch with her. Since 2014, when she joined the adult industry at the age of 20, she has recorded more than 500 porn videos, and two of them were even named the best sex scene of the year!
#9 Ava Addams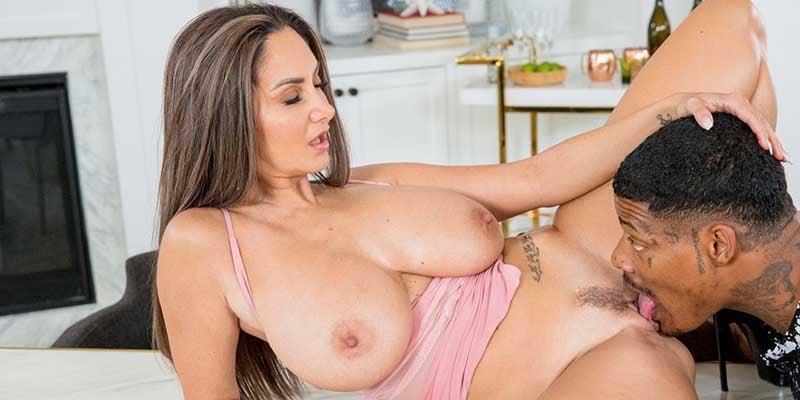 You would think TikTok would be the playground for hot teen ladies. But Ava Addams would not agree! This busty MILF pornstar is followed by almost 900 thousand people on her TikTok profile page named StacysMomSyndrome. With over 8 million likes on her clips, she definitely deserves the place in this list of the best TikTok pornstars. If you have any questions for Ava, feel free to ask. She will answer them in one of her videos. The most interesting questions have hundreds of thousand views! If something characterizes Ava Addams, we should definitely talk about her stunning big fake tits. They have the size of 38G, and if perfect enhanced tits exist, this is it!
#8 Riley Reid
One of the hottest pornstars of the last decade still has enough energy to bring us new videos not only of her naked petite body but also of her everyday life in TikTok clips. You would hardly say Riley Reid has already celebrated her 30th birthday! She still looks young and beautiful, just like at the beginning of her porn career in 2010. Her TikTok page, ReidEveryday, is followed by a million viewers! In many of her videos, she is pretty close to NSFW content, but somehow, stretched legs and tiny panties are okay. We really don't mind, and you won't mind watching Riley Reid doing all the wild stuff she loves!
#7 Emily Willis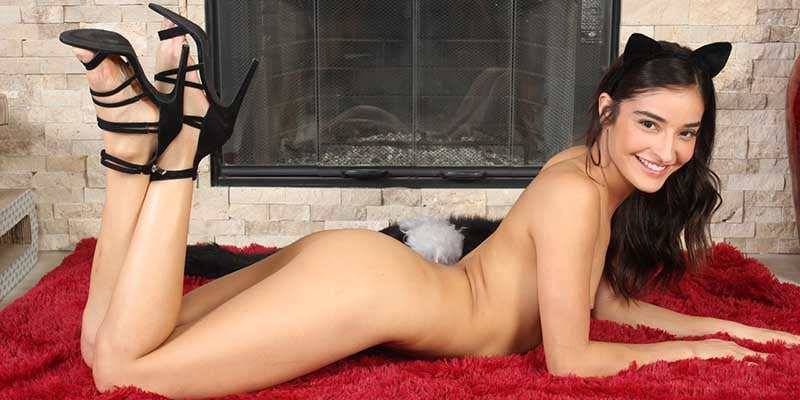 Is she the cutest pornstar of today? After watching some of her TikTok clips, the answer will be easy. Her name is Emily Willis, and she is definitely the hottest Latina pornstar in the adult industry. She will charm you with her beautiful smile, long dark hair, and a pretty big passion for hardcore sex. Yes, she loves it hard, even though you wouldn't guess it when you look at this sexy teen pornstar. Almost a million followers have found their way on her TikTok page, RealEmilyWillis, and you should be there too because this lady still has a lot to offer!
#6 SolaZola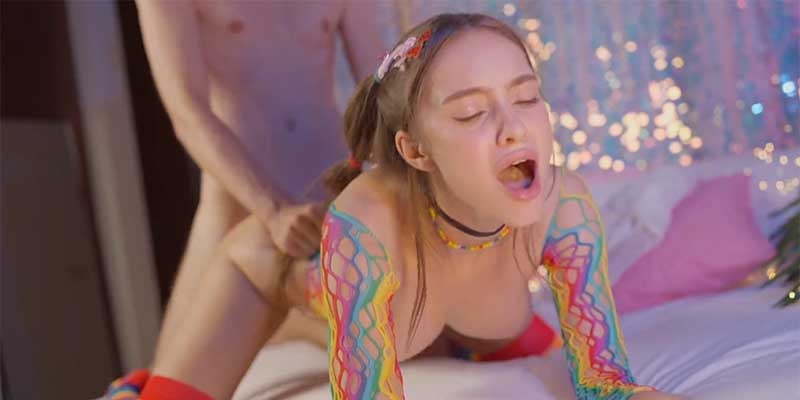 With over a million TikTok followers, we are in the first league of the hottest pornstars on TikTok! And SolaZola and her breathtaking ass deserve every single follow. Even though she has tried shooting porn for big productions such as Brazzers, she is still an amateur model who loves to expose her sexy body in homemade sex tapes. She has been among the top amateurs on Pornhub since her beginning, and when she came out with her new pair of big fake tits, she knew it was the way how to attract a new wave of attention. Her TikTok page, Baby_Sola, already has enough attention, with hundreds of thousand views on her every video!
#5 Emma Fiore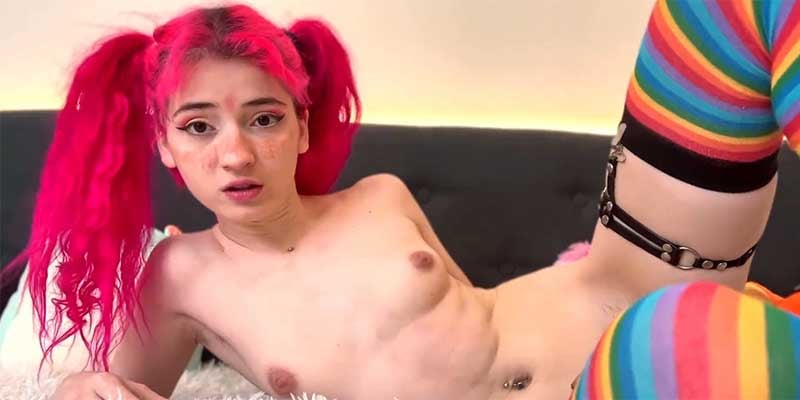 This cute lady doesn't belong among the most famous pornstars in the world. But maybe, it's time to change that! Her name is Emma Fiore, and she is an amateur model from Argentina who posts her videos on Pornhub but also loves to entertain her fans on TikTok. Why do we even talk about this redhead pornstar? Because she has almost 2 million followers on her TikTok page, EmmaFiore10! Alright, she doesn't speak English, so if you want to improve your Spanish, watching her clips is the ideal way. But usually, you won't need to understand her a word. Her pretty face and amazing body will do all the work!
#4 Angela White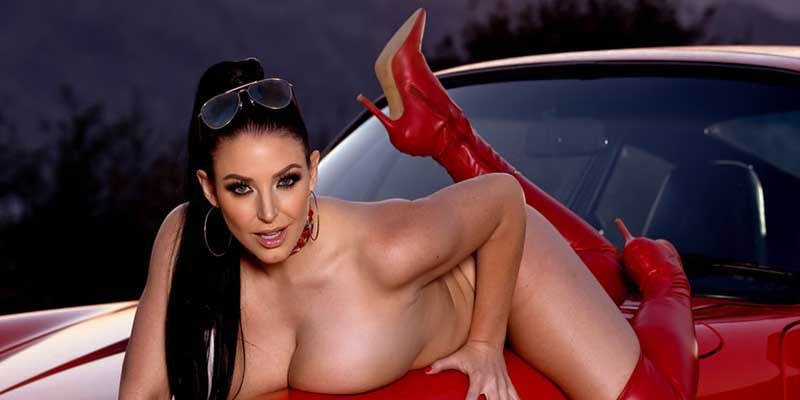 This Australian pornstar is one of the most successful models in the history of porn! Her name is Angela White, and she was named three times in a row the best female performer of the year! And she is still not ready to stop doing what she can do best. Fucking the big cocks in hardcore sex scenes! She is close to forty, but her energy is probably unlimited. If you are looking for pornstars with the biggest tits, Angela is right here. And she is also on TikTok, where she posts videos for over 2 million followers! Her page is called AngelaWhite, and her massive boobs usually play the main role in her clips.
#3 Mia Malkova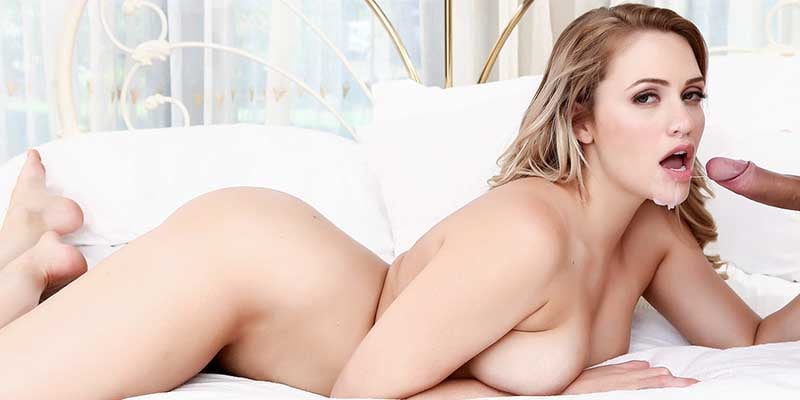 Even though this stunning blonde has already quit shooting for big porn productions, she still keeps her fans excited on her private sites. Her name is Mia Malkova, and there are not many more popular curvy pornstars. She has gathered more than 11 million followers on her Instagram, over 3 million on her X Twitter, and finally, over 2 million followers on her TikTok page, which is called MiaMalkova. We could talk about her beautiful eyes, about her amazing tits, but her butt is what brought her popularity. There are women with amazing butts, and then there are pornstars with the best ass in porn! And you can get not only that ass on her TikTok!
#2 Dani Daniels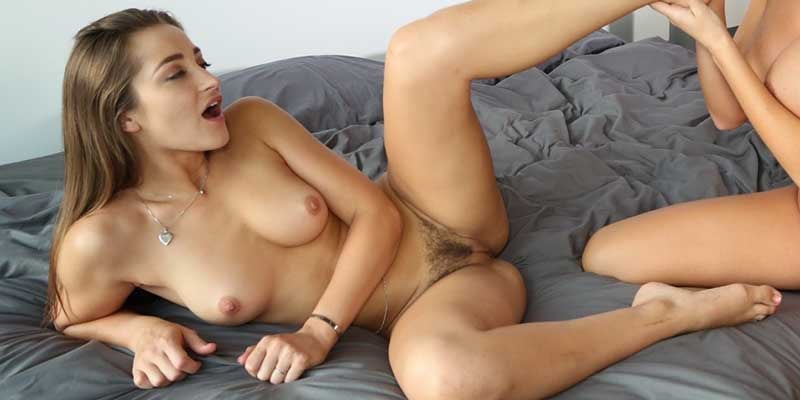 Some say she is the most underrated pornstar in the industry. And some say Dani Daniels is the queen of social media. All we know is her TikTok page, DaniDanielsTikTok, has almost 3 million followers! She has starred in almost a thousand porn videos, and in 2016, she was even named the female performer of the year! Alright, now she is not as active as before, but she still keeps her fans entertained by showing her perfect body in TikTok clips or on OnlyFans, where you still get fresh NSFW content from this amazing young MILF!
#1 Eva Elfie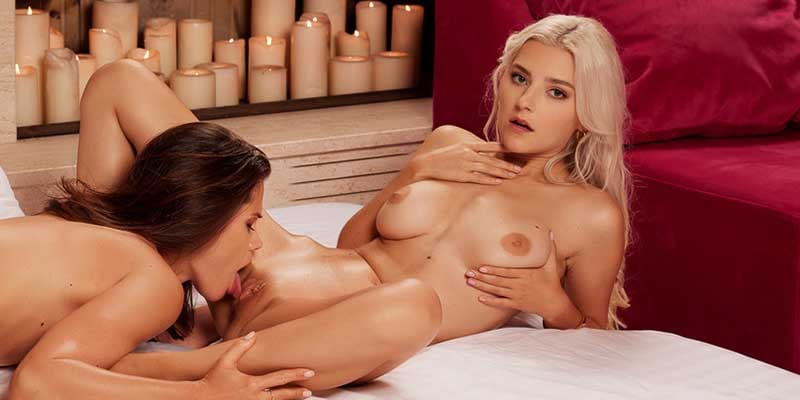 Here she is. The young and beautiful Eva Elfie! She has been recording adult content since her 18th birthday, and we still don't have enough of her amazing big natural tits, cute smile, and stunning body! And we are not alone, as her TikTok page, TheEvaElfie, has more than 6 million followers! You hear it right. She brings joy to her audience with dancing and funny clips, where she uses her every strength to get well-deserved likes. This Russian blonde still loves to record homemade sex tapes but also doesn't refuse to shoot scenes for professional porn productions. This is Eva Elfie, the hottest TikTok pornstar with millions of fans all over the world!
TikTokers that do porn on the best TikTok porn sites
To fulfill our duty, we also bring you the best TikTok porn sites, where you find not only the best TikTok pornstars but also wild amateur ladies showing off their beautiful naked bodies. These sites are usually free, and all you have to do to browse the content is scroll. Just like you are used to from TikTok. You don't need to click anywhere. You just scroll, and one hottie after another appears on your screen, doing various sexy acts! These sites are mobile-friendly, but desktop users get their regular dose of porn too.